March 9, 2010 – Divine Blessings for the Newly Christened Sri Sathya Sai EWWT
The Easwaramma Women's Welfare Trust (EWWT) has grown ever since its inception and has been doing its bit in uplifting and helping the rural women. The "Mother and Child" services they provide has helped many an expectant mother and the delivered babe.
On March 9 they were to grow in ways more than one. For one, a new ambulance had arrived to be blessed for commissioning by Bhagavan. And then, they had also been newly christened as the Sri Sathya Sai EWWT (SSSEWWT). And so, at Yajur Mandir, the ambulance awaited Swami's arrival and as always, in the Sai Kulwant Hall, the devotees waited for Him. In retrospect, we can say that Swami came at 6:20 p.m., but nobody at that time knew this!
A small note here about the devotion of the devotees. Their love for Swami and the Lord's love for them act synergistically and result in Swami being ready to do anything for them and them being ready to do anything for Him. There were times when books, pens, paper and other harmless material would be allowed inside the darshan hall. But when these articles were barred because of security concerns, the devotee never gave up. Instead his devotion and pining for Swami intensified as he left his mind also outside along with the books et al.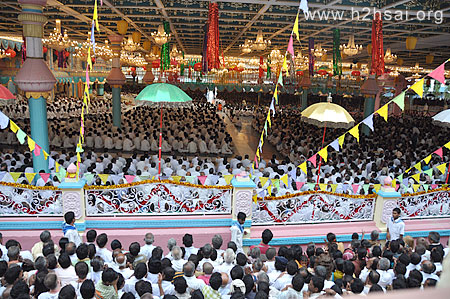 There are volunteers who ensure that people do not rush to touch His delicate feet, and whenever Swami moves on the road there are sevadals and security personnel with ropes to protect His car, all this is necessary to make certain that the over enthusiastic devotees in their devotion do not put the Lord into any kind of inconvenience but at the same time it has also meant reduced access to the devotees in general. But the sincere devotee transmutes every such so called hurdle into a tool for spiritual upliftment. Hats off to every devotee for their patience and perseverance!
| | | |
| --- | --- | --- |
| | | |
To continue with that day's story, as mentioned before, Swami arrived at 6:20 p.m. Even as He came and saw the van waiting, it seemed as if a part of Him was keen to enter the darshan hall. So irresistible indeed is the pull of pure love that even God finds it hard to keep away! God for whom nothing is impossible! So Swami sees the ambulance parked and blesses coconuts to be broken. That is done and aarthi is taken. He waves His hand in benediction. Anything good that is done, God's blessings are always there.
Even as Swami moves into the hall a huge wave of smiles welcome Him. He beams back - a reflection. Gently moving through the swelling crowds, He takes a letter here and throws a packet of Vibhuti to a devotee there. There is so much joy in the air and if at all you go to the devotee and ask, "Was all your ordeal worth it?" his answer would be, "You bet it was! Every bit of it!" And that is the manifestation of Swami's love for His devotees. He need not speak for as the conscience His voice is heard with crystal clear clarity in every heart. He need not touch the devotee for he has already been touched!
| | |
| --- | --- |
| | |
Swami moved around the hall for a complete round. One darshan and thousands of problems are solved, thousands of hearts are delighted. He blessed the birthday boys by sprinkling the holy akshatha grains; the smile on their faces spoke of their delight. Some students rose to show Him trophies of honour that have been conferred on them. The greatest joy for them is to see Swami smile and that is a greater honour. Swami conferred that joy to them.

Completing the full round, Swami moved onto the stage. Along the way, He collected letters from devotees in the portico. The bhajans were on and Swami sat for them. "God" alone knows of the transformation and the moulding that goes on as bhajans progress. Swami was there listening to the bhajans till 7 p.m. and then asked for Aarthi. The camphor was waved and Swami retired into the Yajur Mandir at 7:10 p.m.
Dear reader, how do you like this section? Does it help or inspire you in anyway? Please share your reflections with us by writing to [email protected]g mentioning your name and country.
Thank you for your time.