May 23, 2010 – Programme by Bal Vikas Gurus from the North Kanara District, Karnataka
The devotees from the North Kanara district of Karnataka had produced an audio CD of songs - devotional, patriotic and classical - as a dedication to Swami. According to the leader of the devotees' group from the same place that had arrived to the Nilayam, "Swami accepted the CD we presented a few days ago and was keen on know who the singers were. So we have all come to sing for Him." Thus it was that out of the blue, the students were told not to begin bhajans and await Swami's arrival after which the blue scarved devotees from North Kanara would take centrestage.
| | | |
| --- | --- | --- |
| | | |
Just before 6:00 p.m., Swami arrived for darshan. He took a full round and by 6:10 p.m., He was on the stage. The Veda chanting was on and after a few minutes, Swami asked for the chanting to stop and signaled for the programme to begin. The songs were to be sung by the Bal Vikas gurus and teachers from the district. The initial offerings to Swami were made. He shuffled the roses among those who gave and thus each returned to their place, happy and with a rose in hand. The programme was then introduced and it began at 6:15 p.m.
| | | |
| --- | --- | --- |
| | | |
The presentation was a bouquet of devotional and patriotic songs by the Balvikas gurus from North Kanara district of Karnataka. The songs were from an audio album, titled "Sai Geetanjali", containing 85 value songs aimed at educating Balvikas children, brought out on the occasion of the 85th year of Bhagavan's Advent. Starting with obeisance to Lord Ganesha, songs on Lord Sathya Sai, Shirdi Sai, Mother Goddess as Mother Sharada followed. A patriotic number hailing Bharat Matha was next while the concluding song was on the Trinity of Brahma-Vishnu-Maheshwara.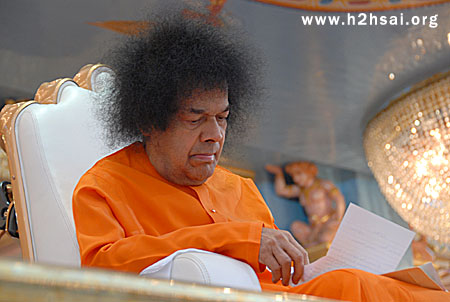 As the songs went on, Swami was a busy 'God'! A huge pile of letters sat on His lap and He started to go through them, meticulously and keenly. It is a fascinating thing to see Swami do any activity and His letter-reading is no exception. His inbox is always flooded and all the mails seemed to be of 'starred' importance. God does not have a spam box and He accepts all mail - irrespective of whether they are good or bad. Swami has no need to read the letters, but to satisfy and in fact delight the givers, He sits and leafs through them. He sorts out some and keeps them aside for further perusal. Some He just glances.

Some of them are like forwards and sent to Him by devotees who want Him to have a happy read or look. He smiles when He goes through some mail and for some others He is an epitome of seriousness. A myriad variety of letters arrive and so do a plethora of expressions on His Divine countenance. Some He opens on His own while some others He entrusts the boys by His side to open and hand over to Him. Overall, it is an absorbing experience.
| | | |
| --- | --- | --- |
| | | |

He reached the last letter of a pile and it was an ornately decorated cover. He opened it and there was a card in the shape of a red flower. He opened it and seeing the contents, a beautiful smile spread across His face. He looked around and smiled at one of the boys. That being done, it was as if the 'letter duties' for the evening were done! He sat back putting a beat for the songs.

The small group continued singing and Swami saw that all the devotees were sitting silent, naturally too, unable to follow the Kannada songs. He smiled as He said, "Maybe it is better if there are bhajans." The students began bhajans immediately and as Swami observed, the enthusiasm and fervour among all in the audience immediately went up. Now they too could sing out to their beloved Swami.
| | | |
| --- | --- | --- |
| | | |
A few bhajans went on this way after which Swami asked for aarthi. Mangoes were distributed to members of the performing group as Swami called two students with a card to the stage. It was a card seeking His permission for another programme by the students on the Ramayana as sung by Lava and Kusha.
While Swami was appreciative of the programme, He said that He would say when to have it and the next day was not a good idea. The students returned to their place and soon Swami blessed everyone before retiring to Yajur Mandir.

Dear reader, how do you like this section? Does it help or inspire you in anyway? Please share your reflections with us by writing to [email protected]g mentioning your name and country.
Thank you for your time.