March 24, 2010 – Rama Navami in the Divine Presence
After a fruitful ad fulfilling Bhagawatha Saptaham, arrived the holy day of Sri Ramanavami - the day celebrated as the birth of Lord Sri Rama. And so, the Sai Kulwant Hall was filled with people who had filed in to spend this special day with Swami.
Being a public holiday in many places, there was a substantial crowd that had gathered. At 9 a.m., the bhajans began and it was a Sri Rama special! It was almost at 10:40 a.m. that Swami arrived for darshan and it was as if Rama had arrived at the city square in Ayodhya! Moving to the students' area via the ladies' and gents' side, Swami blessed the long line of boys with trays and cards.
| | | |
| --- | --- | --- |
| | | |
He then moved onto the stage and to its eastern side. There, the entourage of Sri Rituraj Maharaj was seated and all of them placed themselves at the Divine Lotus feet. Among them was also Mr. Chouhan, the brother of the current chief minister of Madhya Pradesh. Swami blessed them all as Sri Rituraj Maharaj requested Swami for group pictures.

Swami agreed and as He came to the centre of the stage, He called out to all of them to sit by His side for the group pictures. And so, on the holy Rama Navami day, the young sant and his entourage got the privilege of pictures with Swami. Bhagavan was all smiles as He posed with them.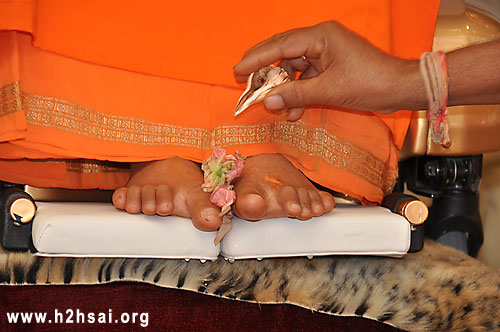 In the meanwhile, there was a long-bearded sadhu with a tiny conch in his hand. He began to pour out tiny amounts of water from the little conch onto Swami's feet. While everyone was busy looking at the camera, he was busy fulfilling his cherished desire for worshiping those redeeming feet!

He also placed a pink flower on the feet. Having done that, he then fell prostrate at the feet and Swami looked intently at him. He seemed least bothered about the photo being taken; he was instead immortalizing the moment in the camera of his heart.
| | |
| --- | --- |
| | |
Swami then called Sri Rituraj and posed with him for a private photograph. Having satisfied everyone, Swami sat for the bhajans that were on. After about 15 minutes of bhajan the pictures taken just then were presented to Swami. Swami had a long look at the photographs. Calling the Maharaj, He showed him the photos. He was simply overjoyed and he sat next to Swami, admiring the photo. Swami also seemed pleased and gave him both the pictures. A few bhajans later, Swami moved into the interview room.
The bhajans went on and in the meantime a small interesting episode occurred. A butterfly came fluttering by! It kept moving from singer to singer and to different students. As it alighted near or on the body of any student, that student would be delighted. Everyone seemed to want that butterfly to land near them, but the butterfly followed its own "logic" if it had any.

There was no "reason or season" for its flight or landing it seemed and everyone was forced to appreciate its "uncertainty". So like our dear Swami! It was a practical lesson in progress. Swami has no favoritism or preferences. We do not understand why He talks to some and ignores some other. From a human level, it looks so random and so we just have to learn to love His uncertainty!
| | | |
| --- | --- | --- |
| | | |
After a while, Swami came out and resumed sitting for the bhajans. A few more bhajans later, aarthi was taken after which Swami called Sri Rituraj and told him to be seated by 4:00 p.m. and that He would grant him an interview with his four musicians who had dutifully accompanied him throughout the Saptaham. Saying thus, Swami retired for the morning.

Shortly after 4:20 p.m., Swami arrived for darshan. Taking a detour from ladies' end and ascending the verandah, Swami moved straight into the interview room. Sri Rituraj and his accompanists were called in for an interview that lasted for forty-five minutes. At the end of it, Swami blessed all the members of the Parayanam team with personal photographs with Him.
| | | |
| --- | --- | --- |
| | | |
He told the photographer, "Get the pictures for this evening itself!" Emerging after the interview, Swami moved into the Bhajan Hall to come out through the rear entrance to move onstage at 5:35. At 5:40, as He came out, He told the musicians who had just been blessed with an interview, to sing.

Sri Rituraj's accompanists presented a music programme, singing Sathya Sai's glory, that lasted till 5:55 p.m. At the end of it, as if like a reward, Swami presented them all with the individual photographs that were now with him. They were all simply thrilled and overjoyed. They took namaskar before descending from the stage.
Swami asked the students to sing some songs and Rama songs rented the air. The second song was a special song on Rama's birthday! As it was about to end, Swami beckoned for aarthi. After the aarthi, as He was going back, He was accosted by the alumni singers from the Bangalore Super Speciality Hospital.
They had stayed back for the Saptaham at Swami's behest and Swami told them, "Everything went on very well." He then blessed them with vibhuti packets and told them that they could leave for their duties. He then retired to Yajur Mandir.
Dear reader, how do you like this section? Does it help or inspire you in anyway? Please share your reflections with us by writing to [email protected]g mentioning your name and country.
Thank you for your time.