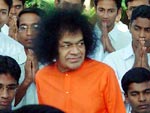 THESE ARE THE EXPERIENCES OF DR.DUTTA, AS RECORDED IN THE BOOK INSPIRED MEDICINE,EDITED BY JUDY WARNER, AND PUBLISHED BY LEELA PRESS IN USA, RADIO SAI NOW PRESENTS EXCERPTS FROM AN ARTICLE BY DR. PURNENDU DUTTA, M.D.
RADIO SAI THANKS BOTH THE EDITOR AND THE PUBLISHER FOR GRANTING PERMISSION TO SHARE THESEEXCERPTS FROM THEIR BOOK.
DR. DUTTA WAS BORN IN CALCUTTA, AND WENT THROUGH MEDICAL SCHOOL IN THAT CITY. LATER HE WENT TO ENGLAND FOR FURTHER TRAINING, AND BECAME A FELLOW OF THE ROYAL COLLEGE OF SURGEONS. HE THEN RECEIVED AN INVITATION FROM AMERICA, AND ACCEPTED A RESEARCH POSITION IN THE UNIVERSITY OF MINNESOTA. HE HAS BEEN IN AMERICA EVER SINCE.
RIGHT FORM HIS CHILDHOOD, DR. DUTTA HAS BEEN VERY RELIGIOUS, AND CONSTANTLY PRAYED TO DURGA, THE GODDESS WORSHIPPED IN INDIA AS THE UNIVERSAL MOTHER. THIS HELPED HIM A LOT BECAUSE THE HIDDEN HAND OF DIVINITY CONSTANTLY GUIDED DR. DUTTA WHILE DEALING WITH VERY COMPLICATED MEDICAL CASES
DR. DUTTA CAME TO BHAGAVAN BABA IN 1985, AND HIS FIRST TRIP TO PUTTAPARTHI WAS MADE IN 1987. IT WAS THEN HE KNEW WHO EXACTLY HAS BEEN GUIDING HIM ALL ALONG. SINCE THEN, DR. DUTTA HAS HAD EVEN MORE STUNNING EXPERIENCES WITH PATIENTS.
I have felt Baba's presence and guidance in everything I do. I seek His permission and help all the time. I am not afraid of treating seriously ill patients knowing that Baba, the great beacon and guide, will be with me, giving me courage and inspiration. There are many instances in my practice where extremely difficult situations were overcome by some inexplicable supernatural intervention. I attribute this to Baba. To me, God is Baba and Baba is God. It is all Baba's Leela or sport. All of the following cases demonstrate the active help Baba has given me over the years.
There was a middle-aged man whom I started to treat for peptic ulcer disease. He soon developed a tumor in his parathyroid gland with high calcium level in his blood. I removed the tumor from his neck with great success. The ulcer disease in his stomach deteriorated and, soon, he was diagnosed to have tumors in his pancreas, which were responsible for increased acid production from his stomach and ulcer formation. He needed a total removal of his stomach, a formidable undertaking. He was also anemic with increased risk from surgery. Other surgeons were skeptical about his surgery. I presented the case before a panel of physicians and surgeons. The consensus was to treat him medically and not to take undue surgical risk. At this point, I was very disheartened and disappointed that the patient would have to suffer tremendously for the rest of his life. I started praying to Baba for help and gained courage to do the right thing, which was surgery. I spent several sleepless nights at the hospital taking care of this sick man and constantly praying for his life. My prayers were answered, and he survived with a great result.
The next was the case of a middle-aged man who was the hospital barber where I worked. Like most barbers, this man was very friendly and was liked by everyone. He had a small shop at the basement of the hospital. The hospital staff and patients were his clients. One day, the chief of the urology department called to tell me that the barber, who was his friend, was diagnosed with advanced cancer of the abdomen and that his doctors felt that nothing could be done for him. He was suffering greatly with pain and was unable to eat properly. I felt very sorry for the barber who was left to undergo the natural course of the dreadful disease. My urologist friend was hoping that I would be able to help. I started praying hard to Baba to give me some insight into this patient's problem. I accepted the patient for evaluation first and confirmed the diagnosis of cancer of the stomach, which may have spread to the surrounding organs. CT scan was not available at that time. After more prayers to Baba, I gathered courage and explained to the family that I would explore the patient's abdomen, hoping that I would be able to do something to help him. During surgery, I found that the tumour had invaded part of the adjoining colon and the tail and body of the pancreas. I had never before had any experience of doing an en block resection surgery of this magnitude. I almost gave up. I prayed intensely to Baba for help and guidance. Suddenly, I felt some strength, and I realized that this operation was the only chance that this man had for any kind of relief of symptoms. I removed most of his stomach, part of his colon and part of his pancreas in one block. This was not a curative operation by any means. At best it was palliative. The man, however, was able to eat and gain weight and was free of pain. He lived for eighteen months following surgery and was able to take care of his family duties before passing away peacefully. Only Baba's help had made this possible.
A young African American woman in her late twenties was brought to the emergency room with massive upper gastrointestinal bleeding. I was on call, and people knew of my skills with endoscopy. After initial resuscitation, requiring blood transfusion, I looked into her oesophagus and stomach with the endoscope. She was bleeding from superficial ulcerations in her stomach. She also had prominent esophageal varices, but they were not bleeding. I treated her with conservative measures. She stopped bleeding and promptly recovered. After five days, she re-bled massively. On scoping again, I found that her ulcers were not bleeding at this time, but there was massive bleeding from the esophageal varices, which are cherry-like blood vessels in the lower oesophagus. I treated her with conservative measures of blood transfusion and intravenous pitressin drip. She continued to bleed. I was spending nights at the hospital trying to resuscitate her. She was in the intensive care unit for the whole time and was being fed intravenously with nutrients. By this time, she had received many units of transfusion of blood and various blood products. She was a very poor risk for surgery. I consulted with some other surgical colleagues of mine. Everyone suggested conservative medical management. I felt that this woman's life was threatened. She was the mother of two very young children. I prayed to Baba for help. I thought that surgery, although extremely risky, was her only way out of trouble. As she was going downhill, I intensified my prayers. Baba eventually gave me the courage to take her into surgery. This time, I needed to create a bypass between her portal and systemic venous systems, a really major undertaking and a great risk after so much bleeding. Upon exploration, I could not find a portal vein as there was a cavernous malformation of the portal system. I ended up doing a mesocaval shunt operation with an 'H' graft with a synthetic material called Gortex. This involved connecting two large veins with this artificial tube enabling blood to flow, thereby bypassing the obstruction. During the whole procedure I was silently praying, asking for some light into this difficult situation. Baba was kind enough to help me. The patient survived and is doing well eighteen years later. The family wants to give the credit to me, but I have been successful in convincing them that it was God who saved her life.
An elderly African American woman from a poor socio-economic background was admitted under my care. She had diabetic gangrene of both feet, and her doctors recommended amputation of her legs. I presented her in our clinical conference. All the doctors recommended amputation. I prayed to Baba for this woman and asked Him to save her legs and feet. I controlled her diabetes, debrided dead tissue and made multiple incisions in the feet to promote proper drainage of infected exudates. It worked in our favor again, but only because of a lot of prayers. The lady was able to walk out of the hospital after four months. This patient's legs were saved because Baba heard my prayers.
I hav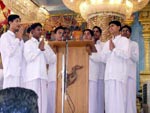 e always believed in God and prayed to Him. After I came to know Lord Sai deeply, in 1985, I realized that Baba is the Supreme Lord. All forms of God are His. Since then, I only pray to Baba. Before my closeness to Baba was developed, I depended more on my medical and technical knowledge than on the power of prayer in my practice of medicine and surgery. But after Baba came into my life, I have dedicated everything to Him.
Becoming a physician has given me the unique opportunity to serve the sick and the needy. I now feel when I treat my patients that I am in Baba's service. I offer my Pranaams to Lord Sai for His constant guidance and His healing miracles in my medical Practice.