Having the Lord's Darshan and listening to His Divine message has always been our fondest dream. In the distant future we will be able to live this dream, irrespective of the physical distance between Him and us. The inauguration of new Sri Sathya Sai Information Technology Center by Swami, on the 14th of August, was the first step towards realizing this dream.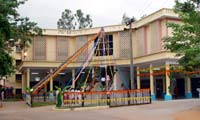 Located in the first floor of the old shopping complex, adjacent to Prashanti Digital Studio, this IT center will serve as the origin for live video and audio web streaming to bring the Lord and His message to devotees, during major festivals, world over.
The Sri Sathya Sai Information Technology Center was set up by the Sri Sathya Sai Central Trust, with active support from the TVS Group of companies, a leading automobile and electronics manufacturer in India.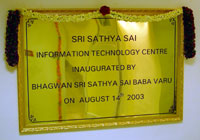 Primarily, this center will act as a central hub facilitating connectivity between various Sri Sathya Sai Institutions for information exchange and knowledge sharing. Through the video conferencing facility, doctors in the Sri Sathya Sai Hospitals in Prashanti Nilayam and Bangalore can discuss treatment protocols for rare cases and complicated surgical procedures. Moreover, students in all campuses of the University can access information from other libraries, attend virtual classrooms with experts on the other end and conduct collaborative research. All this is made possible with the SAI Wide Area Network, a heterogeneous network platform consisting of a 2MBPS fiber optic backbone and a V-SAT back up that connects the Institutions.
On the 14th August, Swami arrived at the IT Center at 7:30 am and was welcomed with Vedic Chanting by students from the University.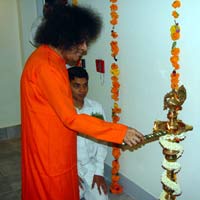 He lighted the lamp to mark the inauguration of the Center and proceeded to bless the various sections of the Center. Sri Venu Srinivasan (Chairman, TVS Motors) and Sri Gopal Srinivasan (Chairman, TVS Electronics) explained to Bhagawan about the various facilities at the Center: the Server Rooms, the Development Area and the Conference Room.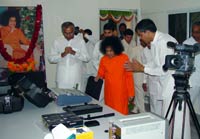 Bhagavan then saw a presentation on the role of the Center, to bring in "Transformation through Information". It was followed by a live demonstration of a video conference between the cardiac surgeons and cardiologists of the two Super-specialty Hospitals in Prasanthi Nilayam and Bangalore. Bhagawan watched the doctors from the two hospitals discuss the surgical and medical aspects of a rare cardiac case (Aorta- Right Atrial Tunnel), while the doctors felt blessed to have Swami with them during this discussion.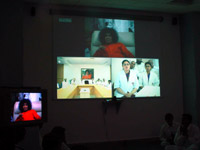 The doctors were able to not only discuss the rare case, but also get a Darshan of their Lord.
Indeed, a promise…of purposes that can be achieved and Blessings that can be received, in the days to follow!