THE LORD IS ALWAYS ON THE SIDE OF THE RIGHT
A friend once tried to console Lincoln in his many problems by saying: " I hope the Lord is on our side."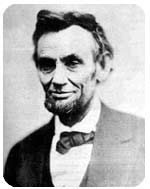 Lincoln replied emphatically that this was not his hope! " I am not at all concerned about that, for we know that the Lord is always on the side of the right. But it is my constant anxiety and prayer that I and this nation should be on the Lord's side."