CONCHed Out!!!
One of the most enduring images of the Christmas 2002 celebrations in Prashanti Nilayam, is the sight of this imposing gentleman with this thick mop of hair, setting the festivities rolling at the break of dawn, by blowing on his giant, oversized conch shell. These notes were not the dire rumblings of war (to those of us used to the Mahabharat fare on Television) but were rather a clarion call for peace and goodwill on Earth that traditionally heralds the birth anniversary of Lord Jesus Christ.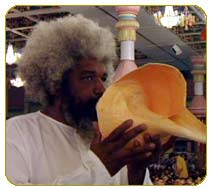 Meet Harold E. Smith, musician and healer having his home in Philadelphia, Pennsylvania, USA. His instrument of choice is the Didjeridoo, an Australian aborigine flute-like instrument with no holes. The instrument is about 5 feet long and has been hollowed out naturally by termites. Harold uses a circular breathing rhythm (inhaling through the nose and continuously blowing out through the mouth) to produce one continuous, seamless note. Each instrument is of a particular length and has a hole of certain diameter and thus creates an associated note. Harold uses external tools (like cymbals) to add interesting variations to this sacred note produced by the Didjeridoo.
The other unusual instrument used by Harold was the giant conch shell mentioned earlier. This shell is about 25 inches in length, weighs over 5 kilos and is about 200 years old. Right after the Christmas festivities, Harold visited us at Radio Sai and shared his experiences and philosophies with us. Catch Harold E. Smith and feel the vibrations of his sacred instruments when we next play the interview with Harold on Radio Sai.