His Word, took a Form
"There are countless people in this country, who cannot afford the huge costs of going abroad, and seeking a heart surgery. The poor have no proper place to go to, for such expensive operations, even in this country. Next year, we are going to establish a fully equipped, modern hospital at Puttaparthi, at the cost of hundred crores of rupees, where all cardiac patients will be given treatment, totally free of cost. Besides this, patients and their attendants will be provided facilities for their food and stay, totally free of charge.
The first operation will be performed on the 22nd of November, next year."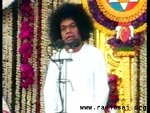 He said it, without much ado. As though, He was merely stating a fact. But, to the millions, who were gathered in His Presence, on that 23rd of November, in 1990, it was a 'Historic Declaration'. Aye…these Words, and the Action there from, would alter the course of medical history of thousands of forsaken lives! It would also give a new meaning to the lives of many men and women, who would be Blessed to be chosen as Instruments, to build, and serve the Sri Sathya Sai Institute of Higher Medical Sciences.
He was an American philanthropist. For years, He had been coming to Swami, and praying to Him to accept the resources in his command, for any project that Swami wished to launch. He thought that it was a noble idea, and his generosity would surely make Swami happy. Much to his chagrin, ever time Swami said, " I want your love not your money".

Issac Tigrett started searching his heart to find out where he had gone wrong. He was perplexed; after all, his offer was generous, yet it was turned down. Slowly, his doubts cleared like the morning mists that vanish with the sunrise. In Swami's own unique way, he was made to realize that he had made this offer with the feeling that he was the giver and that he was going to be the benefactor of countless beings.

Tigrett was no one to linger around once he had understood this error. He went back to Swami and said, " Swami! There are thousands who yearn for a little part in Your Avataric Mission, but are unable to do so for various reasons. So please allow me to return unto You, what You have given me, on behalf of those thirsting thousands." This was precisely the change of heart that Swami wanted.

Still, Tigrett's offer was not 'accepted'. Swami told him, " I don't want your money. You can build the Hospital, which is going to come up in Puttaparthi. It should be ready in one year."

The aspirant's path is not a bed of roses. Tigrett was stunned. He pleaded with Swami that he was not a doctor, not even an administrator, but a restaurateur. But Swami was unrelenting. He simply said, "Go and start at once. I am with You."

Tigrett stepped out in a daze. The first person he ran into was an eminent doctor. He told him of his Divine dilemma. The two together gathered an enthusiastic group of medical experts. In less than a week, they presented to Swami the first project report on the Sri Sathya Sai Institute of Higher Medical Sciences, delineating its objective, the scope and range of its activities, and the mechanics of implementation. Swami approved of the report and urged speedy action.

Tigrett wanted to return to the USA. Now, it was his responsibility to get an architect and make the plans. Nothing but the best is acceptable to Swami. He was carrying his concern into his flight, from Bombay to London. Whom does he find in the neighboring seat? It was Mr. Keith Critchlow, a world-renowned expert in spiritual architecture. Tigrett lost not time in briefing Critchlow of the Divine (Task) Master who wanted a Super Specialty Hospital built from scratch and be fully operational in less than a year. Critchlow was unwilling to take up the project. Tigrett kept using his persuasive eloquence on the flight. From sheer skepticism to full-blown enthusiasm, was the transition Critchlow underwent, before the flight landed in London. Finding this remarkable change, Tigrett decided to break his journey in London. They recruited a team if draughtsmen an put them up in a temporary office. Under Critchlow's inspiring guidance, the plans for the hospital took shape within 4 weeks, blending ancient Indian architectonics with modern functionality. Critchlow's trained intellect could feel the hidden hand of the Divine Master, who was sitting in a remote village in India, orchestrating this complex project. He decided that he should go and meet the Master face-to-face and hand over the plans to Swami.

They both came to Swami. Swami provided them with many 'suggestions', from room reconfiguration and re-dimensioning to repositioning of some facilities; and it appeared to them that Swami already knew about the plans! Critchlow was, the least to say astounded at the appropriateness and perspicacity behind these suggestions. He gladly implemented all the changes.

In an aside, Critchlow was telling Tigrett that the site of such a glorious venture should be sanctified with a Mandala puja (worship of the site), before the groundbreaking ceremony. Swami asked them at that instant to go and perform the puja on the same day. Critchlow was familiar with the rituals and was describing the puja to Tigrett, as they were driving to the site to perform it. He added rather apprehensively, "However well we may do the puja, the scriptures say that unless a Garuda, the 'eagle vehicle' of Lord Vishnu, the puja would not be complete." Tigrett refused to be drawn into this new worry.

They reached the site. Critchlow surveyed the bare expanse and chose a particular spot for the Mandala. When, they reached that spot, they saw not one Garuda, but five of them, standing, all in a row. Like silent sentinels, the birds were watching the entire puja. When the two men withdrew to a distance, they saw the birds take off and fly over the Mandala in a perfect formation. Never had Critchlow seen such a resounding confirmation of what the scriptures describe as a rare sign of Grace.

Back in Prashanti Nilayam, Swami greeted them with a knowing smile, " You had asked for one Garuda; I sent five. Satisfied?" Thus the first Bhumi puja was done.

There was a lull in visible activity after the initial announcement and the Bhoomi puja. When Swami went to Kodaikanal in April of 1991, He took a few students and a few members of the Central Trust with Him. One could see the concern of some of the trust members about how such a huge project was going to be completed in the remaining time. But Swami always made light of it in His usual manner. While it was amusing to watch Swami make fun of their discomfiture, it was also a great lesson for all concerned - doing everything and yet not being part of it.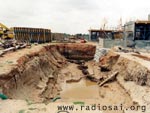 A very revealing incident took place during one of those days in Kodai. One of the trust members was very concerned that adequate funds may not be available for a gigantic project like the Super Speciality hospital and asked Swami about this. Swami became silent for a moment and picking out a letter from among those He receives everyday asked this person to open it. To everyone's amazement, there was a cheque for a half a million dollars, offered by a devotee at the Lotus feet. Swami looked at us and said, "Whenever any good work is to be done, do not worry about the funds; they will be available." Swami has taught this lesson over and over again during the next few years, as He took up several noble, and often, gigantic projects for the benefit of the suffering humanity.

Swami came back to Bangalore in May 1991 and the building plans were finalized only then. Later on, the chief architect Mr. Keith Critchlow, Director of the Prince of Wales School of Architecture in London, confessed that, while he had thought of many designs for a hospital, the inspiration for this particular design came from Swami Himself. The hospital building is an imposing structure that radiates warmth and peace. It resembles two arms offering comfort to all those who come into its fold. Swami had changed the initial 24ft high ceiling to a 14 ft one (and thus from a single floor building to one with a ground floor and the first floor) with a very practical suggestion. He asked, "Isn't it going to be difficult to clean the ceiling, if it is so high?"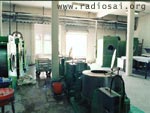 There was a meeting in Brindavan, where many doctors from India and abroad, discussed the plans for the hospital project in Swami's presence. Dr.A.N.Safaya, the Medical Director of All India Institute of Medical Sciences was nominated as the Chairman of this Committee. He was to become the Director of the Hospital. Slowly, the contours of the hospital were drawn. In the first phase the departments of Cardiology and Cardio-Thoracic surgery were to be established. A major international effort was mounted to source and install the most modem equipment for the departments of Cardiology and Cardio-Thoracic Surgery. These included equipment like Cathlabs, Echo machines, Heart Lung machines, Cardio-Pulmonary resuscitation equipment, monitors, X- ray units and many more. The building construction started in late May 1991; and the functional areas, were to be handed over by the second week of November. Highly trained and skilled personnel, who were going to man the hospital, were to be recruited; and trained, if necessary. Puttaparthi, being an in a remote area, suppliers for all the necessary items like disposable surgical items, drugs, chemicals, fluids, linen, medical gases, etc., had to be identified and adequate quantities stocked. Everything had to be done within a very tight deadline.

Swami also chose a few of His students to work in the new hospital. He made all arrangements to get them trained in All India Institute of Medical Sciences in New Delhi and. Those four months in AIIMS got the students prepared for working in a professional and highly specialized environment. Writing to them from Puttaparthi, Bhagawan remarked, Take care of your health by taking fruits and milk regularly-do not bother about money, when the 'kalpavriksha' is with you why worry." In the midst of all the Work, He was still a Loving Mother to His children.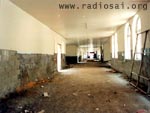 In the mean time, the hospital was shaping up, at its own pace. There were many obstacles to be overcome. The given timeframe was a major constraint. The building was a massive structure and nobody would have expected it to be completed in five months flat. Close co-ordination among the various agencies like the construction company- Larsen and Tubro, the architects, the doctors, the equipment manufacturers was achieved by their commitment to honor Swami's word - whether a heart- lung machine had to be purchased and transported from USA, or the majestic chandelier brought from Italy and hoisted up the central dome of the hospital, or a design flaw detected and had to be fixed - they were all done with the spirit of "prayer in heart and song on lips." Sai was always there, whether in physical form or otherwise, to solve any problem. While everyone had their doubts, Swami was inspiring all concerned by visiting the site daily and holding meetings with the planners, consultants and administrators who came from different walks of life and from different parts of the globe. Everyone contributed their mite to make sure that a noble project like this with such lofty intentions succeeded - that too in the given timeframe. In the midst of all this activity, Bhagawan still had the time to enquire if His students had their breakfast or lunch, 'whether the items were cooked properly - a beautiful activity which He indulges in even today. To maintain this kind of equipoise, in the midst of what was unarguably a very tense situation, is possible only by the Divine.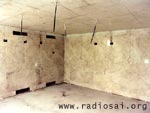 For a few days, the work was interrupted due to incessant rain. Mr. Ramakrishna, the Head of M/s Larsen and Tubro, was asked by elderly devotee, "Will you be able to finish the construction of the Hospital, by November?" His reply was an insight to the immense faith everyone working on the Project had, in Swami. " We do become anxious when out work is hampered by rain, or by delay in supply of building material, or by the occasional unrest and anxiety among workers. But, when Swami comes to the site and talks to us with a smile, in a reassuring manner, all our fears are laid to rest, and we get the belief that, we can do it!" said Mr. Ramakrishna.
As Birthday approached, it looked as if the hospital might not be ready for operations on the 22nd Nov 1991. Never one to fail in His Mission, Bhagawan was a picture of confidence, instilling the much-required courage to everyone by His timely counseling, cajoling and occasional commanding. Such was the infectious zeal He had filled us with, that every one felt like the small squirrel, that did its part in helping Lord Rama build the bridge across the ocean. Everyone connected with the Sri Sathya Sai Organization, did his or her bit. While the students and staff of the Brindavan and Prasanthi Nilayam campuses cleared the front end of the compound of nearly thirty truckloads of cement bricks, the students and teachers of the Anantapur campus helped in cleaning the operation theatres, Intensive Care Units, Wards and corridors in the hospital. Professors and senior consultants from AIIMS, who had come to operate for the first few days, were seen carrying chairs and cupboards on the days prior to the inauguration! The Sevadal, one of the most dedicated wings of the Sri Sathya Sai Organization, worked round the clock, side by side with the hospital staff, in setting up the new departments, and in maintaining the cleanliness of the premises.

Still, on 18th Nov, a day before the operating theatres were supposed to be cleaned, fumigated and sealed, it looked as if the whole project would be a non-starter. The monitors were not installed in the Operation Theatres and ICU.There was some problem with the Oxygen and medical gas supply and even the Uninterrupted Power Supply (UPS) was getting interrupted regularly! Even to this day, Dr.A.N.Safaya, the Director of SSSIHMS, vividly recounts, those days, that tried and tested his competence, resolve and faith!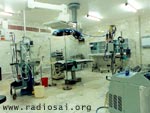 "The target time and date of commissioning of Cardiology and Cardiac Surgery wings of the hospital was 9:00 AM on November 22nd, 1991. Work was going on at the hospital site at a hectic pace, throughout the day. All the men, the engineers and the newly recruited staff were busy with work, driven by the motive to get the project done, by D-day. I too was working with the crowd, doing my part, unmindful of my time or position. On 18th, midnight, I returned to my room in Prasanthi Nilayam, tired, crestfallen, and slumped down on my bed. Suddenly, tears started rolling down from my eyes and I was sobbing softly, something I had never done before, in my professional life! I was unaware of this breakdown, till my wife shook me back to reality. I just told her that I had failed my Master, my Swami, because there was no earthly way by which we could open the hospital on the 22nd of November, as Swami had declared.
Operation theaters, Catheterization laboratories and the Intensive care area had to be readied before the scheduled date, and more importantly, made sterile. Environmental sterility had to be tested, before the surgeons could operate. Laboratories had to be geared up. We had to have the Blood Bank functional with at least 30 bags of properly grouped and matched blood, ready for use on the 'opening day'. " Nothing is ready, and I have utterly failed!" I told my wife. I appealed to her to pack the bags, so that we could run away to Delhi, rather than lose face. My wife simply chided me, for behaving so, and encouraged me to have total faith in Swami. She told me to pray and then rush back to the hospital, to fight the odds. She reminded me that this was Bhagwan's work, and it would never fail; with His Grace, all will be completed, as per Divine Decree. The next morning, when I rushed back to the hospital site, Col.R greeted me joyously and said that he had already sent the swabs for testing the sterility of the Surgical Theaters! "Wonderful!" I exclaimed, "What had happened during the six hours of the night, when I was away?" A miracle. He informed me that everything went on swiftly and smoothly. All the areas were now in the desired shape, and were completely ready!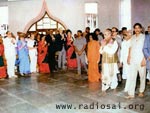 A miracle indeed, it was, when, on 22nd November 1991, the surgeon's scalpel touched the skin of the first patient, at 9:00 AM, sharp, as predicted a year ago by Bhagawan, in His public Declaration! On that day, when the Prime Minister of India cut the ribbon and entered the magnificent central dome, accompanied by Bhagawan, several Governors, Chief Ministers and Union Ministers; it turned out to be the best setup, with the state-of-art equipment, most modern fittings and fixtures, and was fully functional. The set-up was one of the finest in the country. Nay. Comparable to the best in the world. Who turned the tides, between the 18th and the 22nd November? Swami did it; our prayers and faith in Him, did it. I, along with thousands who worked and witnessed the Inauguration that day, will testify it!"
His Word had come true! Needless to say, all the four open-heart surgeries performed on that Opening day were a great success.

This was just the beginning …the best, was to come…