Introduction
TEMPLE OF LEARNING
Cloistered between a valley of ancient hills and the meandering latent flow of the river Chitravathi at Prasanthi Nilayam, Sri Sathya Sai Institute of Higher Learning announces its quiet presence as a forerunner of integral education, character building and academic excellence.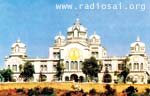 The chaotic turbulence of degenerated education systems does not echo in its vibrant corridors nor does the impersonality of excessive dependence on technology choke its gates. Basking ever in the spiritual aura of Prasanthi Nilayam, the abode of the highest peace, the chosen seat of Bhagawan Sri Sathya Sai Baba. Established by Bhagawan Sri Sathya Sai Baba on the 22nd of November, 1981 and comprising of three campuses- Prasanthi Nilayam, Brindavan and Anantapur, the Institute draws its inspiration from the penetrative declaration of Bhagawan Baba, who is also its Revered Chancellor:
"Students are the very foundation of the nation. To make the foundation strong, the people, the government, the parents, the teachers and the students - all have to coordinate their plans and their efforts. These five elements, these five vital forces have to work together towards this end. Students and teachers are the most valuable asset which can render the University an ideal one."
Along with subjects related to worldly knowledge, the University imparts instruction in ethical, moral and spiritual codes and Sadhanas. It has as its goal, the cultivation of the students' mind along these lines. Virtues, purity of mind, adherence to truth, dedication to the supreme, discipline and devotion to duty- these qualities will be fostered in this university.
Heart to Heart takes you on a journey, revealing to you the facets of this brilliant Gem - the Sri Sathya Sai Institute of Higher Learning ………..