SUMMER SHOWERS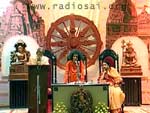 From time to time, Baba organises for the benefit of students, a Summer Course in Indian Culture and Spirituality. Typically, it is in the latter half of May, and, except for one occasion, Brindavan has always been the venue. The main objective of the Course is to give students a strong dose spirituality, which is achieved in part through lectures delivered by elderly devotees, men of esteem and reputation in public life, etc. The highlight is of course the Daily Discourse by Swami, delivered typically in the evening.
For every Summer Course, Swami chooses a particular theme; for example, in 1993, it was the Mind. In 1976, the venue was shifted to Ooty, where there used to be a Sai School, later shifted to Prasanti Nilayam] because the Hostel in Brindavan was then under construction. That year, Baba's Discourse revolved mostly around the human aspects of the Krishna Avatar.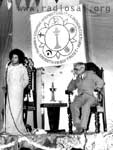 The Summer Courses were started in the early seventies. At that time, the student strength in Baba's College was relatively small. Therefore, participation in the Summer Course was open to students from all over India; at times, there were even some overseas participants. However, once the Sri Sathya Sai Institute of Higher Learning came to be established, participation in the Summer Course has been restricted mainly to the students of the Institute and some select guests.
As in other such activities, Swami takes complete charge. For the entire duration of the Course, food is served free for all - students, teachers, guests, supporting staff, etc. Further, Baba makes sure that sweets and the fruit of the season, namely mango, are regularly distributed to one and all. Evening entertainment and cultural programmes are not overlooked, and one year there was even a play by youth from New York.
Without fail, the Summer Course is always a memorable experience for all involved with it in one manner or the other. Especially for the new comers to the Institute, it is an eye-opener to Swami's Infinite Love. The camaraderie, support and co-operation they receive from their seniors stands in marked contrast to the crude, cruel, uncivilised, and vulgar 'initiation' customs practised elsewhere.
For the benefit of posterity, the Divine Discourses are compiled and published under the generic title: Summer Showers in Brindavan. The 1976 volume of course bears a different title; it is called, Summer Roses in the Blue Mountains.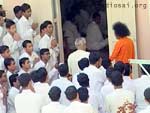 The Summer Course always concludes with a farewell lunch, personally planned and supervised by Bhagavan Baba. He arrives even as honoured guests and students are taking their seats. To start with, He goes on a round of inspection - the general arrangements, the kitchen, the items to be served, etc. The scrutiny over, Swami now moves around playing the gracious host. Here and there He stops to exchange a few words, and occasionally, He even accepts a letter or two - people never miss a chance to slip a letter into His hands! Finally, He moves to the table set apart for Him and takes His seat there. From there, He glances over the entire gathering. After this a beautiful smile and a gentle, barely perceptible nod - this is the signal for chanting the Brahmaarpanam prayer [drawn from the Bhagavad Gita and specially selected by Baba for chanting before eating; basically, the food is first offered to God and then eaten as a sacrament]. After the chant is completed, all eyes are on Swami. When He takes His first morsel, others start eating.
Swami hardly ever stays back to eat a proper lunch. Having tasted a little bit of the fare (for the sake of the students), He rises, moves around for a brief while, receives Aarathi at the exit and leaves the dining hall. This is the standard routine.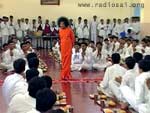 One year, there was a dramatic difference. While food was being served, Swami slowly moved to the Head Table where important guests are seated. Bhagavan stopped by to talk to an old-time devotee seated there. As He was conversing, food was being served, including to the guest with whom Baba was talking. Quite casually, Swami occasionally took a small bit of some of the items on the plate and popped it into His mouth. It was a gesture of extra-ordinary intimacy, but it all happened so delicately that hardly anyone was aware of what was going on. Even the devotee concerned hardly noticed - so absorbed was he in the conversation. Suddenly, Swami said aloud, "All of you; what are you waiting for? Start eating. People have planes, trains, and buses to catch. It is getting late. Start eating." Of course, no one made any attempt to start eating; how could they, when Swami had not taken His seat and Brahmaarpanam had not been chanted? Baba repeated His instruction once again. This time, the devotee with whom Swami was conversing till then said, "Swami, but Brahmaarpanam….?" Swami smiled and replied, "Bangaru [an endearing term in Telugu that literally means gold] what are you talking about? I have already taken the food even before it was formally offered to Me with a chant! What more do you want when I have taken the food?" So, for once, no Brahmaarpanam was chanted. One more reminder of who exactly He is!