"Of such is the Kingdom of Heaven"

It was Christmas at Puttaparthi. A quiet stillness pervaded the air as we sat at morning Darshan waiting for Baba to appear. The palm leaves rustled gently in the breeze. The sky was clear and blue without any trace of clouds. It had been six years since my husband and I had visited the ashram. This was the first visit for our children Aaron, 18 months old, and Heidi, 3 years old.
As if from nowhere Baba's orange robed figure suddenly appeared. He walked towards the men's side as if His feet "floated" in the air. Moving among the crowds, He accepted letters and gave His blessings. A surge of happiness welled within me as I experienced His profound love, grace, and compassion. Gradually He moved towards the women's side. As He neared our place, my heart sank as Aaron began to fuss. When I looked up, Baba was several rows past us. I hadn't noticed even a glance in our direction.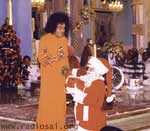 As we left, Heidi said, "Mommy, He didn't even talk to me or give me a present!" It then occurred to me that she had expected Baba to be like a grandfather or Santa Claus, lifting her up in the air playfully and giving her presents. She had only seen His pictures at our Cambridge Center meetings and in our home. How could I explain to her the true nature of an Avatar? "Heidi," I said, after a few moments of thought, "the only way Baba can hear you is if you pray to Him in your heart."
During the afternoon and evening I began to notice her praying with folded hands whenever she would sit down to rest. Her concentration amazed me. Even the next morning she remembered to pray.
Morning Darshan found us in the third row with our friend Indira beside us. Baba appeared and walked towards the men's side accepting letters and blessing various items with a touch of His hand. As He neared the women's side my heart began to beat faster. He paused a second in front of us. With a rapid movement of His hand He materialized a small object which landed with a thud in Indira's lap as she still held out letters that He never took. It all happened so fast that by the time we looked up He was several rows down the crowd of people. Indira picked up the small piece of candy in the wrapper and looked at Baba with a puzzled expression on her face. He looked back at us with a playful smile and said in His sweet sing?song voice, "Not for you, for the little girl." Heidi was thrilled. Her prayers had been answered. At the age of 3 she had learned that God hears and answers our prayers. We too can learn from her faith the importance of becoming like children before God. "Of such is the Kingdom of Heaven."
-Cathy Daub (New Jersey)