LABOUR OF LOVE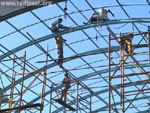 It was October 31st, 2003. Another balmy winter day in Prashanti Nilayam. It was a blissful setting. The Lord was sitting on the verandah, after giving Darshan, surrounded by students and devotees.
But all was not the same. This Divine bliss was punctured by the clang of metal on metal. A group of contract labourers were replacing the fiber glass on the retractable roof of Sai Kulwant Hall. On divine orders, the work was not stopped, even when He was present in Sai Kulwant Hall. He also wished that the work be completed by Akhanda Bhajan day, November 8th, 2003! The work thus went round the clock.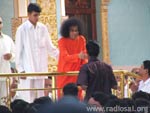 Swami spent a lot of His time inspecting the work while seated on the verandah. Occasionally, He would raise His hand in blessing to a construction worker, who had prostrated to him, from his perch on the roof. Swami also showed His concern for students, asking them to move closer, so that the students at the end of the line would not be in jeopardy from falling objects. The students, who do not need a second invitation, immediately crawled all the way up to the steps, to be in the closest proximity with their Divine Lord.
After a couple of days, Swami got up, walked a few steps, and gestured to a worker to come up to the front of Sai Kulwant Hall. Not knowing what to expect the worker approached with trepidation, hesitatingly, with folded hands. Swami, immediately had a box of apples brought from inside and handed it to the surprised and delighted worker. (Note: Apples are rather expensive in India and considered more of a rich man's indulgence). Then came a carton of biscuits and then some sweets. His love kept flowing. This constant stream of goodies continued over the next few days.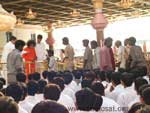 Soon, it was Akhanda Bhajan Day. The roofing work was completed on time as divinely ordained. At around 5:30 PM, at an impromptu function, before the entire assembly of Sai Kulwant Hall, just before the close of the Akhanda Bhajan, Swami personally handed over watches and new clothes to each of the workers. Patting a worker on the cheek, or blessing another one by placing His Hand on the head, He brought cheer and bliss to everyone of these workers who had served Him well. He also ordered that prasadam be distributed to all the workers, even before the Akhanda Bhajan was finished and waited till everyone was served.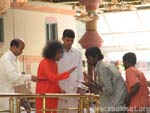 These group of workers came to Prashanti Nilayam as contract labour, but for Swami, they were HIS children come to him for offering their labour of LOVE.