SPREADING HIS LOVE : SERVICE BY SAI STUDENTS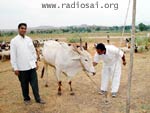 Nestled on the outskirts of Mudigubba, 36 kms. from Prashanti Nilayam, exists a small hamlet called Maarala, that was designed to be venue of the 24th Grama Seva Camp conducted by the Sri Sathya Students, held on the 30th of December 2003.
Preliminary visits by our brothers revealed that, as is typical of the Indian landscape, especially in these confines, Maarala comprised mostly of agriculturists and cattle raisers.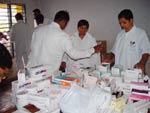 In keeping with Bhagavan's directives over the past seven years, prior arrangements were made to address the health and well being of the inhabitants and their surroundings, with a fervent prayer to Swami that these efforts facilitate an eventual improvement in their lifestyle. Accordingly, a total of 41 doctors and several paramedics from Vishakapatnam, Coorg, Coimbatore, Bangalore, Hyderabad and a group from overseas as well participated in the camp.

The specialities that were covered in by this team included:

ENT

Cardiology

General Medicine

Dermatology

Ophthalmology

Gynecology

Dentistry

Homeopathy

Acupressure

Veterinary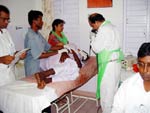 After a prayer and bhajans, the various departments were set up and the doctors and paramedics In addition to medicine and food, hope, too was distributed, and in abundance.
The different departments were set up in the classrooms of the village school and the elderly, the householders and the children were diagnosed at the different departments, were allocated their respective rooms.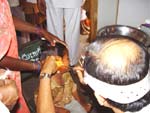 Simultaneously, the tables for the registering of the patients commenced and continued till late afternoon reaching a total of 2455 patients.
Each person was directed or taken to the respective department depending on the complaint / ailment.
While the paramedics assisted the doctors, the students ensured that everything proceeded smoothly and efficiently.
Once the diagnosis was done, the patients were directed to the pharmacy where the prescribed medicines were given along with instructions in their local language (Telugu) on dosage and requirements.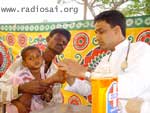 The faces of the villagers beamed with hope and satisfaction, that there was someone who cared deeply for them.
After the villagers received their medicines, food was distributed in a shamiana.
A Bal Vikas class was conducted on the school playground for the school children and others from the village - bhajans, shklokas, etc.
A shaminana was replete with posters on Health and Hygiene and several students gave general healthcare instructions to the villagers.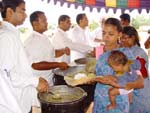 Here too Chunam and Spatikam was distributed to the villagers for de-fluoridation of drinking water explaining the process to them.
Sai protein was distributed to the children and 300 saplings were planted in the village.
Blankets, sarees, and dhotis were given to the elderly persons of the village.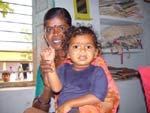 In keeping with the common practice of Swami to bring relief in various forms directly to the doorstep of the beneficiary, these camps are held quarterly totally free of charge in the various villages around Puttaparthi and Bangalore.
The objective was clearly in line with Swami's message: bring spirituality to the poor in the form of food, medicine and shelter.