SATHYA SAI BABA, TRANSPLANTER OF MY HEART

SOME TIME AGO, RADIO SAI BROADCAST A SERIES RELATING TO THE EXPERIENCES OF SAI DOCTORS. THE ARTICLES ON WHICH THIS SERIES WAS BASED WAS TAKEN, WITH DUE PERMISSION OF COURSE, FROM THE BOOK INSPIRED MEDICINE, EDITED BY JUDY WARNER, AND PUBLISHED BY LEELA PRESS IN USA. WE PRESENT BELOW THE TRANSCRIPT OF THE ARTICLE BY DR. VALLUVAN JEEVANANDAM OF AMERICA, WITH NOTES FROM OUR SIDE.
DR. JEEVANANDAM IS A BRILLIANT HEART SURGEON WITH HEART TRANSPLANT AS HIS SPECIALISATION. TO START WITH, HE WAS A NON-BELIEVER, AS IS OFTEN THE CASE. AND THEN CAME A DAY WHEN IT WAS TIME FOR HIM TO BECOME A SAI DOCTOR AND SERVE THE LORD. OVER NOW TO DR. JEEVANANDAM…..
Baba says that He will call us only when it is the proper time. The first time I heard about Swami was in 1980. My aunt took my mother, sister, and me to visit Kodaikanal and insisted that we go to see Baba there. She said He was a holy man who would grant interviews, materialize things, and predict the future. At that time, there were about 200 devotees in Kodaikanal. I could have had close, personal experiences with Baba. But my mind refused to accept anything spiritual at that time.
I spent the subsequent ten years finishing medical school and my residency in cardiac surgery. Religion and spirituality were the last things on my mind. My sole focus was making a lot of money, buying a huge house, driving luxurious cars, and eating at the best restaurants. A life of material wealth was mine for the taking.
Baba started me on the divine path without my ever realizing it. My parents have always been religious, especially my mother. I have disappointed her many times by not learning Slokas and doing daily prayer. My parents moved to Arizona and began attending the Sai Baba center in Mesa. Whenever my family and I visited them, they would take us to Sunday Bhajans. That was not exactly what I wanted to do during my short vacations. I would even try to schedule the plane flights to avoid the Bhajans. But with my mother's guidance, I started to listen to and actually enjoy Bhajan tapes. My interest in Baba was further heightened when I read Howard Murphet's Sai Baba: Man of Miracles. Baba was no longer an entity to run from, but not one to be believed either. Bhajan tapes slowly replaced pop music as the preferred music in the car.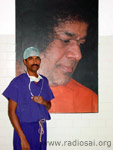 The most dramatic event occurred in November 1992 during a visit to Arizona for Thanksgiving. I had prepared for the long flight with the usual set of novels and other time-consuming materials. After I got on the plane and opened my bag, none of the reading material I had packed was there. The only book was The Vision of Sai by Rita Bruce. Absolutely nothing else! Without any options, I started reading the book, clearly expecting to fall asleep within half an hour. Well, I was never so mesmerized and moved by a book. Swami had finally caught me. I was previously a non-vegetarian who really enjoyed every meat dish possible. I stepped out of the airplane a vegetarian, much to the utter astonishment of my wife and parents. I have remained a pure vegetarian, despite eating at some of the fanciest restaurants in the world. All my previous acquaintances were astonished. I was finally on the divine path toward Swami.
The next big event that catapulted me toward Swami occurred in April 1993. We had a guest speaker at one of our Sunday Bhajans who told us about the new Super Specialty Hospital in Puttaparthi where cardiac surgery is done absolutely free. Because I was also a cardiac surgeon, I was introduced to the speaker. During the conversation, he said that the availability of artificial heart valves was limited in India and asked whether there was anything I could do to help. I had absolutely no idea how to proceed further. Valves are very expensive in the United States and, being a new attending physician, the spirit was there in wanting to help, but the wallet was not. This was to become one of Swami's amazing Leelas.
The next day, I got a call from an old friend from whom I had not heard in a year. It seemed that he had switched jobs and was working for St. Jude Medical, the largest manufacturer of heart valves in the world. Furthermore, he was in charge of the Asian market. He arranged for me to buy valves at cost and, in addition, arranged for a matching donation from his company. In one telephone call things went from impossible to reality. Later, a representative who sold sutures contacted me. He had a huge overstock of very expensive heart sutures and wanted to know if there were any hospitals doing charity work that could use them. Swami was guiding me through an incredible shopping spree. Finally, it was the middle of May, and I had a lot of equipment but no time off to take it to India. We were short on faculty, and there was no relief in sight. My prayers to Swami were answered when we were finally able to recruit a very good surgeon. However, he wanted three weeks off to visit his family in Japan. Without my asking, my boss came to me with a proposition. Since the new attending physician was taking time off, how about if I took an equal amount of time off in July? I was dumbfounded. Even without asking, I was being given time to visit Puttaparthi. Swami was reeling me in.
I set out to India with more than $30,000 worth of equipment. Of course, the Customs Officer in the Bombay Airport, sensing a big financial bonanza, wanted to charge import duty despite my telling him it was all charitable donations. I started praying for Swami's help. Just then the supervisor arrived. The second he heard it was for Swami's hospital, he ordered his men not only to help pack the sutures in a suitcase, but to help transport everything to the domestic terminal for the trip to Madras. Swami is always testing one's faith, but He will always come to the rescue at the bleakest moment.
THREE MONTHS LATER, DR. JEEVANANDAM RECEIVED AN INVITATION TO SPEAK IN THE SECOND INTERNATIONAL SYMPOSIUM ON CARDIOVASCULAR MEDICINE, BEING HELD IN PUTTAPARTHI. AND SO, TO PUTTAPARTHI THE YOUNG DOCTOR WENT. WE PICK UP THE STORY FROM THERE.
The Symposium ended, and I had to stay an extra day to catch my flight back to the United States. In the morning, Swami granted me an interview. I had not expected this, although I had previously written down a list of questions in case I was granted this privilege. I went to the interview room with several others whom I do not remember, and with Dr. Donald Ross, probably one of the greatest surgeons in the world. Imagine me, an upstart, sitting next to this luminary. Only Swami can pull these diverse groups of people together.
I had practiced all my questions and was "ready for Swami." Of course, the second I went inside, I completely melted. I was totally overwhelmed. I sat down across from Swami, and He started talking about very practical things such as money, family, and work. By this time I had completely forgotten about my "wish list," but Swami went right down the list, item by item. It was as if He were reading what I had written. He truly knows everything.
At the end of the interview, Swami gave me some Vibhuti, and I left for Bangalore. I had put some very precious things in a bag: Swami's Vibhuti, other mementos from the conference, and some pictures presented to me by a doctor who, in turn, had received them from Swami. I checked into the hotel in Bangalore and went to the airport at night for a flight to Bombay. To my horror, I had misplaced the bag. I probably left it in the taxi from Puttaparthi. There was no way to retrieve it. I told my contact about this at the Bangalore airport about 30 minutes before departure. However, no one even knew which taxi I had traveled in from Puttaparthi. I felt I had lost the most precious things in life. I got on the plane, and the doors closed. Then there was a delay. I was getting a little anxious, as I had a connection to make. Just then, the doors reopened, and airline officials asked if I was on board. I thought I must be in a lot of trouble. A person came to me, dropped off the bag with all of my precious belongings, and left. I did not know him, nor did any of my Bangalore contacts with whom I later spoke. This was another one of Swami's miracles!
By the way, since that interview, I have become much more comfortable discussing God's work with my patients. Many of them are desperately ill and come to our institution because their cases are hopeless. I tell the patients that, although I will do my best, there is certainly a chance they may die, and that God is the one who determines that. I am just a humble instrument of God's action. I try to steer their hopes away from me and have them focus on God. The patients who truly believe in God and say they will completely leave it "in the hands of God" have recovered remarkably well. This is the power of faith and prayer.
AND NOW, A FEW FASCINATING MEDIAL EXPERIENCES THAT DR. JEEVANANDAM HAS HAD.
We had a patient at Temple University who had a massive heart attack, became very unstable, and was rushed to surgery. He needed several important blood vessels bypassed but, when his chest was opened, we found that the heart attack had been so big that all the usual landmarks we use to find the vessels were completely obliterated. I searched for more than 20 minutes without finding any vessels. Everyone in the operating room was getting nervous for, if those vessels could not be found and bypassed, the patient would surely die. I was dissecting on the back of the heart to find the vessels, frustration and anxiety mounting. Just then, I heard the words, "Sai Ram." No one else in the room was a Baba devotee, so those words startled me. In addition, I felt a sharp pinch in the middle of my chest just where I wear Swami's materialized ring as a necklace. My hand moved involuntarily, and I made a cut in the patient's heart. Right there, in an area where we never would have found it, was the main artery. Two others were found quickly, and the patient did very well. Everyone in the operating room wanted to know how I had done that. I told them it was luck, but that it was helpful to have God on our side. Clearly, I was acting as an instrument of the Lord. Ever since then, I have, on occasion, felt a pinch on my chest in the exact spot where the ring is touching me. Of course, this makes me instantly think of Swami.
Another story involves Arunan Sivalingum, an eminent retinal specialist. At the young age of 37, Arunan was considered one of the foremost ophthalmologists in the world. He was health conscious, despite leading a very busy and stressful life. He experienced some nausea and vomiting and went to the emergency room at his institution. The most likely diagnosis was an ulcer, so he was being prepared to receive a gastroscopy. As a part of the routine, he also had an EKG, which showed a massive heart attack. He was rushed to the cardiology suite, and an angiogram revealed massive coronary artery disease. He became unstable and was rushed to the operating room. The surgeons performed bypass surgery but were unsuccessful in recovering the heart. They placed him on a temporary heart-assist device and debated what to do with this dying patient.
This is where Sai incidents take over. It so happened that one of the doctors in charge of the intensive care unit had just attended our conferences on transplantation and end-stage heart disease. She immediately encouraged the surgeons to refer him to us at Temple. In addition, Arunan's wife was best friends with the wife of our medical director of transplantation. Arunan was transferred early in the morning and went directly to our operating room. He was unconscious, was on a ventilator, had his chest open, was bleeding, and had poor blood flow. The mortality rate of such a patient is about 80 percent. I took one look at him and my heart sank. Here was an important member of society, a young, energetic husband and a father of four, including a newborn. Only a miracle could save him. Just then, the nurses pulled back the sheets in preparation for surgery. There was a picture of Swami. Arunan's mother, a long time devotee, had taped a picture of our Swami to his upper arm. My nurses were surprised. They exclaimed, "Hey, that's the dude in the picture at your house Val." I started thinking that maybe now we had a chance. We started the surgery and proceeded to stop the bleeding, take out the temporary device, and implant a more permanent artificial heart. The idea was to get him better and wait until a heart transplant could be done. The surgery was tricky, and we barely got him through. He was transferred to the intensive care unit in a grave condition. The slightest complication would mean death. He remained unstable.
I had to go to a very important meeting in San Francisco I had postponed attending many times. I left him in capable hands and boarded the cross-country flight. Arunan continued to bleed, but his blood flows were acceptable. I kept in constant contact by sky phone. Then, his flow started to go down. He was starting to die. Opening his chest again would surely have killed him. I gave a bunch of orders, but things were looking bleak. At that time, my plane began its descent into San Francisco, and the sky phones were shut off. The only option was to pray. I told Swami that Arunan was completely in His hands. There was nothing we could do. That was around 6:00 p.m. on the West Coast. I went to the hotel room fully expecting disaster. I called the hospital in Philadelphia and spoke to the resident, who was giddy with happiness. At exactly 9:00 p.m., 6:00 p.m. on the West Coast, and also Swami's special number, a miracle had happened. Arunan stopped bleeding, and his blood flows improved dramatically. By the next day, he was off the critical list and did spectacularly well with the device. He ended up going home and even operated on patients while on the device. It was truly a miracle.
That was only the beginning. He was on the device without any complications, which is rare, for more than nine months. With Swami's guidance, I was contemplating a career move to Chicago. But I felt a personal responsibility to have Arunan's transplant done before I left Philadelphia. During a Sunday Bhajan, I prayed hard to Swami. I did not want to leave without finishing what we had started on Arunan. During meditation, my beeper went off. A heart available, but there were seven people ahead of Arunan. I told the coordinator to send blood for matches on everyone. The coordinator asked twice about sending blood on Arunan because he was so far down on the list. I insisted. Through divine grace, every one of the patients above him tested poorly. Swami had designated this heart for Arunan. We proceeded with the transplant. I placed Vibhuthi on Arunan and, again, there were more than 15 people in the room watching, but no one actually saw me do it. The transplant was truly divine. It went without a hitch. I could feel Swami taking over the operation. There was no other way for it to go so perfectly. The new heart jumped back to life. Everyone in the room was absolutely amazed; this was the best heart anyone had seen. Arunan has done great since then and, with Swami overlooking things, he will continue to do so. He has become a strong devotee and has sent his curriculum vitae to Swami to ask for permission to work at the hospital in Puttaparthi. I am sure that Swami will get him there one day. Swami has always said He will open His hands, and the best doctors will come. They just come at different times and by different paths.
ABOUT FIFTEEN MONTHS AFTER ALL THIS HAPPENED, DR. JEEVANANDAM WAS BACK AGAIN IN PUTTAPARTHI. JUST BEFORE HE WAS ABOUT TO RETURN TO AMERICA, SWAMI GRANTED HIM AN INTERVIEW. OVER NOW TO THE DOCTOR'S DESCRIPTION OF WHAT HAPPENED.
Swami graced us with an interview at the absolute last moment. When He asked me what I wanted, I said, "Your blessings," and He told me that I always had them. He asked again, and I said, "Your grace," and He gave me the same answer. Finally, I said, "Whatever you desire Swami." He materialized a silver ring with an Om sign. He asked what silver meant. Purity, He replied. He then took back the ring, blew on it and it became gold, with His picture on it. He put it on my finger; again, a perfect fit. During our personal interview, Swami had asked where my diamond ring was. I told Him that I wore it as a necklace. He then took off the ring that He had just materialized, blew on it, and it disappeared. I guess if you don't use it, you lose it. Swami then asked about my work. "Fine," I said. He responded, No good, too much jealousy.
That was the first time Swami had said that there was a problem with work. Externally, everything was perfect. We had built a new house, I was director of the largest transplant program in the United States, and my career, with Swami's grace, was blossoming. But Swami knew, and He clearly predicted the future. He then materialized a nine gem (Navaratna) ring for me, which I wear along with the other ring, on a necklace.
TIME PASSED, AND UNKNOWN TO DR. JEEVANANDAM, EVENTS WERE SHAPING TOWARDS HIS MIGRATION TO A DIFFERENT PLACE. THE DOCTOR WAS ABOUT TO LEAVE FOR INDIA FOR YET ANOTHER VISIT, AND JUST THEN SOMETHING HAPPENED.
Just before I was to leave for India, I received a call from the University of Chicago, asking me if I would be interested in interviewing for the position of Chief of Cardiothoracic Surgery. I wanted to postpone speaking to them until after the trip to India, but they insisted, so I went for a day. Certainly, being asked to be the department chief at a very young age, in such a prestigious institution, could only be influenced by Swami's hand. I was happy to be asked, but Temple University countered with a similar offer, and it was going to be much easier to stay where I was. When I arrived in India, Swami was in Whitefield,
ON ARRIVAL, DR. JEEVANANDAM BECAME IMMERSED IN WORK, AND WEEKS FLEW BY. AND THEN….
On the day I was to leave, I fully anticipated another of Swami's usual Leelas, figuring He would postpone the interview until the last possible minute. Of course. He was as unpredictable as always. The second I passed through the gates of Brindavan, several devotees came directly to me and said Swami wanted to see me for an interview in the morning. Swami started with the usual How are you, doctor? He then went ahead and solved one of my main dilemmas. When we perform bypass surgery, it is conventional practice to use veins as grafts for the procedure. I like to use arteries instead, as they are naturally meant to handle high pressure. Veins are obtained from the legs; they are long, and easy to work with. Arteries are obtained from the arm, chest wall, or the stomach they are much shorter and less forgiving in terms of length. Why not maintain the artery in its natural state instead of transforming a low-pressure vessel, such as a vein, into an artery? It is much more technically demanding and tricky to do this, so only about 5 percent of cardiac surgeons do this type of operation routinely. In my practice, and at Swami's Hospital, we had implemented a system of using arterial grafts as much as possible. However, there is no way to prove if this is better, and we won't know for at least five to ten years. I've always wondered whether the extra effort was worth it but, despite the lack of conclusive medical data, I believed in my heart that it was. Then Swami answered my dilemma by describing how I do not use veins, that I use arteries, which is a better and more advanced technique. I no longer need scientific proof. Swami validated all of the extra work involved in using arterial grafts.
I started asking Him about Chicago and, before I could finish, He took my hand in His, told me He knew about the move, that He had arranged it, and that I must go. It was a direct command from the divine.
AS SWAMI FORETOLD, DR JEEVANANDAM DID MOVE TO CHICAGO, BUT THE MOVEMENT WAS NOT AN ORDINARY EVENT; RATHER, IT HAD A BEAUTIFUL DIVINE TOUCH, AS JEEVANANDAM EXPLAINS:
We, indeed, moved from Philadelphia to Chicago. It would never have happened without Swami being so forceful. Every time I thought of all the things we were giving up in Philadelphia, Swami's words came to mind. From a practical point of view, the move did not make sense. The program was more established at Temple University; I made more money there, we had an incomparable house; and I had the respect of the community. But faith in Swami and His forceful words made the move possible. At one point, I was really having doubts, and I wrote a letter to Swami from my office. I asked for a sign that this move really was what He meant. Just then, my secretary knocked and said a Dr. Mulder was calling. I told her to take a message, but Dr. Mulder was persistent. I took the call, and he said he was an alumnus of the surgery department of the University of Chicago. He gave me a ten-minute discourse on why I should move. I later found out that no one at the University of Chicago knew of a Dr. Mulder. It was Swami Himself giving the sign I had wanted. He always answers our prayers, just in different ways than one would expect.
This is just a small sampling of my experiences with Bhagavan Baba. Since I have witnessed and participated in Swami's miracles, my entire attitude toward life has changed. I have been taught humility, compassion, and to serve mankind. Swami sets high standards, and I do not know if I can ever reach them. But, with His guidance, I have been directed onto the right path. I have a long way to go, but my Lord and Guru, Sai Baba, will surely get me there.
THE END
WELL, DEAR READER, WHAT DO YOU THINK OF IT? DO YOU LIKE THIS ARTICLE? IF SO, WHY DON'T YOU TELL OTHERS ABOUT IT SO THAT THEY TOO CAN READ IT AND EXPERIENCE ANANDA.
BY THE WAY, WE SHALL PUBLISH LATER THE TRANSCRIPT OF THE INTERVIEW WITH DR. JEEVANANDAM THAT WAS BROADCAST OVER RADIO SAI. ALSO, THE TRANSCRIPT OF THE INTERVIEW WITH DR. SIVALANGAM, WHO RECEIVED THE HEART TRANSPLANT! WATCH OUT!!