Passage to India
Dr. Abdelfattah M. Badawi, Egypt
By absolute coincidence I bought Dr. Mohamed Sadek EI-Adawy's book about 'SPIRITUAL THERAPY BETWEEN SCIENCE AND APPLICATION' in which he mentioned on one of its pages that there are some contemporary cases nowadays which prove man's coming back from the world of spirits to re-exist on earth, (reincarnation).
And one of the renowned cases today on the world level is an Indian spiritual master known by the name 'Sai Baba'.
Since I was busy at the time, I actually forgot his book's subject, and after one year I received from one of the western publishers book lists about spiritualism. I halted at a page including some twenty books about Sai Baba. I remembered where I had previously come upon this name and I selected from that list two books, one of which is titled: 'Sai Baba., The Ultimate Experience', by Phyllis Krystal and the other book titled: 'Walking the Path with Sai Baba' authored by the Australian journalist Howard Murphet. I then sent in a request for these two books and upon their receipt I read them in-depth with much interest. Upon completion of reading about this legendary personality, I felt a strong desire to meet this person, 'Sai Baba' the great spiritual master.
Next I visited the Indian Cultural Centre in Cairo and met with Dr. Ihsan Rahman, the Indian Cultural Adviser and asked him about Sai Baba and whether He was still alive to which he informed me that He had died a while ago, and he then let me know about a Yoga course held at the Indian Cultural Centre, in which I promptly subscribed. In the first Yoga course day, I met Dr. Praphakar, a Yoga instructor, who had just come from India and asked him about Sai Baba and he informed me that there are two personalities in Sai Baba, the first personality which died a long time ago whereas the second personality which is still alive. I felt glad about this news and looked forward to meeting that miraculous man. I wished fervently from the depths of my soul that Sai Baba would disclose to me a prophecy.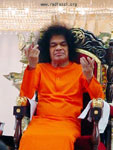 After a few weeks following this wish, during my attendance in a scientific conference, I happened to coincidentally sit beside an Indian scholar named Dr. Niela Kanta. This was the first time he travelled out of India. Upon chatting with him I learned that he was an old solicitor of Sai Baba's, the preacher of the great generosities and that he would be able to help me locate him in Brindavan.. He then invited me to attend a world conference to be held in India, where he could facilitate my meeting Sai Baba. I accepted his invitation. I travelled to India in March 1996 arrived in Bombay and reached Madras to attend the scientific conference, meeting with Dr. Niela Kanta who then guided me to Sai Baba's domicile in Brindavan near the famous city of Bangalore.
Then suddenly a dream became a reality. I sat within the rows of thousands of squatting people awaiting the presence of the great spiritual instructor. While I was still suffering pain in my lower back... and after two hours of waiting, and and repetitions of religions psalms, Sai Baba made His appearance, walking among the attendant's rows. As He approached me, the fatigue and exhaustion in my body disappeared, feeling an unusual energy penetrating my whole body, and even my back pain had suddenly disappeared.
On the closing day, I attended once more, carrying a letter in which I described some wishes wherein I requested the blessing of Sai Baba. I learned that if He takes the letter, this becomes a grand "prophecy". Sai Baba made His appearance, crossed the attendant's rows, where I was luckily sitting and He picked up my letter. I then saw Him before me lifting His empty hand near me and materializing from it ashes in the form of a cone upon one of the attendants head. It was as though I was watching a science fiction movie. Then Sai Baba proceeded forward where He took a seat before the attendants who totaled about one hundred thousand... and I noticed an illuminating halo about His head, ever 'expanding and enlarging. I was unable to believe my eyes. I properly discerned my vision and become sure of the fact of the existence of a shining halo surrounding the great spiritual scholar's head.
After one week from my return from India to Cairo, one of my two written wishes in the letter to Sai Baba was fulfilled. This wish was related to a personal problem which persisted over three years without resolution. Whereas the second wish, its symptoms began to appear.
Most important, however, is the great prophesy of Sai Baba creating a deep-rooted transformation in my heart. My feelings towards God have become a focal point in my thoughts most of the time. This transformation is notable in spite of its being slow. In addition my heart has become filled with love for all people and has become to overflow with joy and happiness. Divine love has developed in the depths of my being and what a joyful feeling it is.
(article from MATHRUBHUMI SRI SATHYA SAI SUPPLEMENT – 2002)