Practicing Medicine With Sai
Charles Bollmann, M.D.
Raised a Catholic, I entered the seminary to become a priest at an early age. After two years, I realized it was not for me. I then spent my junior and senior years at a Catholic high school in New Jersey, attended Villanova University in Pennsylvania, and then attended the University of Medicine, in New Jersey, for my medical degree. Residency training and a busy medical practice kept me busy for several years, but I was always on the "spiritual path." I simply did not have time to pursue it; there was so much to learn.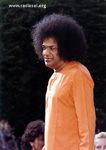 Finally, I felt I was enough of an expert in medicine to get back to what I was really interested in - metaphysics. I started studying all types of spiritual knowledge and paths, from Scientology to Eastern philosophy. I read Autobiography of a Yogi by Paramahamsa Yogananda, books by Ram Dass and Carlos Castaneda, as well as others by Ramakrishna and Ramana Maharshi. I knew I had to go to India but did not know where to go. While visiting a bookstore in Del Mar, California, I found a small section of metaphysical books. For two hours, while my wife was shopping, I went over every book in the section, but found nothing of interest. When my wife returned, I refused to leave until I found the right book. Immediately, I turned around and there, not even two feet away from me, was Sai Baba's picture looking directly at me. The book was The Holy Man and the Psychiatrist by Dr. Samuel Sandweiss. After reading it, I knew I had to go to India.
AND SO, LIKE ALL DEVOTEES WHO HAD COME UNDER THE SPELL OF SWAMI, DR. BOLLMAN WENT TO INDIA, AND OF COURSE SAW SWAMI. THIS WAS WAY BACK IN 1977. DURING THIS TRIP, HE ALSO MET MANY DEVOTEES, INCLUDING DOCTORS. LET US HEAR MORE ABOUT THAT FROM BOLLMAN'S ARTICLE.
During this trip, I met several doctors and asked them if they had witnessed any miracles. Dr. Rajeswari, the obstetrician-gynecologist who was the head of the Bangalore hospital, told me the following story. A patient others was scheduled for a hysterectomy for fibroid tumors. On the doctor's rounds the morning of the surgery, the patient told her that Swami had come during the night, ripped out a fleshy mass of tissue, and told her she did not need surgery. Dr. Rajeswari was skeptical, but when she pulled back the sheet to examine the patient, there was a healed scar present that had not been there the day before. On further examination, the tumor had completely disappeared and the uterus was back to normal.
IN JANUARY 1978, SHORTLY AFTER DR. BOLLMAN RETURNED TO PHOENIX IN ARIZONA, HIS WIFE GAVE BIRTH TO A DAUGHTER. AT THAT TIME, A PATIENT NAMED TERRY CAME TO DR. BOLLMAN. OVER NOW TO DR. BOLLMAN.
Terry's first pregnancy had progressed normally until about six weeks before her due date. As her obstetrician, I was surprised to get a call from the hospital that she was in labor. The delivery was uneventful, and the baby, while premature, was doing well. On returning to my office, the post-partum nurse called and informed me Terry's blood pressure was markedly elevated. While making rounds the next morning, I realized Terry's laboratory findings were extremely abnormal. In essence, all of the liver-function tests were elevated. For a healthy female of 26 years, this was extremely unusual.
Terry, developed a postpartum hemorrhage. The diagnosis of a rare disorder, acute yellow atrophy of the liver in pregnancy, was made. This is a condition in which the liver is almost completely replaced by fat cells and is unable to function. The cause is unknown, and the condition is extremely rare. Since no one can live without a liver, Terry's condition rapidly deteriorated. Another postpartum hemorrhage developed, and I was required to perform a hysterectomy to control the bleeding.
Despite my efforts and those of 10 other specialists in various fields, we continued to lose ground. Terry developed a hemorrhage from the stomach and gastrointestinal (GI) tract, renal failure, and a stress ulcer. She went into congestive heart failure and, finally, coma. During all this she remained in a coma. I asked Sai Baba to help her and me to get through this, and I gave her vibhuti.
LIFE NOW BECAME VERY DIFFICULT FOR DR. BOLLMAN. TERRY'S SERIOUS ILLNESS WAS AFFECTING HIS WORK AND HIS FAMILY LIFE AS WELL, AND HE DID NOT KNOW WHAT TO DO, UNTIL HE REALISED THAT SWAMI ALONE COULD GET HIM OUT OF DIFFICULTY. THIS IS WHAT HE SAYS.
I asked Swami to help me. I drew the curtain around the bed and began to talk to the comatose Terry. I explained that the situation could not continue as it was, and that it was interfering with my life, my other patients, and my new-born child. I explained that she had a lot to live for, with her husband and their new baby. I then returned to my office to see patients. Within an hour, the intensive-care nurse called and excitedly told me that Terry had awakened from the coma. Two days later, she left the intensive-care unit and, within one week, she returned home with her baby. Six weeks later, her liver function was entirely normal. I know that the results would have been different had Swami not had His hand in the matter. This was my first assurance that Swami would always be there to guide me in caring for my patients, and this has lasted throughout my medical career.
DR. BOLLMAN NOW BEGAN TO MAKE REGULAR VISITS TO PUTTAPARTHI, AND HAD MANY EXPERIENCES, INCLUDING WONDERFUL INTERVIEWS. AS A FELLOW GYNECOLOGIST, HE HAD MANY PROFESSIONAL CONTACTS WITH LATE DR. RAJESWARI, AND ALSO OFTEN LISTENED TO HER AMAZING EXPERIENCES. MORE ABOUT THAT NOW.
During the times I visited with Dr. Rajeswari at the hospital, she told many stories about Swami. The most amazing story Dr. Rajeswari shared with me was her experience of being brought back from the dead. She had not been feeling well for several days, suffering from chest pain and dizziness. She informed Swami, and He told her He would take care of her. However, He told her to make sure that she saw a doctor to get her hypertension under control. Being a busy physician, she failed to take Swami's advice. She suffered a fatal heart attack. When she arrived at the small hospital emergency room, the EKG showed ventricular fibrillation, an extreme condition where the heart is not functioning, requiring electroshock therapy to bring it back to its normal rhythm. She emphasized that it was not ventricular tachycardia, a condition that sometimes spontaneously reverses, but ventricular fibrillation. As they did not have the personnel or the equipment where she was being treated, they tried to transfer her to a larger hospital. However, her heart stopped. They later told her that she had died on the way to the other hospital. During that time, she was unconscious and has no memory of what happened. When she awoke in the hospital, the entire room was orange. Everywhere she looked she saw orange. She said to the nurse, "I have been in many hospitals all over the world, but I have never seen a hospital room that was orange." The nurse replied, "Are you crazy, woman? There is no orange here." She said she later checked the EKG for herself and confirmed the presence of ventricular fibrillation.
SWAMI BRINGS PEOPLE TO HIM, ONLY WHEN THERE IS AN INNER YEARNING. WE HAVE HEARD DR. BOLLMAN TELL US THAT HE ALWAYS HAD A SPIRITUAL YEARNING FROM THE TIME HE WAS YOUNG. ONCE HE CAME TO SWAMI, THE TRANSFORMATION BEGAN. THIS IS WHAT DR. BOLLMAN SAYS ABOUT IT.
One of the many things Swami has taught me is that the solution to every problem is absorption in God-consciousness. It has saved me many times, and I am sure will continue to do so. I have found that whenever I am confronted with any problem, I take a deep breath and think of God.
THE SPRITUAL TRANSFORMATION OF THE SAI DEVOTEE DOES NOT STAND ALOOF. RATHER, IT HELPS HIM OR HER TO CONVERT KARMA INTO TRUE KARMA YOGA, A PROCESS THAT REVEALS HOW IN THE ULTIMATE ANALYSIS, IT IS ALWAYS GOD WHO IS THE DOER. BY WAY OF ILLUSTRATING THIS POINT, DR. BOLLMAN NOW TALKS ABOUT ONE OF HIS DIFFICULT CASES.
Once I had to do a hysterectomy on a short, very obese patient (more than 300 pounds) who had extremely heavy bleeding, so much so that she needed blood transfusions on two different occasions in the last year. While hysterectomy was recommended, no other surgeon seemed willing to do it because of the technical difficulty involved in surgery for a patient of that size. Her very enlarged uterus, which could not move up or down, would make the surgery much more difficult. It was a surgical and anesthetic nightmare.
When I saw her for the first time, she had just bled down to a hemoglobin of 6gms (normal is 12-14) and had just been seen in the emergency room. She was finally convinced she needed something done. After stopping the bleeding with hormones and treating her with medications to improve her blood count prior to surgery, I scheduled her for surgery. The surgery was the nightmare I thought it would be. It was almost impossible to see anything due to the amount of intra-abdominal fat and the enlarged and fixed uterus. She hemorrhaged from the uterine artery and lost a great deal of blood, which required multiple transfusions. Needless to say, I asked Swami for help before, during, and after surgery. I began to wonder where He was. Actually, I knew He was there but was wondering what He was doing.
After we finished the operation, we were far behind in our transfusions and fluid replacement. However, the IV had infiltrated, and all attempts at IVs and arterial lines by many anesthesiologists failed, again because of her extreme weight. I found myself in the intensive care unit with a patient who had no urine output, was very pale, and obviously blood-depleted. I had no way to give her blood or fluids. Her pulse rate was extremely high, and her blood pressure very low. Every physician we called for help seemed to be busy with his or her own problems. The general surgeon I usually call was at her mother's funeral! We could not even turn the patient from side to side in the bed, because she filled the entire bed and could not be turned.
What to do? I began saying the Gayatri mantra on my japamala. I realized I was not the doer, only the witness. I wondered if the patient would die. When I was about halfway through my japamala, my spouse called me and asked if I had tried vibhuti. She volunteered to bring some. I was very surprised to realize that she had thought of the vibhuti and I had not. While saying the Gayatri, and on hearing about the vibhuti, I realized what Sai is to my life. HE IS MY LIFE. Not only my life, but it seems I have trained my family the same way.
I continued to say the Gayatri. Suddenly, the anesthesiologist got an arterial line in after about 180 sticks in the neck. We gave the patient blood and fluids, and she slowly responded. She left the hospital just the other day in good condition.

SWAMI LAYS GREAT EMPHASIS ON KSHAMA OR FORBEARNCE AND DAYA OR COMPASSION. TRUE DEVOTEES TRY HARD TO ACQUIRE THESE VIRTUES SO THAT THEY WOULD BECOME REALLY DEAR TO SAI. KSHAMA AND DAYA NOT MERELY ADORN BUT ACTUALLY HELP, AS DR. BOLLMAN TELLS US.
Over the years, since I have been with Swami, I have learned to be more patient and more compassionate; I have left behind the prejudice I was raised with. I do not judge, and this has helped my patients open up to me.
I have learned to handle problem patients, or patients with problems that are not physical. Previously, I would find that depressed patients would also leave me depressed, as they dumped all their problems on me. Now, merely by silently repeating my mantra while I am sitting and listening to them, I find that their problems seem to disappear. I am able to remain calm, and they leave with some of their burden lifted. And I am doing nothing but silently repeating Om Sai Ram.