DOUSING FIRES OF GRIEF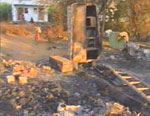 The 25th of February 2004.Disaster struck the city of Nandyal, Andhra Pradesh, India. A colony of not so well to do section of the society, with predominantly Muslims, was razed to the ground by fires. 139 houses got gutted. 200 and odd families became homeless overnight. Everything, except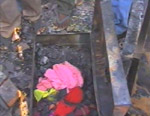 the clothes they were wearing, was burnt to ashes. 'What will happen to us? Where do we go? Is there someone who cared for us?, the victims wondered.
Yes, there was someone: the Sai Student. Students of Swami who passed out of the institute, ever ready to serve their Master, by serving their fellowmen. This suffering in Nandyal could not escape their discerning eyes. They had read about their plight in the newspaper. They swung into action. The local Satya Sai Samithi at Nandyal was contacted and a survey of the extent of the disaster was done the next day. Immediate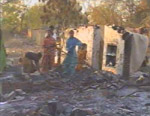 temporary relief had to be provided.
They decided upon their course of action: They would erect temporary huts for each of the 200 families. They would provide them with clothes, utensils, eatables, blankets and medicines…..which would last at least a few days, till they settled back in their work and earned their wages….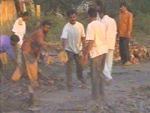 All the necessary items were procured. A letter was sent to Swami informing Him of their plan of action and seeking His blessings. And the compassionate Lord responded by giving them not only His blessings, but sacks of rice and hundreds of blankets for the victims.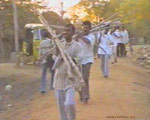 Armed with the Lord's blessings, six students and 32 sevadal from Puttaparthi rushed to Nandyal. They were received and housed by the local samithi people, who too wanted to participate in this act of service. The next morning, they began this massive work of erecting around 250 huts. Taking the name of the Lord on their lips, they went about their work tirelessly and by evening it was a different place. The temporary sheds were ready.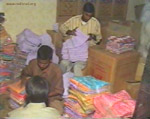 In the evening when the grateful families occupied the huts, the group went to each hut and gave them rice, clothes, utensils, blankets and Swami's photograph and vibhuthi. One Muslim woman saw the photo of Swami and told them "This man had come here last night. He raised his hands as if to bless and walked away". The students were not surprised. They knew their Swami was with them always, everywhere….this was just a confirmation of their faith. It was not they who doused the fires of grief of this unfortunate group of people. It was the shower of His grace that did the job through them.