HOME OF LOVE
KENYA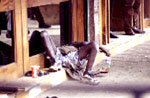 SAI SPIRIT OF LOVE CHILDREN'S HOME TRUST is a project which started from Sathya Sai Baba Centre of Dwaraka Maayi, Nairobi – Kenya affiliated to Sri Sathya Sai Seva Organisation in Prasanthi Nilayam, India since 3rd July 1999.
Several devotees founded the Trust on 10th March 1997 with the aim of helping children in need in Kenya. The Trust has currently five trustees representing the three main ethnic races of Kenya (African, Asian and European).
The main project supported by the Trust is a home for destitute children in Uthiru, on the outskirts of Nairobi,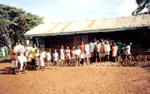 called Sathya Sai Home. Started in 1995 by a Kenyan teacher who was moved to give food and shelter to a few children who had nowhere else to go and were in desperate circumstances,the home now gives shelter, food, clothing and education both spiritual and academic to fifty resident children.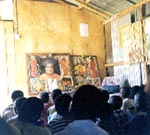 Rehabilitation of these children was mainly achieved by singing Sai Bhajans and Sathya Sai Education in Human Values.The fifty six resident children who benefit from this project range in age from 7 years to 18 years and are all now receiving formal education. Eighteen are attending the local Government Primary School; three are studying under scholarship at a Nairobi Secondary School.
In addition, there are two boys who have graduated from the home and live outside but attend Secondary School under scholarship.
A Sathya Sai primary school was started in January 1998 to cater for the younger ones. Since then a class has been added every year and the school now offers education up to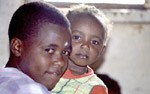 standard VI.
Of the children who have already outgrown the home, one is now married with a child and another four are working, one of them in a shop belonging to a devotee. Twenty children have already left the Home and are now integrated into society.
Education is relatively expensive in Kenya, given the high level of poverty. As well as catering for the education of the resident children, Sathya Sai School offers day school facilities to poor children from the neighborhood who would otherwise have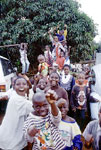 no schooling at all. Currently about 150 such children are given this opportunity. This helps to create a bond between the home and the community.
The Sathya Sai School follows the official Kenya curriculum but Sathya Sai Education in Human Values is interwoven into all academic subjects and is a vital part of all activities.

There are two doctors, who are giving free service to anyone involved with the project. A child with Leukemia and another with Tuberculosis were given the best hospital care available by one of these doctors, who is in charge of one of the wings at the main Government hospital in Nairobi. During this time other devotees visited and attended to the children regularly.
Devotees visit the home/school at least once a week and render various services. Among these services the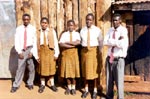 following are given: Sai bhajan teaching, Sathya Sai Education in Human Values teaching, Balvikas and Youth activities. A child from the Sathya Sai Home who is in secondary school is currently giving extra tution in Maths and English on a voluntary basis to the other children.
The headmaster of the Sathya Sai School is a Kenyan University Graduate who was sponsored by the Trust to the African Institute of Sathya Sai Education in Ndola, Zambia for the three month Diploma Course in Education in Human Values. The Trust also sponsored him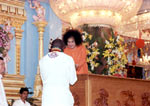 to receive his diploma from Swami's hands in Puttaparthi in 2001.
The children at the Sathya Sai Home sing Sai bhajans every Saturday. They are asked quite often to sing Sai bhajans in different functions in Nairobi.They also act as Seva Dals whenever there is a seminar, workshop or other Sai activity.The children also take part in many plays organised by the Sathya Sai Baba Centre of Dwaraka Maayi.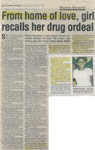 The home and the school give the chance to many devotees to give their Love in the form of voluntary service to this project