The New Band Dress

We must share an incident that brings out the love that Bhagawan showers on His college students. A few years after the Band was constituted, Swami called us into the Interview room and suggested that we needed new Band uniforms because He felt these were old and because the 65th Birthday celebrations were fast approaching .
Bhagawan has this unique way of getting involved in a manner that gets everyone excited about the task ahead. We must remember that He is God. He is beyond this world and completely detached. But while He is actually so completely detached, He appears so very involved and present. That is the personal aspect of God. This is purely out of compassion towards us, His students. This also helps us understand how genuine and pure His Love is, and how totally He gives, though He has nothing to gain.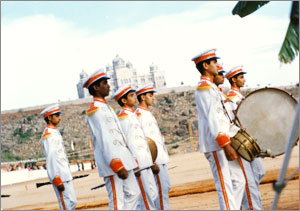 Even the Band uniform recieved His attention
A week later, tailors were called to take measurements .The tailors began the job in the Poornachandra auditorium. Bhagawan resided in the Prashanthi Mandir in those days. But He kept inquiring about the progress of the work nearly EVERYDAY. Not only that, when the dresses were ready and we were called to try them on, Swami Himself came to the auditorium. We really could not believe that the Lord Himself would come to see the new uniforms. But of course, we were thrilled. As soon as we had put the uniforms on, we rushed down the stage, not to look in the mirror, but to show our dear Lord how we looked in the shining new apparel. Oh what a stampede there was. You wouldn't believe it! We swarmed around Swami trying to attract His attention and draw a comment towards us! What proximity! What joy! And our Swami never disappointed us. Humour flew from His lips. To one boy He said, "When you walk with this dress, it is so loose it looks like an elephant flapping its ears." Another boys' pants were really tight and short. He said he looked like a " Dancer" and a "monkey". To one He said, "The sleeves are as big as the trouser legs should have been". About one whose clothes were too loose, He said, "Half of all the material has been used to make only your dress". When to another He said, "You look too good ..you should go out and give Darshan", there was a roar of laughter. We were holding our stomachs and had the time of our lives.
As usual, before He left (after giving tailors suggestions on altering the clothes), we asked for Padanamaskar. He would not generally refuse if He was pleased with us. So we were surprised when He refused. We pleaded with Him to grant our wish. He said that He wanted to grant our wish but the only reason He was refusing was that our new clothes would get spoilt with all the dust there and that there wasn't enough time to have them washed before the Birthday. We marveled at Bhagavan's ability to think of even such a minor matter. It was true that the clothes would get dusty and stained if we took a full namaskar. Now, here was a problem for the Benign Lord and His students. Neither would relent. Finally it is God who gives in and finds a way out when there is love and yearning. Indeed He did, in His inimitable way. He pointed to the stage and asked us to let Him go up the steps. We moaned, for we thought He was about to escape without granting our prayer… But once the Lord gives His word, He keeps it and finds a way to satisfy His devotees' wishes. He went up the stage, stood at the edge of the stage and asked us all to take full namaskar without bending at all! Here was the Lord of Lords, the object of adoration of the sages and the saints, concerned about our clothes getting dusty!
Maynard Ferguson
He is an old devotee of Swami who took great pains to help the Band grow. Soon after the band began, he visited Parthi and Swami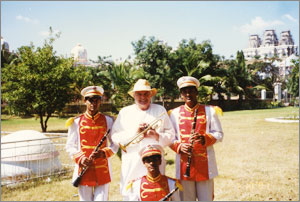 Ferguson with the band boys
asked him to teach us. He spent many useful hours with us. Apart from being a well-known Jazz trumpet player in USA and Canada, he has played with several Indian musicians too and greatly appreciates Indian Classical music and its exponents. He can probably play any wind instrument with ease and he often demonstrated this during the sessions. Bhagawan brought him to the Hostel in His car and introduced him to the boys in glowing terms as one of the world's greatest trumpet players.
He taught us the very basic skill of listening to the scale or shruti as we call it and to hit the note perfectly, clearly. With wind instruments one can really be off the note, either sharp or flat and this can be jarring or unpleasant to hear, more because you have both melody and counters being played together, for effect.
He also emphasized the importance of learning Music Notation. In India we are so used to "picking up" a song "by ear" that it was initially hard to play by reading especially while marching. But he explained that notation defined not just the note in the scale but also its length, the rhythm and how it was to be played in Harmony. Then we would not make any mistakes as we would not be playing from memory. This is especially essential for players of harmony parts.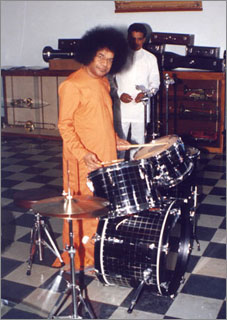 Checking the Jazz Drums
He also came up with a brilliant idea to get an entire set of gold plated wind instruments for the Brass band from the USA. This worked out perfectly and in July 1987 the Instruments arrived. These were from such prestigious companies such as Leblanc Corporation, Remo Incorp., Yamaha International, Avedis Zildjian Wagner Corp etc. Swami visited the Administrative building to see and bless the Instruments. That is how we have a beautiful photo of Him, holding the drum-sticks of the Jazz drums.
Mr. Ferguson told us inspiring stories of great musicians he knew and about how much they practiced. He was humble, friendly, always willing to teach, but more than anything else we remember with great admiration how when He spoke of Swami, his eyes would light up. Swami was his hero, and friend and he loved to speak about how Swami jokingly called him "Pakoda". Bhagawan would give him at least one interview each visit before he left and would bless him with detailed guidance in matters regarding his family, his work and his health.
We have one memorable recollection of what a great musician Mr Ferguson was. When one day Bhagawan drove to the Institute auditorium where we were practicing with Mr Ferguson, we found we were totally unprepared to present any particular piece to Him. Bhagawan came in and asked us to play, as if He were expecting something good. Now everyone knows that Bhagawan often asks for new songs and Mr Ferguson sensed this. So he quickly went round the group and instructed us to play a short combination of notes that was fairly simple.
Then he did Pranams to Swami and began to play. And how he played that day! With the combination of notes we played repeatedly as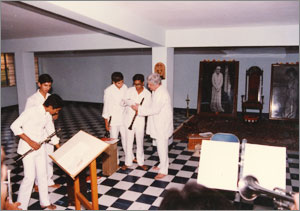 Ferguson trains the boys in the college
support, he improvised and came up with such amazing displays of tunes and medleys that the stage was alive and the air was electrifying. He started to weave an intricate pattern with his trumpet, now with the muzzle on, now without it. The high notes were terrific and overall, the music was just great. We felt that he likes a good challenge and that Bhagawan's presence and our being somewhat unprepared made him take control and produce a peak performance!
As Swami's students we have always been taught by the best in the field whether it be academics, sports, or music. It is some wonder that these eminent persons worked with us so patiently, considering that though we were keen to learn, the fact remained that most of us were novices .We also saw how much they wanted to do for Swami and we were aware that in normal circumstances we'd probably never even get near them, leave alone having their personal attention and guidance.