LIGHTING UP LIVES
Dear Reader,
Do you remember the Cover Story that we ran a few issues back (Vol 2 Issue 11) on the Sathya Sai Deena-janoddharana scheme where our compassionate Swami adopted sixty destitute boys and gave them a home for living and education for life? This act of love has inspired several others to take up similar works, though on a smaller scale. Sri Sathya Sai Seva Samithi, Visakhapatnam has followed Bhagavan's example and started a home for boys from distressed families. This is what a member of the Samithi says…..

DEENA JANODHARANA PADHAKAM
(HOME FOR BOYS)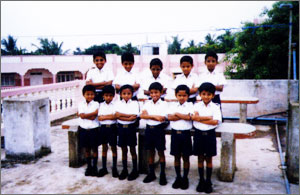 The Chosen ones
"My Life is My Message" says Bhagavan, and on the same guidelines as is done at Puttaparthi, 11 boys, aged between 5 and 7 drawn from different villages, in poor, distressed families, were selected under this scheme, and brought to Sri Sathya Sai Vidya Vihar for total care by our organisation. The screening for selection of these boys was done on the criteria of their health, family and general intelligence. Some of these boys have no parents, some have lost their father or both parents and a few have been neglected by their families. All these 11 children were drawn from different villages in the district, within a radius of 40 to 50 kms from Visakhapatnam.

In our Sri Sathya Sai Vidya Vihar, two spacious rooms are allotted for them to stay. They are provided with beds and cots, and a small cupboard to keep belongings and a trunk for clothes. There is a caretaker and an ayah (matron) to look after them. Food prepared under hygienic conditions in our kitchen is served to them. To acclimatize them to the new environment, these boys are given traditional food in the morning as breakfast - cooked rice stored in salt water - (Chaldanam), followed at intervals by tiffin, lunch, afternoon snacks, supper and milk at night. Their daily schedule starts with Omkaram, Suprabhatham and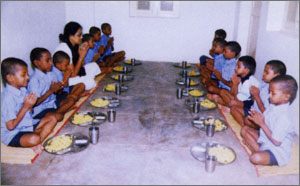 Good food for a healthy body
Dhyana (silent sitting) in the morning, followed by the regular normal routine of their studies. In the evening they are given coaching in sports and games by our school PT Master.
As we have taken the total responsibility for the children, we have enrolled them in our Sri Sathya Sai Vidya Vihar in different classes. Further, these children are put under the special care of our School teachers who look after their academic progress. One of our Balavikas teachers takes Balavikas classes for them and teaches moral values and Veda chanting.
What a change in them! They now chant Omkaram and Sai Gayatri, sing Bhajan songs, and play games along with school children. They
are like singing birds in a well-provided nest, and have totally forgotten their homes. No homesickness at all! Quite healthy and active, they fill the atmosphere of our Mandir complex with an aura of their own.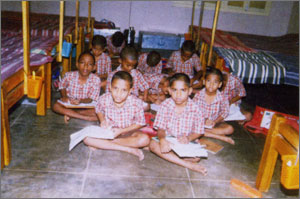 Education for life
There is another group of boys, taken care of by our Samithi, numbering 16, studying 10th class, Intermediate, Degree and Engineering Courses. They are given food in the nights and they spend their study hours from 4-30 pm to 10-00 pm in the Mandir complex where special tutorial classes in different subjects are taken by our devotee teachers. All these boys passed their previous examinations in the 1st division. Some of them are studying B.Sc.(Computers), and B.Com., and one boy is studying Engineering. In the nights after meals and studies, they return home and come again in the early morning for their regular study schedule. The tuition fees, books, expenditure etc., are met by Sai devotees.
It is our wish and prayer to Bhagavan to settle them in good positions in life, so that they will be useful to themselves and to the society. Let us all join our brothers from Visakhapatnam in this prayer!