A MIRACLE OF ASHES
It all began when my wife, Adorine, in an effort to overcome the difficulties that running a home at 80 years of age (this happened in winter of 2003), plus the very harsh winter we were facing, overexerted herself and caused her spine, where she was operated upon many years ago, to ache. At the beginning there just an ache and some stiffness, but as the days went by the pain increased and so did her stiffness.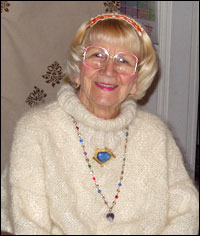 Being the brave girl she has always been, she bit her lip and continued with her work without regard for the pain, thanking God all along for the experience that the pain brings, and the knowledge to be gained by such experience.
She is an incredible person. Her devotion to God has no parallel to my knowledge. Not only has she the Name of God continuously on her lips, but also she lives desirous to dedicate her life to the service of others, thus serving God.
Some details about her life might be relevant for readers. She was born in France in the Alps town of Annecy, from Italian parents. She lived through the horrors of World War II when her family was deported to Italy and suffered deprivations that such a war inflicted on all.
Only her belief in God prevented her from going mad in a mad world. Her strength coming from God was her support in the hours of anguish that at her tender age she had to undergo.
When she came to know of Sathya Sai Baba, she said. "I knew God in Spirit, now finally I have found God in form". She was the one who introduced me to Sathya Sai studies, and we have read all the books of Sathya Sai Speaks, the Vahinis, and the Summer Showers in Brindavan series.
And so the days and weeks elapsed and all the while she continued to work indefatigably, without regard for her pain. Another person in her place might have thought, 'Why dear God do You bring this pain upon me when I am trying to serve You?' Yet, Adorine's words were always, 'Thank You dear Lord for the pain and the experience You place upon my way'.
Finally she told me, "I need to visit the chiropractor". She said it almost apologizing for the trouble she was causing me, when if it was not for her self-effacing sacrifice on a day-to-day basis, I would have to tend to all my needs, never mind hers!
By the time the appointment was made, Adorine was in such excruciating pain that tears were pouring from her eyes by the simple act of getting up from the chair, in spite of her efforts to contain them.
It was breaking my heart to see her suffering so much, but I was far from fathoming the intensity of her pain. The X rays taken revealed that her 5th lumbar vertebra had slid off alignment by almost 5/8th of an inch, and her pelvis was also out of alignment, at an angle. The chiropractor immediately put ice on the region and placed her on the table with wedges under her. This calmed her enough for the X rays to be taken, however the pain returned later.
At that time the Christian Festival of Ash Wednesday was upon us and with it our very own 'miracle of the ashes' - a tale that can be told only by Adorine.
"That night, after taking the X rays, I went upstairs and tried to get ready, but any movement was causing me tremendous pain. As I changed and prepared for bed, I noticed some powder on my night table. Wondering about it I touched and smell it, and realized that it was Vibhuti.
I was curious as to why the Vibhuti had spilled over the night table without any reason for it, so, in desperation, I just took a little bit and rubbed it on my back. Then I went to bed, lying on my side, and fell asleep.
I slept the whole night, and in the morning, when I awoke, I felt these words spoken to my heart, "Remember, no pain, no pain, no pain". Gingerly I moved one leg and touched the floor - no pain! The words seemed to reverberate in my heart once again, "Remember, no pain, no pain, no pain!" so I placed my other leg on the floor and placing all the weight of my body on my legs I raised from the bed, still gingerly, but once again I heard the words, "Remember, no pain, no pain, no pain!"
The pain was gone and I felt as if I had a corset on my torso, but absolutely no pain. With tears of joy I thanked God for the miracle and ran downstairs to tell Anthony of the miracle that had taken place.
When we went to see the chiropractor, I told the nurse at the desk, "Don't worry, there has been a miracle and I am in no pain". I repeated the same to the chiropractor, who could not believe it. She examined me twice and then she examined the X rays, and told me, "Nothing is out of place, maybe you should give me a pound of those ashes for my other patients".

With Love in Sai Service,
Anthony Paul Albanese,
Brooklyn, New York, USA.
Anthony Albanese recently retired from a financial firm on Wall Street.
(Name of chiropractor supplied.)