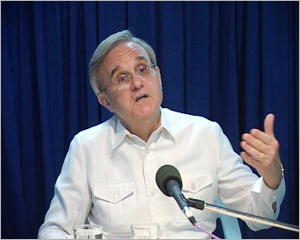 GV: Sir, you are a businessman and I presume a successful and wealthy one. How does one be a successful businessman and not allow wealth to cling to him?
JS: The madness is if a person worth 200 million US dollars, loses 1 Million, you have to take him to the hospital and give him oxygen. It is very simple. Give it away. And if you do, you remain vibrant. Because you are always young, because you have to make it again. My wife was recently deceased and gave her children their inheritance in their lifetime. That's the trick. I don't have material needs. I do my business because Swami told me to do the business. It is not my business. It is His business and He is not the body we see. But I do have a duty to perform, the results of which are not in my hands - but the work is.
Swami is kind enough, divinity is kind enough, that I actually like what I do. So I play a game. But how that game works out is not up to me. But what is up to me is to do the most excellent possible job, to treat everyone that I deal with with the highest possible ethic, to discipline wrong doing and to fight evil wherever I see it. And evil is very clear - it is hurting others. So I simply try not to harm. I don't live by commandments - I live by a code and the code can be gleaned by simply listening to Discourses.
GV: You mentioned the word 'Divine' many times. What does Divinity mean to you?
JS: Divinity to me is the word I use in place of the word God, because I don't think the human language approaches what's there. I can only tell you that Swami once said to me "I will give you a glimpse of Swami". Now I can't explain what that is. But I can tell you that He doesn't lie. When He says He is going to do something, He does it. And that glimpse is not something that I can explain to you. But I can tell you firmly, only by comparison to something else, that it is beyond the word God. So, Divine to me means non-conceptual. God is the highest possible thought of the conceptual human being and nothing compared to what's out there - the power, the magnificence and the totality. I learn more from the silence between Swami's words than I learn from words. When I listen to Swami, I try and stay empty. Because very few people understand what the word listen means. Listen means mentally shut up. You can't listen if you are thinking about what you are going to say because you are not listening. So the practice of listening is really something that develops by contemplation and meditation. By slowing down thoughts, by relaxation of the mind, then something starts to happen.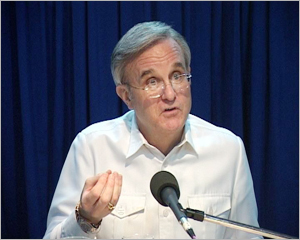 In the sense of Swami as light, this light shines through so brightly that even being near, being willing to listen, to be open, to receive, not to argue, not to try and understand, not to try and be a devotee, just be open, then something starts to happen.
So, I believe Swami starts a process that moves as if it was almost automatic and business does not interfere with that. Business is simply life. If business becomes your divinity, then you are going to become very much like what you see in the world and what bothers you - driven by greed and avarice - but that is stupidity. Because I don't need to take anything from you to receive. It is everywhere. All I need to do, is do whatever my duty is well and it is like a magnet.