NO PRAYER IS TOO SMALL
- Jeroo Captain, Granite Bay, California, USA.
It was Guru Poornima, 2002. The conference for Bal Vikas Gurus had come to an end. I had one more day left in Prashanti Nilayam, before heading back home to California. I had yet to purchase small gift items to take back home to my SSE (Sai Spiritual Education) students. There were long lines to enter the store in those days (the new shopping complex had not opened yet) and I could not think of waiting for hours standing in the hot sun. Finally I spotted a tiny store, opposite the bakery, where they sold little pendants, pens, key chains, etc. It too was very crowded, but I somehow managed to buy a handful of little gifts—about a dozen sealed plastic packages, each containing 8 or 10 little mementos: key chains, pendants and brooches adorned with Swami's picture.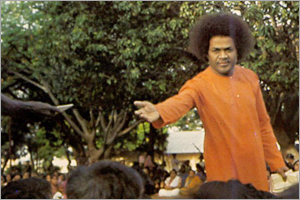 It was time for afternoon Darshan. My bags were packed and I was ready to leave. I was hoping for one final close glimpse of Sai Ma, but our token line was seated somewhere in the back half of the hall. As Swami gracefully glided in, I prayed mentally: "Swami, I shall be leaving in a few hours; we are no longer allowed to bring anything in the Darshan hall, but please bless the few mementos I have purchased for the SSE children. If you kindly look in my direction and perhaps nod or smile or raise your hand or something, I shall know you have heard this prayer". Swami glided by - no smile, no wave of the hand, not even a glance in my direction - and disappeared into the interview room.
Somewhat disappointed and dejected, I tried to rationalize: surely the Lord has more important things to take care of than bless a few trinkets. Look at this crowd of thousands, I thought,—each needing something or the other from the Lord, each praying perhaps for a sick child or a dying parent, or some pressing need. … and had He not given me plenty already? How quickly and smoothly all details of this trip had come together, and how well I was looked after at Prashanti—wonderful people, inspiring talks, plenty of food for the body and soul! Who was I to ask for more? So thinking, with a heavy heart I left the abode of peace. …
After a long journey of over 30 hours, I was home. As I opened my suitcase, a whiff of jasmine filled the air. Inside, on the lid of the suitcase was a grayish white patch. Directly underneath was the plastic shopping bag containing the children's gifts.
Each and every one of the little plastic packages was covered with a thick layer of Vibhuti, inside and out!
No devotee too far
No prayer too small
Our sweet Sai Ma
Hears it all
- Jeroo Captain, Granite Bay, California, USA.