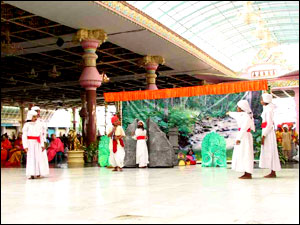 Zoroastrians and the sculptor

FEB 4th: 'SARVA MATHAMULA SARAM- SAI MATHAM' A DRAMA BY THE BALA VIKAS CHILDREN OF VIZIANAGARAM DISTRICT
About 74 children presented a drama depicting Sai as the essence of all religions.
A poor sculptor on finding a black stone in the jungle is trying to decide which deity he should chisel out of the stone. Hindus, Muslims, Buddhists, Christians, and Zoroastrians all try to prevail upon the poor sculptor to sculpt the respective deities of their own religion. A fight then ensues on the superiority of each religion over the others.
Suddenly an ethereal voice coming out of the stone declares Sai's teaching – "There is only one caste, the caste of humanity; only one religion, the religion of love and only one God who is omnipotent". All religions then pay homage to Sai.