Part II
GODFATHER EINSTEIN AND BABA THE AVATAR
Mark R. Abrams, Vermont, USA
(The first part of this article on Einstein and Baba appeared in our March, 2005 issue).
In August 1989 Bhagavan invited our group of twenty one Americans for an interview. I resolved that, with His Grace, I would leave it knowing more about my connection to Einstein.
During the interview Baba gave everyone private time, answered questions on all aspects of personal life, and blessed Marsha's and my entry into advanced studies in psychology. He materialized a diamond pendent for her, and a red, white and blue on gold pen¬dent for my daughter Nilima. I was sitting next to Baba in the same position as in 1978 and was filled to overflowing.
Again, I had an opportunity to pose my question about the meaning of my relationship to Einstein. I took the opportunity, and Swami revealed some personal information that I will ponder for some time to come. (After the Interview, one of those present said that the thought occurred to him that the spirit of Einstein might have also been present as a participant.)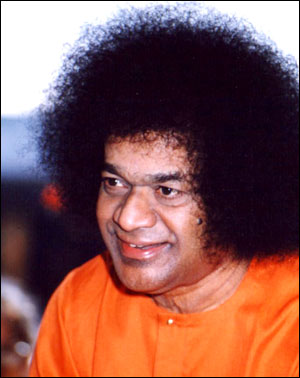 EINSTEIN'S REGRET
Swami then went on to say the following to the group:
"Einstein is a body. That body is dead. He was a very good man. Einstein was very patient. Peace, Peace, Peace. He was always thinking of Bhagavan."

Swami, in an apparent reference to Einstein's pain that his work laid the foundation for nuclear weapons, said "Einstein made 'gunpowder' and felt bad at the end (of, his life), —he said: I have made a mistake, this was a mistake."
Swami: "What is a scientist! Science is the study of creation. Spiri¬tuality is studying the Creator."
[Swami draws a circle with His finger on the wall:] "Man as scientist works from senses down. Man as Spirit works from senses up." [Points to top of circle] "See, science is only a ' C,' (tracing one half of a circle) but Spirit is full circle. It is the difference between this and that."
Swami concluded by saying: "If science were more spiritual, it would know more. Science is no love. Science tries to get the exact truth but has no goal; it is random. Always in the laboratory. There is no love in science. Study Spirit! Spirit has a goal. Know yourself and you know everything."
EINSTEIN ON 'GOD AND MAN'
Following are some of Albert Einstein's thoughts on what he considered to be most important in life: closeness to God and love of humanity. We can readily see how they correspond to the modes of consciousness, and attitudes of open heartedness, sadhana and service Swami strives to teach us.
These thoughts of Einstein's and the exploration of the spiritual implications of his work to follow, illustrate how in some ways he can be seen as having helped usher in the Golden Age of Sai. I perhaps continuing to serve as an ongoing instrument in its fulfillment as well.
"That deeply emotional conviction of the presence of a superior reasoning power, which is revealed in the incomprehensible universe, forms my idea of God."
"The true value of a human being is determined by the measure and sense in which he has attained to liberation from the self."
"A human being is a part of the whole, called by us the 'Universe', a part limited in time and space. He experiences himself, his thoughts and feel¬ings as something separated from the rest a kind of optical delusion of his consciousness. This delusion is a kind of prison for us, restricting us to our personal desires and to affection for a few persons nearest to us. Our task must be to free ourselves from this prison by widening our circle of compassion to embrace all living creatures and the whole of nature in its beauty... the striv¬ing for such an achievement is in itself a part of the liberation and a foundation for inner security."
"I am happy because I want nothing from anyone. I do not care for money. I do not crave praise."
"I want to know how God created this world. I am not interested in this or that phenomenon. I want to know His thoughts, the rest are details."
"The principal art of the teacher is to awaken the joy in creation; and knowledge."
"The ideals which have lighted me on my way and time after time given me new courage to face life cheerfully have been Truth, Goodness, and Beauty."
(This corresponds to the Vedantic dictum to which Bhagavan Baba frequently refers that the characteristics of Divinity ate Sathyam, Sivam, and Sundaram; i.e., Truth, Goodness and Beauty. These ancient Sanskrit words also form the title of Prof. Kasturi's biography of the Avatar. )
"The most beautiful and profound emotion we can experience is the sensation of the mystical. It is the source of all true science."
"The feeling from which true scientific research draws its spiritual sustenance"... "is a sort of intoxicating joy and amazement at the beauty and grandeur of this World... I maintain that cosmic religious feeling is the strongest and noblest incitement to scientific research."
EINSTEIN ON THE 'LIMITS OF REASON'
"Pure logical thinking cannot yield us any knowledge of the empirical world; all knowledge of reality starts from experience and ends in it. Propositions arrived at by pure logical means are completely empty."
"Since, however, sense perception only gives information of this external world indirectly, we can only grasp the latter by speculative means."
"I arrived at none of my major theories through rational thought."
This last statement is so profound in its implications that it bears comment. It clearly points to the limitations of the Western worship of the logical, rational mind as the sine qua non of existence. It points up the fact that the greatest Western scientist in four hundred years, after reaching traditional science's outer limits could gain the insight he craved only by transcending the mode of thinking that brought him to those limits. Only then, through the faculty of "nonrational Intuition or openness" could he accurately perceive some of the underlying reality of the universe.
WHAT ABOUT THE FUTURE?
To Einstein's sadness, a major response to his discoveries about relativity has been fear about the future of the planet itself.
A question arises: Does a means exist to view or make use of Einstein's insights in a positive way—one that will truly be a "blessing to mankind, and not a curse?"
I am not a physicist or mathematician; but I offer several thoughts about this question.
I believe that not only can the example of Einstein's life stand as a blessing to humankind, but that one of the most profound expressions of his work can serve as well: the formula E = mc² (energy equals mass times the velocity of light squared).
We are accustomed to think of this formula in primarily negative terms the unleashing of the atom's destructive potential. Paradoxically, I feel that it embodies something of a most heartening spiritual nature as well.
E = mc² mathematically expresses the unity to which Swamiji frequently refers, through its having scientifically established that matter and energy—the tangible and the invisible—are wholly equivalent and interchangeable i e., that mass is simply concentrated energy; and that energy is mass minus form.