MARCH 8th and 9th: MAHASIVARATHRI CELEBRATIONS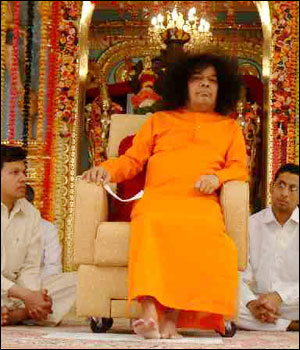 Swami listening to bhajans on Sivarathri night
The Mahasivarathri celebrations, as in yesteryears, saw huge crowds congregate to Prashanti Nilayam. Sai Kulwant Hall was full to overflowing on the 8th morning itself with the devotees also seated along the pathway in front of East Block. In the morning Swami asked Sri Anil Kumar to speak. He was followed by Dr. Narendra Reddy from the USA and then by Mr. G.K. Raman from Chennai. Then to delighted gasps from the audience, Swami lovingly consented to bless everyone with His divine discourse in the morning itself.
After Swami's arrival in the afternoon, both the Vice Chancellors - Sri S.V Giri and Sri Anil Gokak spoke to the audience. Then Swami gave His second discourse for the day. The details of these Divine discourses are available online at www.srisathyasai.org.in and are not reproduced here.
The Global Akhanda Bhajan began at 5:15 PM. The students held sway till 7:00 PM when the mikes were switched off. After that, a half-hour slot throughout the night was provided for all the different interest groups ranging from the staff of the different institutions to seva dals from the different states and groups from India and abroad. The bhajans were done with gusto as Swami was expected during the night, similar to last year. A prasadam of pulihora (tamarind rice) and laddus was served to all at the conclusion of the Akhanda Bhajan in the morning of the 9th, after Swami's arrival. In the evening of the 9th, Swami gave yet another discourse, in which He extolled the devotees of yesteryears who had won His grace through their karmas.

MARCH 16th: SWAMI'S STUDENT BAGS FIRST RANK IN 'GATE'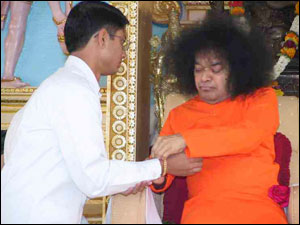 A gold bracelet for the first rank student
On the evening of March 16th, a function was arranged to felicitate the students who had successfully completed the All-India competitive examination called GATE (Graduate Aptitude Test for Engineering). This competitive entrance examination is administered by all the Indian Institutes of Technology and the Indian Institute of Science, the country's premiere institutes for higher education and research, to identify the best students for admission to their post-graduate courses.
About 20 students had cleared the examination, the highest by the Institute to date. The most noteworthy feature was that one of the students, Sri E. Nareshkumar, secured the first rank in this country wide examination. Swami created a gold bracelet for Him, which He tied lovingly around the student's wrist. Swami gave watches to all the students and also lovingly draped a silk angavastram around their shoulders to honour them.
In a speech, the Vice-Chancellor explained the competitive nature of the examination to place this achievement in the proper perspective. The 2 students who spoke attributed their success to their teachers and parents and of course, Bhagavan's love and guidance. Swami in His divine discourse stressed that character is end of education and all students must develop character along with their education.