An article written by a 17-year old Sai volunteer describing a Seva visit by 18 Sai Volunteers to a rubbish dump where there is no water, no electricity, and no sanitation system and about 600 families(3000 persons) scavenging a living. Food and clothing were distributed, and efforts made to provide a well water-supply for them.
Sunday, 13th March 2005
Time: 10:16 P.M
Time seemed to stand still. We were in another country. The eighteen of us met early, at 8:30 A.M at the Singapore World Trade Center. It was not surprising that there were already many people waiting for the ferry to Batam, Indonesia. All the sixteen adults were talking about what we were going to do there. I was neutral about this trip, not really expecting much from it. It was roughly about 9:20 A.M when we started lining up. Naturally, I was sort of excited since I was going out of country. We crossed the departure gates, scanned in our belongings and ourselves, checked out passports and made our way into the ferry. It was called 'Penguin Success'. It was a rather ironic name for a ferry as I thought that the two words did not match. Nevertheless, I did not bother much about it.
The journey to Batam took an hour. We rested, knowing that we will have a long day ahead. Finally we reached our destination and I tagged behind my parents innocently. There, Brother Christopher introduced us to Brother Eric, who originally was from Singapore, but based in Batam. He took us around during our trip. We exited the ferry terminal and got into a small tour bus at the car park. Firstly, we had brunch and then in the afternoon, we took a long ride to the dumpsite. At first I thought it was the remains of the aftermath of the recent tsunami, but after questioning my father about the area, he told me that this was a dumpsite where the island's rubbish was dumped. And there were people living in the slums and squatters on the site.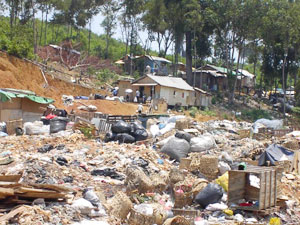 I was wondering how they could stand this horrid sight and unpleasant smell. A man who was involved in the water well project explained to us his idea of digging a well for the village and his difficulties in accomplishing his goal. He explained to us that they were trying to find potential spots and drill a hole to find an underground stream. We got on the bus and drove right into the rubbish site. It was huge. I have never seen so much rubbish in my life. There was lots of smoke and there were swallows flying all around, not to mention lots of houseflies.
The bus stopped and everybody except my mother, my brother and me got down. We looked out from the window uncertainly, not really sure what to expect. About ten minutes into distributing the packets of instant noodles, the villagers made a beeline from their homes like ants to a pot of honey. They made their way quickly to our tour bus and the brothers and sisters gave away the goods in posthaste.
The way the villagers came up for the goods and the way they thanked us with such graciousness made me think that I am very fortunate and it also gave me a sense of warmth in my heart seeing them so happy. We moved on deeper into the site, into other areas. This time all of us got out from the bus carrying the boxes.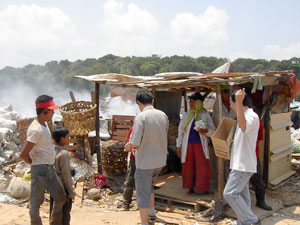 But then I switched jobs and I took the job as a photographer, taking the pictures of the village homes and the people. The people allowed us to take photos of them with much zeal. Despite the searing heat, I enjoyed interacting with the villagers. And their children were just so adorable! Myself and father then made our way back to the bus, and one of the brothers joked that they nearly went off without us. I just didn't notice the passage of time! I was already thrilled with the fact that we were going to visit more of the other areas as I found that it was quite enjoyable.
We visited other areas and when we finished, we followed all the other brothers through woods and we came into a huge clearing with only tree stumps that seemed to be burnt. We came to a spot where our German brother used an instrument to detect a possible area that has water. We watched as they discussed what they would do with that spot. We gathered around the area and Brother Wee Lin told the village chief to say a prayer. He sounded so sincere that it moved our hearts. Though the prayer was in another language, we could feel the gratitude and hope in the prayer. We later came to know that this was his prayer: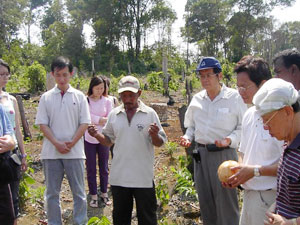 God, it is Your Will only, if we are to live.
God, it is Your Will only, if we are to die.
God, it is You only, we pray to, if we are to find water!
Then Brother Christopher led us in another prayer. It lasted for about fifteen minutes. Then, three brothers broke the coconuts over the area, a ritual that is supposed to remove obstacles. Then we made our way back into the tour bus. We did a little shopping in the city and went back to the ferry terminal.
It had been an exhausting day and tiredness had begun to sink into every one of us. But in our minds we were glad that we had made people happy. They felt cared for and wanted.
We must remember that we are living in a fortunate society in a well-developed country and that there are many people not as fortunate as we are. Therefore, we must show our love and care for them. I realized that we did not distribute the items out of pity, but because we wanted to share what we have with them.