In the same way we may distinguish two divisions in the rational part: the one which is the Logos itself (Pure Intellect), and can be called Buddhi, Conscience, the Logos and also Constant Integrated Awareness. The other which is obedient to Logos, which we may call higher mind or practical intellect.
The combination of the higher element of the irrational part (lower mind) and the lower element of the rational part (higher mind) is actually the manomaya kosa; mind and senses, which consists of thoughts, desires, impulses, emotions etc.
According to this analysis, virtue, which is a function of the part with Logos, may be distinguished into two kinds. The one which is related with Logos or Intellect itself is called "intellectual virtue" and the one which is related with the part which is obedient to Logos, i.e. practical intellect, is called "practical virtue".
Action is a word that Aristotle uses very often in his book. Right from the beginning he emphasizes that the aim of the whole treatise is action and not mere knowledge (1095a, 7-8). Swami also is a very demanding teacher and always reminds us that we have to act. He calls that practical knowledge, i.e. to put into practice the values, to act with virtues.
"Education is not mere knowledge but it must take you into action". (Divine Discourse, 20.11.2001)

ETHICAL OR PRACTICAL VIRTUE
Once in an interview a Greek lady asked Swami: "Swami, we know all about spiritual teaching and principles of spiritual life, but we often fail in our daily duties. What should we do?" Swami answered: "It is all based on practice! Practice makes habit; habit makes nature".
Aristotle says exactly the same about ethical or moral virtue: "We are made by nature to receive the virtues, but we become perfect by habit (= ethos)"(1103 a, 26 – 28).

That means that in our hearts there is a seed, which we have to cultivate and make blossom into a fragrant flower. That is why Swami has named the Human Values programmes as Bal Vikas, which literally means "blossoming of the children".
According to Aristotle: "Nature first grants the potentiality and it is up to us to exhibit later the activity. Like in the case of the senses of seeing or hearing; for it was not by often seeing or often hearing that we got these senses, but on the contrary we had them before we used them, and did not come to have them by using them. So, we get the virtues by first exercising them, as happens in the case of the arts as well,… e.g. men become builders by building and guitar players by playing the guitar. In the same way, we become righteous by doing right acts, temperate (self-controlled) by doing temperate acts (self –controlling) and brave by doing brave acts." (1103a 28-1103b)
"We should therefore act righteously, because the state of character is shaped out of the kind of activities. So, it makes not a small difference, whether we form habits of one kind or of another from our very youth. On the contrary it makes a great difference, or rather all the difference". (1103b, 27 – 30)
Swami says: "Skill the knowledge, not kill the knowledge"

How do we know if a virtue has really been acquired and is not superficial? By the pleasure or pain that one feels when one acts.
"The man who abstains from bodily pleasures and is happy with this is really a self-controlled, temperate man; while the man who is sad about it, is in reality a lover of pleasures, self-indulgent. Similarly, he who bears the difficulties patiently and in a good spirit is really brave, while the man who is pained is cowardly." (1104b, 6-10)
Knowledge is the basis. That is why Socrates said that "nobody is voluntarily bad". It is only because people do not know, that they do wrong.
Knowledge > Right Choice > resolute action (determination)
Of course along with knowledge, action is of paramount importance:

"It is by doing just acts that the just man is made and by doing temperate acts that the temperate, self controlled man is made; without practising no one ever would have any chance to become good. However most people do not practise, but are lost in argumentation and imagine that they are being philosophers and that they will become virtuous in this way. They behave like patients who listen attentively to their doctors, but do none of the things they are advised to do". (1105b, 10-20)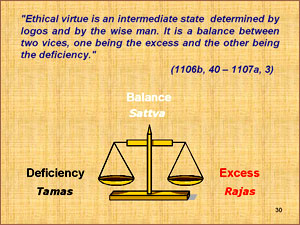 Virtue is a state of Balance
MORAL VIRTUE IS A STATE OF BALANCE
Aristotle defines practical or ethical virtue as a state of balance, an intermediate state between excess and deficiency, between too much and too little. He introduces the principle of right balance, which is of paramount importance in ancient Greece.
"Virtue is an intermediate state relative to us, determined by Logos and by the wise man. It is a mean between two vices, one being the excess and the other being the deficiency". (1106b, 40 – 1107a, 3)
Both of these extremities destroy virtues.
"Excessive or defective exercise destroys the strength of the body, too much or too little drink or food destroys health, while that which is proportionate produces and increases and preserves it." (1104a, 15-20)
"Excess and deficiency are characteristics of vice, while the mean (intermediate state) is characteristic of virtue". (1106b, 36-38)

But how is to define this intermediate state?
"The intermediate state is not an objective and absolute principle but relative to each situation and is determined by Logos or by a wise man." (1107a, 1-3)
We may compare the excess with rajas, the deficiency with tamas and the intermediate, balanced state with sattva. The sattvic man, is the virtuous man.
"It is not an easy task to be virtuous, for it is not easy to find the middle. Anyone can get angry or give or spend money; but to do this to the right person, to the right extent, at the right time, with the right motive and in the right way, that is not for everyone, nor is it easy. Therefore goodness is rare and praiseworthy and noble" (1109a, 26-33)

ETHICAL VIRTUE IS BOUND UP WITH RIGHT CHOICE
Moral virtue implies actions performed with right choice. The right choice is what we call discrimination or Buddhi, similar to Logos. Aristotle elaborates on choice by saying:
"Choice (Discrimination) is not found to irrational being (without Logos), but desire and anger are. The uncontrolled man acts forced by desire, but not with choice. On the contrary, the continent man acts with choice, and not forced by desire. Desire is contrary to choice. Desire is connected with what is pleasant or unpleasant, joy and sorrow but choice is beyond pleasure or pain." (1111b, 13-20)

Right choice is beyond the pair of opposites. Swami always speaks about equal mindedness (samatva), i.e. to remain unaffected by good or bad, pleasant or unpleasant,
"Fame and blame all the same".

"Endowed with right choice the virtuous man judges correctly and sees the truth in each situation, so he becomes the model and the ideal. However, most of the people are deluded because of pleasure, which appears to them as good and avoid unpleasant things as bad." (1113a , 33 – 1113b, 2)
Swami speaks about two paths; sreyo marga, the path of virtue and goodness, which might be sometimes hard and unpleasant and preyo marga the path of pleasure, which might be sweet and charming in the beginning, but unfortunately it leads finally to pain and sorrow.
And Aristotle concludes: "Man is by nature endowed with a spiritual sight, which makes him judge correctly and choose what is truly good… This greatest and noblest quality is not something that we can get or learn from another, but we have it as a natural quality." (1114b, 7-13)
FRIENDSHIP – LOVE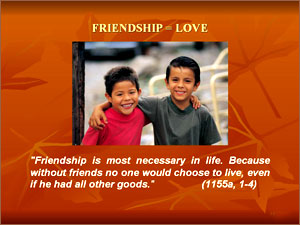 Friendship needs no justice
Friendship is the highest virtue and "it is most necessary in life. For without friends no one would choose to live, though he had all other goods." (1155a, 1-4).
"In poverty and in other misfortunes friends are the only refuge. It helps the young to keep from error; it aids older people by caring to their needs; it stimulates those in the prime of life to noble actions." (1155a, 10-15)
Friendship is a natural quality not only among men but among birds and animals. Friendship is of paramount importance for society, because it is a bond much more powerful than justice.

"Friendship (or Love) holds society together and lawgivers care more for it than for justice. WHEN MEN ARE FRIENDS THEY HAVE NO NEED OF JUSTICE, while when they are just they need friendship (or Love) as well; the truest form of justice is Friendship - Love." (1155a, 25-32)

That is why Swami says:
Duty without Love is deplorable
Duty with Love is desirable
Love without duty is Divine
True friendship is one which is based on virtue and good character and not one which is based on profit or pleasure. Among all kinds of friendship or love, the love of parents to children is the strongest and the children should serve their parents even more than their own selves.

"One should give honour to one's parents as one does to the gods" (1165a, 27)
"We should also give respect to older persons appropriate to their age, by rising to receive them and offering seats for them." (1165a, 31-32)

Aristotle analyzes the internal nature of friendship by saying that our friendship and love to other people depends on our friendship and love to our own selves. The love for our own selves is very important and comes before the love for others.
However, what does love of one's own self mean? Who is this self? Aristotle clarifies this point in many passages.
"Each man's self – man himself is the intellectual element in him" (1166a, 18-19)
"Each one seems to be the element that contemplates" (1166a, 25-26)
"The self of the virtuous man is especially the element which thinks wisely"
(1166a, 20)
"Reason (Nous) more than anything else is man" (1178a, 8-9)
(Logos) "This is man himself" (1168b, 43-1169a, 3),
and "This is what a virtuous man loves most" (1169a, 4).
As we have seen so far this intellectual element that contemplates or thinks wisely is not other than Logos, Buddhi, Conscience, Nous, the Intellect which meditates on the things that don't change, on the Being itself. It is the Divine in man. So, according to Aristotle, man's real self is the divine self, Atma, Soul. Love of one's own self means love of the divine Self. Then man can truly love other people as well. Then he has true friendship.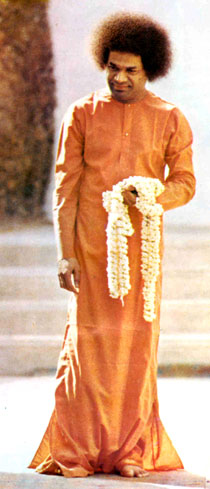 HAPPINESS – ANANDA
Aristotle lastly considers happiness. This is the greatest good, because all things move towards this and it is desired by all. Happiness has a very special characteristic: we aspire for it not for the sake of something else, but it is desirable in itself.
That is why "Happiness does not lack anything, it is something final and self efficient, and is the end of all action" (1097b, 24-25 1176b, 4-6). This is already stated in the first book and now Aristotle comes back to give a final answer to the initial question.

"Since activities differ in respect of goodness and badness, and the first are worthy to be chosen and the latter to be avoided, so, too, are the pleasures; for to each activity there is a relevant pleasure. The pleasure of a virtuous activity is noble while that of an immoral activity is bad." (1175b, 29-34)
Pleasure is so much superior and purer the higher it rises above the material level. Spiritual pleasure is much higher than the one derived from the senses.
"Our measure is virtue and the noble man. So, what is good for the noble man is truly good. Therefore, real pleasures are those which the noble man enjoys." (1176a, 18-23)

"We should consider that the disgraceful pleasures should not be named pleasures at all, except to a vicious man." (1176a, 27-28)

"Only the pleasures of a perfect and noble man can be considered as man's real pleasures." (1176a, 31-34)

"For the noble man virtue is indeed desirable. Happiness, therefore, lies in virtuous activity and not in amusement. To work hard for the sake of amusement is silly and utterly childish." (1176b, 30-37)

"Happy life is the virtuous life; a virtuous life requires exertion and does not consist in amusement. The serious activity of the best element of our being is superior to amusement and gives real happiness. And any person can enjoy the bodily pleasures, even an animal. However, happiness does not lie in such kind of pleasures, but in virtuous activities,
as already has been said." (1177a, 2-13)

That is why Swami says:
Bend the body
Mend the senses
End the mind
However, is there a higher happiness than the one connected with noble and virtuous activities, i.e. the one which is connected with the practical knowledge or ethical virtue. As we have already said there is a part, which is Logos itself or Nous, pure Intellect, which contemplates Truth itself and is connected with the intellectual or pure spiritual virtues like Wisdom and Divine knowledge (Theoria). This part is the highest part in us.

"The highest part in us is Nous, which is by nature the Master and Guide, and contemplates things noble and divine. This part is divine and the contemplative activity of this will bring perfect Happiness." (1177a, 16-21)


Wisdom is the sweetest activity for man. Most of all, philosophy offers pleasures marvellous for their purity and permanence (1177a, 28-32). The philosopher is self-sufficient and needs nothing else, because he contemplates the Truth. Even when by himself, he is united with Truth and derives perfect Happiness; the wiser he is, the more happiness he derives.

"The (contemplative) activity of Nous (i.e. meditation, samadhi) is superior (to the practical activity or ethical virtues). It aims at no end beyond itself, the happiness that comes out of it is final and perfect, it is self-sufficient, brings peace and comfort and rest and all the other attributes ascribed to the supremely happy man. This is indeed the perfect happiness." (1177b, 22-29)