One morning as soon as Swami opened the door, He said, "P Sushila is gone. Yes, She is gone." The boys looked at Swami with
utter shock and disbelief because just yesterday the famous playback singer was there hale and hearty and many times during the day Swami had spoken to her. In fact, one boy, astonished, got up and asked, "Really Swami?" Swami then keenly looked at the boys and suddenly smiled and said, "When I am there here how can anything happen to her? Last night around 10 o' clock she suddenly fell ill seriously and had to be taken to the hospital. She is stable now." Neither had Swami come out of His room the previous night after He retired around 7 pm, nor had anyone informed Swami about it physically.
That morning Swami went to the hospital to see her after morning Darshan and when He returned He narrated with great gusto how Smt Sushila was so surprised to see Him there by her bedside and how she was overwhelmed with Swami's love and just could not contain her joy… The boys could see Swami was so full of joy and energy when He was narrating all this. Truly, the devotees' joy is Swami's Bliss, it is His Food, It is His Mission.
There was another occasion when Swami went out of Sai Shruti. It was for a long drive all around Kodai on the 3rd of May. All along the way He was giving Darshan and blessing the devotees from the car window. The boys' following behind in many vehicles were not seeing the scenic beauty of Kodai but the ecstasy and excitement on the faces of devotees lined up on either side of the road. As Swami's car passed by them, some were literally in the air jumping in joy, some were crying with happiness and there were some who were in bliss with their eyes closed.
Eswaramma Day

One glorious day during the Kodai Trip was Eswaramma Day. Since morning Sai Shruti was one busy place as arrangements were being made for the Narayana Seva to be held for over 3000 people. It was a miracle that the weather was perfectly fine with no showers or thunders that day because the previous two days it was pouring all the time and the organizers were worried. And after the serving was over, Swami confirmed it when He said, "See, nothing happened. The weather was perfect today. The distribution went on so smoothly and all the people were so happy with the food and the clothes."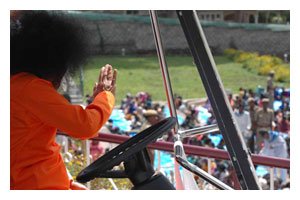 Much before this, when Swami was outside giving Darshan and overseeing the preparations, there was one senior devotee who was inside Sai Shruti and the thought passed in his mind, "What am I doing here when Swami is outside. If only Swami calls me I could go out and have His Darshan." And just then his son who was outside with Swami came to him and to his utter amazement said, "Swami is calling you." His joy knew no bounds. He was as much stunned as he was overjoyed at Swami's omniscience and benevolence!
The whole morning the boys spent preparing food plates inside the Bhajan hall and then passing it outside through a human chain. Swami came there and was extremely pleased with their work. After the distribution was over and the boys were with Swami again, with much concern in His voice Swami said, "Boys must be very tired". He then lovingly distributed pens individually to every boy so that the joy of receiving the gift from Swami's hand probably would reduce the tiredness of their bodies. And it surely did. The boys were full of smiles.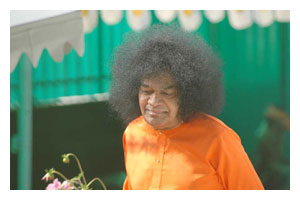 That morning Swami informed all the boys that the next day would be the last day of their stay there and they would be leaving to Madurai the next day and from there in flight to Bangalore. All the boys were obviously disappointed. In the afternoon, however, as soon as Swami opened the door, He said, "Anyayam Aayipoyindi (Something terribly wrong has happened). There is no flight for us to go tomorrow. We have to go today itself. Even today, there is only a 20-seater plane. Have you all packed?" The boys were shocked. "You all have to go by bus. Even I will travel in bus. All the elders and kids will go in the small plane." The boys did not know what to say. They just stared at Swami. The air was tense and there was silence. And then suddenly Swami laughed and said, "I was just joking", and then came the golden words, "Once I decide something, is there anybody who can contest it?" What a revelation! What enacting by the Divine Director!
After this small divine drama, the whole troupe went to Mr. Srinivasan's house where Swami spent almost an hour recollecting days when He had stayed in that house and sat next to the fireplace in the corner of drawing room. The boys along with Swami had refreshments there and returned to Sai Shruti to see a nice and entertaining play entitled "Kaliyuga Nachiketa" by the Bal Vikas children of Tamil Nadu.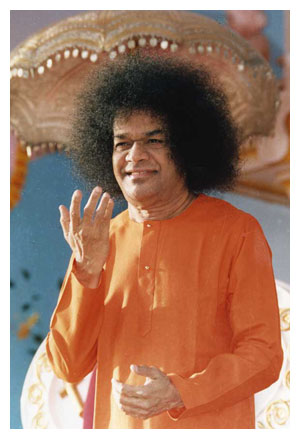 7th May- Precious Moments...

One very special moment in every Kodai trip for every student is the chance to pose individually with Swami for a very memorable snap. It was already the 6 th of May, their 18 th day with Swami and still no photograph with Swami. The boys were to leave the next day and Swami had somehow never allowed the photograph session to happen. Sometimes He would say, "Not today", at other times, "There is not enough light now" and so on. Another day He said, "You want my photo? Take", and then stood immediately in attention position like a disciplined soldier ready to be shot, but no posing with the boys. But on the final day, when the boys prayed and sang a stirring song, He just gave in. "Are the cameras ready? I am ready" He said with a beaming smile. "It is probably the reward for the service that we did yesterday during Narayana Seva," this was the thought on every boy's mind.
And He rewarded them profusely. Every boy got a snap kneeling beside Swami's sofa. Their last wish was fulfilled. But Swami did not stop at that. He stood up and walked to the point in the terrace where the Kodai Lake came nicely as the backdrop and posed again with every boy! Every boy got a bonus snap holding Swami's hand and standing beside Him. And it did not stop there too. This was followed by group photos, photos of boys in pairs and then some lovely shots of Swami with the background of the Kodai Lake.
It was a great day for devotees too. For, from below they could have Darshan of Swami for more than an hour. It was a lovely day, the sky was clear and Swami was so beautiful with the bright halo of hair. The boys sang heartrending songs expressing their love and gratitude. Swami blessed them all and told them to have breakfast and get ready to leave. There was so much joy, yet so much sadness. What a great climax for such a wonderful trip! Swami had preserved these moments for the last day perhaps to lessen the grief.
Around 8.30 in the morning the convoy started from Kodai Kanal and by two in the afternoon Swami was in Madurai. He went to 'Ananda Nilayam', His beautiful abode in Madurai where there were thousands waiting for a glimpse. Incidentally, Swami inaugurated this beauty of a building when he had stopped in a similar fashion in 1999, though He was en route Kodai then. Impressed by the architectural beauty of the structure Swami then had said in Telugu, "Andam Anandam" i. e., "Beauty and Bliss" and had named the building "Ananda Nilayam" (meaning, 'The Abode of Bliss') to the joy of Tamil Nadu devotees who had been praying to Swami since His arrival to christen the new building. After a brief stop over there, Swami and the whole troupe moved towards the Madurai airport. The plane left around 4 pm and Swami was in Bangalore by 5 in the afternoon.
The divine odyssey had ended. All good things must come to an end. But the timeless precious memories remain. Memories that are more valuable than all the wealth of the world. Memories that can inspire you for a whole life time. Memories that will stand by you whether you are in pleasure or pain.