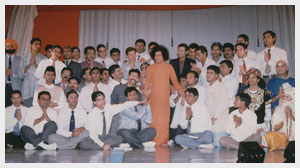 After
MBA
Drama
-
1997
The MBA Drama
The most awaited day of the academic year is August 21st, termed as MBA Day! The memory of that red letter day is ever fresh in every student's heart for on that day the entire school gets together to stage a play for their beloved Swami.
Every year, it would be very special as Swami would visit the Institute Auditorium during the rehearsal of the play and spend a lot of time suggesting changes, inspiring the actors and enlivening the whole team.
The MBA Day was always a very extraordinary day even before the tradition of staging a play started in 1991. There was some event or the other, one year it was an exhibition, another year it was an enthralling music programme and so on.
Last year (2004), in a departure from tradition, the function was held in Sai Kulwant Hall (rather than the Institute Auditorium) to the joy of every devotee. And Swami made the day even more wonderful. He rose to speak at the end of the cultural programme to the pleasant surprise of everybody assembled and enthralled every student when He said,
"If you ask what is Swami's property, I say, "Students are My property." Without the students, I will not be able to do anything. They are looking after Swami with utmost love and care. In fact, they are responsible for all the development that we find in our educational and other institutions."
Reconnect – The Upcoming Grand MBA Alumni Meet
This year the MBA Anniversary Day is going to be a grand festival as it is the 80th Birthday year of the Dearest Lord, and the eve of the 20th Anniversary of the Management School. Labelled as 'Reconnect', it will be a first of its kind in the history of the management school. More than 630 out of 650 students who have passed till now will gather at the lotus feet of Bhagavan in Prashanti Nilayam for a two-day meet on the 20th and the 21st of August.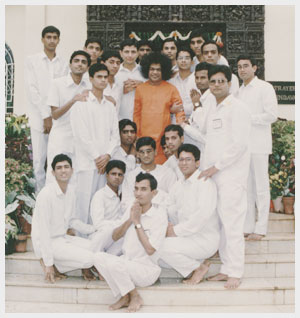 Swami
with
the
MBA Batch - 1991-93
It will be an occasion for them to express their collective gratitude to Bhagavan for they owe their success entirely to Him for He has made them what they are today.
It will be an occasion when they will reaffirm their devotion to Swami and reinforce their faith in the role of values in their professional and personal life.
It will be an occasion when they will share their experiences with their junior brothers currently in the Institute and counsel them on how they can make a mark for themselves when they go out into the wide world, away from the comfort of the hostel, the college and above all, the physical proximity of their dearest mother Sai.
It will be an occasion when they will discuss each area of management and give feed-back to the faculty and suggest ideas to gear the management programme to face modern day challenges.
It will be an occasion when they will relive their glorious days at the Institute and be nostalgic.
It will be an occasion to 'Reconnect' with the Lord's Love and His loving care and bask in His immediate physical presence.
A couple of years back, on Valentine's Day, students had prepared a beautiful card for Swami and when Swami came for darshan that day, Vivekananda Sahoo, an alumnus from Noida, who was there holding the card, describes that memorable evening thus:
He came walking down the lanes of our heart, gentle breeze playing with beautiful tresses, a bewitching smile hovering on His lips, joy twinkling in His eyes. Even nature wanted to celebrate this occasion of union with a beloved one, the moisture laden clouds burst forth in all glory. His words were as cool and soothing to the soul as the breeze caressing us.
Swami- "What is this card for?"

Boys- Swami today is Valentine's Day. And all we want in this world is Your love.

Swami- You love me or like Me?

Boys - We love You with all our breath and heart.

Swami looked at the card. It was like He was gazing deep into our souls and there it was written 'Forever yours......Your Children'

There was a swell of tear forming in His eyes and He said, "You are mine and I am yours". And then He added with a smile 'Forever'."
It is to relive such moments and bask in His love; it is rediscover this relationship in a new light; it is to pay homage to such a loving, most likable Lord. This is the unstated primary purpose of the alumni meet.
Can any university in the world dream of such a management programme where along with Total Quality Management - TQM, you also learn the triple qualities of Patience, Purity and Perseverance; where while you learn reengineering techniques in the classes, your whole personality is reengineered, slowly but surely, to face any challenge in life; where individual and fundamental discrimination is as important as analytical tools of management for managerial decision-making; ..this list can go on, let's come to the most wonderful and most profound aspect, where will you find the Lord Himself, the Divine Manager of the Universe as your personal Guru and Guide!
- H2H Team
We would like to thank the following individuals whose contribution
and inputs helped immensely in the writing of this article:
1. Prof. Nanjundaiah, Controller of Examinations, SSSIHL.
2. Prof. U S Rao, Principal and Dean, SBMAF.
3. Prof. Sudhir Bhaskar, Faculty, SBMAF.
4. Prof. Kumar Bhaskar, Faculty, SBMAF.
5. Sri Srirangarajan, Faculty, SBMAF.
6. Sri Y V C S ViJay, Former Student.