This is an experience of one of our readers, Mr. Ariarajah, former Superintendent of Police in Sri Lanka and now settled in Melbourne, Australia. Here is the story in his own words.
In my school days I had a close friend by the name Garry Ramachandran. After leaving school I joined the Police Force and Garry got a scholarship to do Medicine in Russia. After qualifying as a doctor Garry migrated to Scotland and started his practice there. He got married to a Scottish lady by the name Gwen in 1981.
I was in Sri Lanka then and was residing in Colombo with my family. In September 1981 Garry came with his wife to visit Sri Lanka on a holiday. I was pleasantly surprised when I received a telephone call from him. He and Gwen were staying at a seaside resort in Wattala, some twelve miles from Colombo.
Garry invited me along with my family to join him and Gwen for dinner at the resort hotel. My wife and two children and I, including an aunt of ours set out at 8.00 p.m. to the hotel in my Mini Minor car. It was memorable evening together, and after a sumptuous dinner we parted at 11 p.m. to return home.
On our way back my car run out of petrol and came to a halt at an awkward place. The place was totally dark with no street lights. It happened to be a bad area with slums on one side and open sea on the other and quite risky for travelers at that hour!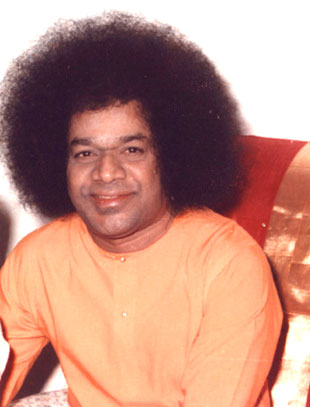 We were fear stricken and I could only think of Bhagavan Baba and started calling His Name, "Sai Ram, Sai Ram, Sai Ram." Then I asked my wife to remove all her jewelry for me to hide in the boot and got out of the car, opened the boot, hid the jewelry there and took out the empty petrol can that I generally keep in the car for such eventualities. I was getting ready to walk a distance of two miles to the nearest Petrol station and told my family to lock themselves inside the car and remain quiet until I returned.
Just then I saw a motor cycle heading towards me from the opposite direction, with a pillion rider. Both of them were dressed in full white. The rider stopped and asked me, "What is the problem?" and I told him that we were stranded without petrol. The rider asked his companion to stay with the car and asked me to get on his motor cycle. I sat behind him with the empty petrol can in my hands.
When we reached the nearest petrol station I was upset when I saw it was shut. The stranger took me to the next nearest station but that too was shut. Ultimately we found an open petrol station after traveling a distance of 10 miles. I bought a gallon of petrol and we were returning to my car. Along the way I was telling the rider a few things about myself, that I was a police officer, where I lived and so on, and told him that he should feel free to call me for any help and I would never forget his assisstance at our time of desperation. But the rider never spoke a word.
No sooner did we reach my car, I filled my fuel tank and started the car without any problem. The pillion rider had got on to the bike and both men were about to take off. I quickly got out of my car to thank them for their help. I went up to the rider and thanked him once again and asked him for his name.
The rider turned towards me and surprised me saying, "You know me well," and rode off. Within 5 yards the motor cycle and the men disappeared into thin air!
It was a shocking experience. My thoughts were with Bhagavan and I shed tears of gratitude. Later, my wife told me that the pillion rider had advised them to lock the car and stay inside, while he stayed outside without speaking another word.
Our Lord had given us this unique experience that He is always with us, helping and protecting us, without our knowledge. Bhagavan has shown us His Omnipresence and Omnipotence in this miraculous instance, and given us the experience of His oft quoted statement:
"If you take one step towards me I will take 100 steps towards you."