H2H is very happy to bring you this issue's second report from the Gulf States (the first is in Feature Articles), this time concerning some creative work on human values undertaken by schoolchildren. It's been running for three years and it's about time that we heard about it. It is truly an idea to emulate and replicate all over the world.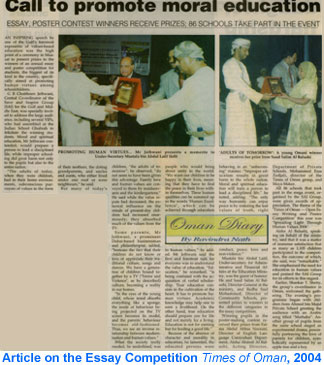 "'Spreading the Light Through Human Values', an open essay writing and poster making competition, conducted by the Serve And Inspire (SAI) Group [the name by which the Sri Sathya Sai Seva Organization, Oman is known to locals and government officials in Oman] has become a popular and successful event in the Sultanate of Oman.
The 14th of April 2005, witnessed the staging of this mega event for the third year in succession. Her Excellency, Dr. Muna Salim Al Jardany, Under Secretary for Education and Curricula, Ministry of Education inaugurated the event. It is notable that the event was conducted in close co-operation with the Ministry of Education, Sultanate of Oman.
The objective of the Sathya Sai Education in Human Values (SSEHV) programme is that the children will grow into nobler human beings with a well balanced personality. Through the competition, Swami's message, "The development of character is the real purpose of education" is inculcated in the hearts of every student.
Conducting creative competitions based on human values, greatly nurture and facilitate the blossoming of values from within a child. The participants research the topics by going through many books, listening to the guidance of their teachers and parents and by discussions with their classmates and friends. During this process they spend time contemplating on human values and such positive thoughts are reinforced in their sub-conscious minds. This helps them to grow into nobler individuals - a great gain for society and the nation, anywhere in the world.
| | |
| --- | --- |
| | |
820 students from 86 schools of different categories such as Omani Arabic Schools, Omani Bilingual Schools, International Community Schools and Special Education Schools participated in the competition. The value based topics that were given for both poster making and essay writing this time were "Kindness is Goodness" for ages 6 to 9, "Nature is the Best Teacher" for ages 9 to 12, "Watch Your Words" for ages 12 to 15 and "Service to Community" for ages 15 to 18.
After declaring the event open, Her Excellency, Dr. Muna Salim Al Jardany, said that she was thrilled to see small children thinking about such rich ideas, which even adults find intriguing. She noted that when children have an idea and think about it for more than two weeks, they tend to absorb it in their personality and it thus reflects in their character. Competitions such as these help children's development better than learning from textbooks as their creativity is stimulated and they become involved in meaningful activities.
Mohamed Issa Al Zadjaly, Director, the Times of Oman observed that this excellent effort would greatly reduce the gap between communities by the opportunity to exchange ideas, views and feelings. The beautiful message is that though our passports may be different, we are essentially the same. He thanked the SAI Organization with its team of committed volunteers, as it is not at all an easy task to organize an event of this magnitude in Oman .
The meticulous judgment process, saw each entry reviewed by three judges independently. The elite judging panel had more than 40 professionals in the area of art and literature who were highly impressed with the creative work of the students.
Images of last year's awards ceremony from Times of Oman, 6th June 2004

A small champion...

Smiles all round...

A handicapped child receiving an award...

Teenager rewarded...
The award ceremony was held on the 18th of May 2005, in a grand manner. His Excellency Mohammed Hamdan Al Toubi, Under Secretary for Educational Planning and Projects, Ministry of Education was the chief guest.
A brochure which contained full details of the event, the activities of the SAI Group and a wealth of information on SSEHV was released on the occasion by the chief guest.
First, Second and Third as well as Consolation prizes were given in each age group and category of school. All the participating children were awarded with certificates and all the 86 participating schools were presented with SAI plaques. Truly Swami's message is growing in Oman.