RUTA - HEARTY AND SMILING

This is the story of Ruta Ramoliya, a cardiac patient from Gujrat, who was operated in SSSIHMS, Bangalore.
Reg No. : WS 00120665, Reg on: 19-Nov-04

Ruta, a sweet and tender 5-year old from Surat, a town in state of Gujrat (West of India), was an apparently healthy child. Though she did not put on much weight, nobody who saw her then would ever say that she was not healthy.
At the age of one, one day, suddenly she fell ill with a high fever and a severe cough. A local doctor there prescribed her some medicines. But the medicines had least effect. Her condition remained same even after continuing with the medicine for 3-4 days.

The worried parents returned to the doctor. The doctor now ordered some blood tests and an X-ray. It was only when the X-ray was taken that Ruta was suspected to be suffering from a heart ailment. She was then referred to a paediatric specialist, who ordered an echocardiogram. The echo test was done and the diagnosis was confirmed. Ruta had a hole in the heart.
This was further confirmed in a free medical camp conducted by a cardiologist.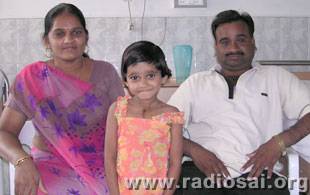 Ruta's family and relatives were shattered at this diagnosis, to say the least. They could scarcely believe that their sweet daughter, who was just 5 yrs, could have a heart ailment.
Ruta's father, working in one of Surat's diamond polishing companies, earned only Rs.3,500/- per month and he had two other kids to look after. There was no way he could afford the cost of treatment.
Just about this time, Ruta's parents remembered seeing Swami on the television channels, Sanskar and Astha, but were not aware that a super specialty hospital exists.
In fact, it was by chance that Ruta's father met a friend, whose relative had been operated on at Swami's Hospital. Very soon after this, Ruta along with her parents was in the hospital. She was examined thoroughly and put on the surgery list.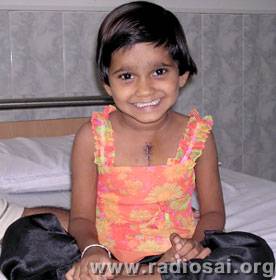 In August, 2005 Ruta received the invitation for surgery. She was admitted and operated on in early September. The hole was closed successfully. She recovered very well and was discharged.
Before Ruta left the hospital, her parents said that in Ruta's entire stay in Hospital, while receiving so many injections, while enduring a number of blood tests and experiencing so much pain, this little 5 year old girl did not call out or cry for an instant. It seemed as if a Divine power had taken away the feeling of pain from her.
Now that Ruta is hale and hearty, What does she want to do when she grows up? What are her parents' plans for Ruta?
The parents of Ruta, with deep satisfaction on their faces, say, "Even at home, we would not be able to give the kind of loving service the doctors and nurses have given her. Our aim will be to give her a good education. When she grows up a little more, we will tell her about the 'Jeevan daan' (gift of life) she received at this Hospital. We are certain that, with God's grace, she will go on to become someone this Hospital would be proud of."
As of now, unmindful of all her parents are talking about, Ruta is all smiles…
- Heart2Heart Team