THE DIVINE STORY OF
SHIRDI SAI PARTHI SAI - Part 10
(continued from the previous issue)
[ This page has lots of Graphics. Allow time for the images to download. ]
ACT V
---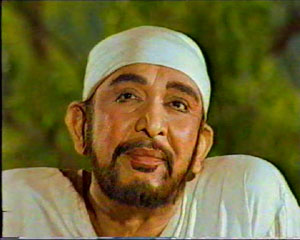 Years pass. Baba completed nine years of stay in Venkusa's Ashram. One day, Venkusa summoned Baba. The Guru knew that the time had come for him to give up his body. He instructed Baba to proceed to the river Godavari, adding that Baba's future would be shaped there. Baba did as He was told.
One day, Baba was seated in a garden in the village of Dukheda in Aurangabad District. At that time, one Chand Patel of Yelaganga District came there in search of his horse that was missing. Patel saw Baba and asked Him about his horse. Baba told Patel where the horse could be found. Patel found the horse, exactly where Baba had predicted it would be, and from that moment became an ardent devotee of Baba.

In order to have the constant proximity of Baba, Patel invited Baba to his house. Baba went with Patel but did not stay with him. Instead, Baba kept moving around but from to time visited Patel.

Once, Patel went to Shirdi in connection with the marriage of his nephew. Along with his relatives, Patel also took Baba with him. Baba who went to Shirdi in this manner, later stayed there permanently.
---
SCENE - 1
---
One day, Baba was sitting under a neem tree and is about to eat.

Destitute people lined up before Him and beg for food.