WHO IS SAI?
20th October is the Avathar Declaration Day - the day in 1940
when Baba, at the tender age of 14, declared "I AM SAI BABA".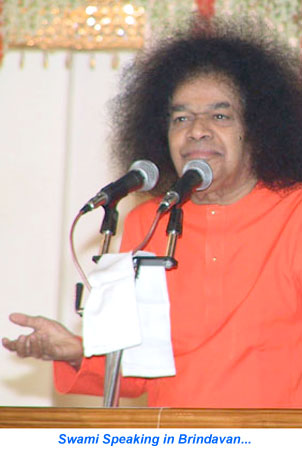 GOD is inscrutable. He cannot be realised in the outer objective world; He is in the very heart of every being. Gemstones have to be sought deep underground; they do not float in mid-air. Seek God in the depths of yourself, not in tantalising, kaleidoscopic Nature. The body is granted to you for this high purpose; but, you are now misusing it, like the person who cooked his daily food in the gemstudded gold vase that came into his hands as an heirloom.
Man extols God as omnipresent, omniscient and omnipotent, but, he ignores His Presence in himself! Of course, many venture to describe the attributes of God and proclaim Him to be such and such; but, these are but their own guesses and the reflections of their own predilections and preferences.
Who can affirm that God is this or that? Who can affirm that God is not of this form or with this attribute? Each one can acquire from the vast expanse of the ocean only as much as can be contained in the vessel he carries to its shore. From that quantity, they can grasp but little of that immensity.
Each religion defines God within the limits it demarcates and then claims to have grasped Him. Like the seven blind men who spoke of the elephant as a pillar, a fan, a rope or a wall, because they contacted but a part and could not comprehend the entire animal, so too, religions speak of a part and assert that its vision is full and total.
There is Only One Religion - The Religion of Love
Each religion forgets that God is all Forms and all Names, all attributes and all assertions. The religion of Humanity is the sum and substance of all these partial faiths; for, there is only one Religion and that is the Religion of Love. The various limbs of the elephant that seemed separate and distinct to the eye-less seekers of its truth were all fostered and activated by one single stream of blood; the various religions and faiths that feel separate and distinct are all fostered by one single stream of love.
The optical sense cannot visualise the Truth. It gives only false and fogged information. For example, there are many who observe My actions and start declaring that My nature is such and such. They are unable to gauge the sanctity, the majesty and the eternal reality that is Me. The power of Sai is limitless; It manifests for ever. All forms of 'power' are resident in this Sai palm.
- Divine Discourse, 19th June, 1974 in Brindavan.