God Fearing vs. God Loving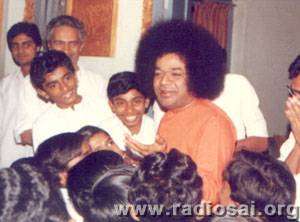 It was the first day of the CBSE exams. The external invigilator was rather tense, and was pacing up and down the examination hall in the Sri Sathya Sai Higher Secondary School. The tension eased after sometime, as the examiner realized that there seemed to be no student who appeared perturbed or interested in malpractice! There was no sign of any pressure from the school staff too! This was certainly a new experience for the invigilator who hailed from another school. In fact, he wondered how people could be so afraid. Were they already afraid of him? No, he had not yet shown his strictness. Oh! So they must be really God fearing, he concluded.
Surprised by this revelation, the examiner looked at one student and said rather sarcastically, "Oh! All are very God fearing in this school!"
Spontaneously the student looked up at him and said, "No Sir, God loving!"
Sai Student – An Experience Unparalleled
Yes, this is what distinguishes students in the Sri Sathya Sai Higher Secondary School from many other schools. Love for God becomes a part of their very nature. Yes indeed, they have lived and spent their childhood in the company of the Lord. Every experience, however big or small, joyous or sad, is in some way or the other, linked to the Lord. He becomes a part of their lives. They love Him, they move with Him, they admire Him, and they laugh with Him. They cannot but help being attached to Him. He verily becomes a part of them.
We have read of how sage Vyasa did not get peace of mind even after writing the eighteen Puranas. It was sage Narada, who advised him to write the 'Bhagawatham', the stories of the Leelas (Divine Sport) of the Lord. Immersing himself in the reminiscences of the Love and the Leelas, the powers and the pranks of the little Lord, the sage finally found peace of mind. We have read how Parikshit attained liberation just by listening to the stories of the Lord.
Indeed it is difficult even for the sages to develop attachment and experience the love of God. Oh! How fortunate indeed are the students who have spent their childhood with the almighty Lord. Even without their knowledge, they have developed a Love, which would only sprout and grow as they grow old. Will not the nostalgic memories of their childhood days spring up from deep within?
Like many others, I have had the most rewarding opportunity, experience and privilege, to serve in the Sri Sathya Sai Higher Secondary School, for more than 12 years. After completing my post graduation at the Sri Sathya Sai Institute of Higher Learning, I joined the school as a teacher in the department of Physics. As I look back at the years gone by, I can see how I have grown in all ways. Through the maze of experiences, I can still see a few, which stand out, and I will share some of these with the readers.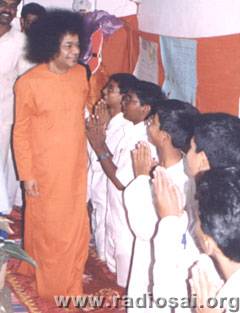 Career Guidance from Swami
A 12th class student very keenly wanted to continue his education at the Sri Sathya Sai Institute of Higher Learning. But in an interview, Bhagavan instructed him to join a Medical Course outside and not the B.Sc. (Bachelor of Sciences) Course at SSSIHL. In spite of repeated pleading and prayers, Bhagavan did not permit him to continue with B.Sc. Swami even assured him that He would get him a medical seat.
This boy finally left and much to his dismay, he did not secure a medical seat that year. Of course, one reason was that he was not well prepared for the entrance exams. He therefore sat and prepared one full year and wrote the medical entrance exams once again. He was not confident of getting a seat and he felt that he should rejoin the Sri Sathya Sai Institute of Higher Learning for the B.Sc. Course.
He came for the B.Sc. entrance test and I happened to meet him. He told me the whole story and sought my advice. Coming to know of Swami's instruction, I told him not to lose heart and that he would certainly get a medical seat. However, since it was difficult to understand why exactly Swami had asked him to leave the pervious year, we felt that there was no harm in trying for the B.Sc. Course at the Institute. If Swami willed, He would take him into His Institute, or else he could go for the Course in medicine. I told him to tell the truth when asked in the interview.
Some time later, I learned that he could not get a seat in our Institute and he was disappointed. A month later, this boy suddenly came to meet me. The medical results had come and he had not got a seat! The second list was also out and his name did not figure in it.
Very disappointed, his father decided to make him join a B.Sc. course in some other college. He would also prepare at the same time, for yet one last attempt at medicine, in the coming year. Just in case he failed again, he did not want to lose another year. He came to Puttaparthi and asked me what he should do. His father had already filled in the form and spent Rs. 2000 on it.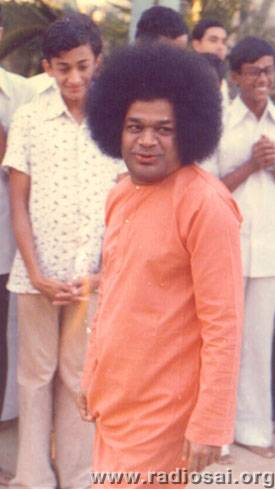 No Backup Solution With God
As I prayed to Swami, I told him that I would advise him only if he would follow it, for it could be difficult. He agreed to it. I told him that by joining B.Sc., he would be going against Swami's assurance of a medical seat. With God there is no backup solution, for there is no failure! When one surrenders completely, God automatically helps. I told him to sit at it and prepare for the Medical entrance exams and also to leave the B.Sc. course. Even as I told him, I felt a bit nervous and shaky, but he agreed. How could he afford to lose one more year…? One more year…but in case…by chance… if he does not get a medical seat…?
Finally, the debate settled and he surrendered to the Lord. No ifs, no buts. He went back to his parents and informed them of his firm resolve to stay in Puttaparthi itself and prepare one more year for the Medical entrance exams. The parents finally conceded to his strong determination and sense of surrender. Well, God was moved as He always is! The boy suddenly disappeared from Puttaparthi and later he wrote a letter to me. These are its contents:
"Sir, two days after I decided to stay in Puttaparthi and prepare for my exams, my mother rang up and informed me that the University had again put up the first list of candidates selected for the Medical Course, and my name was on the top of it! I had to leave urgently as the last date for enrolling to the course was fast approaching. Can anyone ever explain this Sir? I am ever grateful to Swami once again."
How The Spiritual Ambience Promotes Learning
Many of the external practical examiners as well as teachers of other schools, where I have gone as an examiner, ask about the daily routine of the students in our school. When I inform them that even the X and XII class students study compulsorily only 2 hours a day, they all express surprise.
"How is it then that your students are able to do so well with so less time for studies? We make students study 4 to 6 hours and yet they do not do so well." After some thinking, all came to the same conclusion. Apart from the Blessings of Bhagavan, the daily Spiritual routine and the Divine vibrations are conducive for a healthy development of the body, mind and the spirit. When the mind is at peace, the students can grasp quickly. The routine that Bhagavan has prescribed, water the very roots of our existence and so the flowers and the fruits automatically blossom and ripen.
The Students' Renown
I once met a Professor from I.I.T (Indian Institute of Technology), Chennai, at the Institute's Physics Department. He was all praise for our students who were working under him. "Sathya Sai students stand apart. They have the determination to pursue and they achieve", he said.
Truly, it is Bhagavan's Love and energy that takes care of the young and pure hearted students. It is this energy, which takes them through the vicissitudes of life and makes them reach great heights.
Therefore, it is that almost all the toppers and the gold medallists at the Sri Sathya Sai Institute of Higher Learning are the students who have studied at Bhagavan's school.
"Swami is only a Stealer of Hearts"
We have had numerous occasions to take part in extra curricular activities and have had interesting experiences too. I still remember different science and human values exhibitions held in the school that were blessed by Bhagavan's visit. On two separate occasions, Swami was asked to put His hand into a Burglar alarm. Every time Swami put His hand inside the alarm, it failed to ring and we were disappointed.
Swami asked someone else to try it out. It worked and the alarm rang. This happened a few times, in two different exhibitions. Swami chuckled, as all were surprised and said, "I am not a thief." Somebody added, "Swami is only a Chitta Chora – stealer of hearts!"
Courtesy: "Sai Prerana"
---