SAI SEVA IN THE AFTERMATH OF HURRICANE KATRINA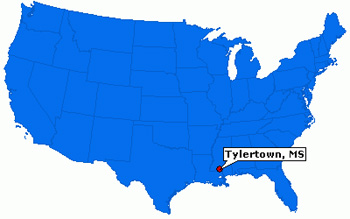 In the last issue we carried a feature article on hurricane Katrina – "Hurricane Katrina – Are There Any Lessons To Be Learnt?" There we talked in brief about the disaster's effects and how hurricanes are formed, and then elaborated on what Swami has to say on such Natural disasters and also through an example of the Madhurantakam temple we brought out how God's Grace can mitigate an enraged Nature. To refer to it, go here.
We could not bring you any accounts of Sai Seva in the Katrina affected regions then. So we are very happy to present you now an account of the service that was carried out by the Young Adults (YAs) from the North Central Region of USA.
Katrina hurricane necessitated a mammoth relief response from the US government and international aid agencies. What could Sai Youth do in this situation? To have a greater impact, they decided to concentrate their activities on a particular town - Tylertown in Mississippi - where the needs were considerable.
Quickly, the core group of YAs – 21 of them from 10 cities of USA - networked and a coordinating team was formed a week after the catastrophe. The next two weeks they assessed likely needs, planned transportation and organised the aid from various Sai Centres to be dropped–off at a central point. Sai Devotees from 7 cities came forward to contribute their bit to the work of YAs. The main areas of concern were supplies of food to about 50 families; trees needed clearing and roofs needed repairing.
We must mention that the YAs spent as much time or more in planning as in execution. And that's precisely the reason why it was so very nicely organised and the recipients of the Seva were immensely pleased. Below we give you glimpses of the kind of service that went on through a sample of their pictorial journey, but if you want to see the full account, download the powerpoint presentation here.

They all came together at a church in Tylertown on September 30th 2005 with a shipment of supplies.
It then took 24 hours to unload and sort the items into packages for personal use.
| | | |
| --- | --- | --- |
| | | The items were distributed at the church and also to people's homes for the housebound and elderly (above and to the left). |
Tree clearance was also undertaken.
And roof repair work.
The Team

Faced with such an appalling scale of disaster these young people were inspired by Swami to simply do what they could. They are only a small representation of the outpouring of Seva that was undertaken by different Sai Groups, Sai Centres and Sai devotees individually in the aftermath of the Katrina and Rita.

Indeed having made the necessary visits and assessments the same team is returning to three other rural areas at the time of Swami's Birthday to continue this 'American Grama Seva'. A medical team visit is being organised as well.
The response has been touching. Seeing the Young Adults spirit of service, the Pastor of Lee's church (where the distribution was actually carried out) said with tears in his eyes,
'I cannot believe so many of you have traveled 800 miles to bring along 6,000 lbs. of food supplies, I feel that you have brought Jesus with you, even if you came with empty hands we would have been thrilled with your Love and Compassion'.
As mentioned earlier, this is a glimpse of the Seva done by Young Adults, the full account is in a nicely done power presentation which you can download here.
There is a lot of inspiring Seva happening, we will bring you more in this section in the next issue.
Jai Sai Ram!
- Heart2Heart Team.
We would like to thank the Young Adults and as well as the Region President of
North Central Region for sharing this information with us.

---