SAI SEVA IN NEW ZEALAND PRISONS
This article beautifully conveys the tension and reward in undertaking a challenging service project - trying to bring light into the lives of prison inmates. Please read it through to the end where you will find a moving and memorable twist.
In Auckland, New Zealand, which is the largest city in the country with a population of 1.2 million people, the Sathya Sai Service Organisation began a pilot programme some 3 years ago of visiting prison inmates in the Auckland City Mt. Eden Remand prison.
This was initiated by a male devotee, who had had some tough times in his earlier life but knew how the prison system worked, and also how some inmates were crying out for spiritual help.
The programme was first set up to visit the Women's Wing of the prison on a monthly basis for one and a half hours on a Sunday morning – the prison authorities feeling that there would be less tension if a pilot programme could be tried with women inmates first.
Some 10 weeks later security clearances and passes were issued, and the New Zealand Sai workers made the first visit on a Sunday morning in September 2002. The authorities asked them to limit our numbers to 4 or 5 so that they did not outnumber the 3 or 4 prisoners whom they thought would attend. Naturally the volunteers were very nervous and more so when they were admitted into the prison itself, as they could feel the tension and the negative energies within the walls inside, but by chanting 'Sai Ram' as they were escorted to a special visitors room all nervousness and concern rapidly disappeared and they could feel Swami's Divine presence was with them. Imagine their surprise when they entered the room and found 25 inmates eagerly awaiting them!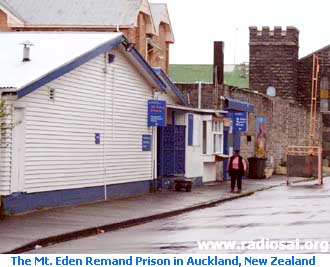 A few were there obviously out of curiosity and maybe filling in time on a Sunday morning, but the rest were genuine and there seemed to be a definite need for the programme about to be offered.
This first session is best explained by a devotee who took part on that eventful day -
First Visit to the Women's Prison
"As we entered the room we could feel the tension, the suspicion and the aggression as some inmates felt that this would be a place where old scores could be settled. We had the security of prison guards being on site just in case, but they were kind and kept discreetly in the background. Mark my words - we were definitely nervous as there were some tough cookies attending, but we knew we had Swami with us and had a good feeling that the programme would be successful.
We immediately began with a prayer sung in the Maori language that had the effect of instantly settling everyone down and also gave out the message that we were genuine and were there to try and help. The prayer is a beautiful interfaith one and is shown below:
Te Aroha (The Love)
Te Whakapono (The Truth)
Te Rangimarie (The Peace)
Tatou Tatou ei (Surrounds Us All).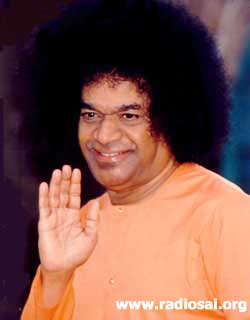 We then explained briefly who we were, what we hoped to achieve and how we would structure the programme and that if anyone had any questions then they should feel free to ask at any time. We also explained that we were followers of Sathya Sai Baba, a wonderful Spiritual Teacher who resides in India and whose message of love and tolerance encompasses all religions and races. We told them that we had a quantity of small pocket photographs of Him and some holy ash (vibhuti) and would gladly give them out if requested to.
After this we began with the Jyoti meditation, fully explaining what we were doing as we went along and the benefit gained in doing it. After some minutes of this we could feel a definite easing of tension within the room as a soft and gentle stillness took over. We knew instantly that Sai was with us and helping us.
This was followed by some devotional songs, in both Maori and English and relevant to all religious faiths, as one of our members had brought in a guitar. The inmates loved this and began to open up to us and suggested other songs to sing that they knew. To our surprise all the songs that they wanted to sing were spiritual as well. We then spent half an hour discussing one of Swami's quotations, then finished the session with a prayer and a promise to be back."
All agreed afterwards that the session was very successful, the need was there and that it should be on a permanent basis. With the prison authorities' permission and agreement it was arranged to hold the sessions on a weekly basis as we had enough devotees registered and could run it on a roster session.
Request to Expand the Programme to Another Prison
Approximately one year after the programme was begun in the Mt. Eden prison, we received a letter from the prison authorities in another prison, Waikeria, situated approximately 250km south of Auckland, telling us that they had contact with the authorities from the Mt. Eden prison recommending the programme and asking whether we could set up a similar programme in their prison. They also had advised that there was a noticeable change in the behaviour of the inmates who were attending the sessions in Auckland – a definite softening of their attitudes and a lessening of their aggressive tendencies.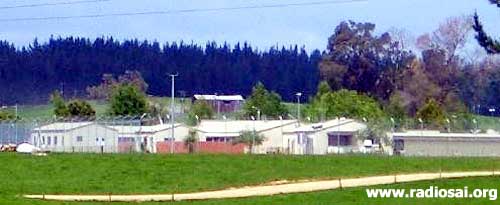 Prison at Waikeria, New Zealand
So began another training programme of Sai devotee volunteers in this new area and after some time, security clearances and passes were given out to a set number. The visits to this prison in Waikeria are done on a monthly basis at present but plans are in place to make it fortnightly after more of our Sai devotees from this region are trained and 'security-cleared'.
Programme Begins in the Men's Section of Mt. Eden Prison
Recently, back in Auckland, we were asked to take the programme into the men's part of the prison. After some careful thinking, the decision was made to go ahead and a new roster was set up to enable the Sai devotees to take this rather large step forward as they knew that the sessions in the men's prison would be vastly different than those done in the women's prison as they would be then face to face with some pretty hardened criminals and even some street gang members with long records. Once again, Sai's presence was felt very strongly as the first visit took place and went off very smoothly. As our members prepared to leave they noticed that some of the inmates were crying softly and knew instantly that the decision to take on this new programme was the correct one. Right then something very beautiful and profound took place.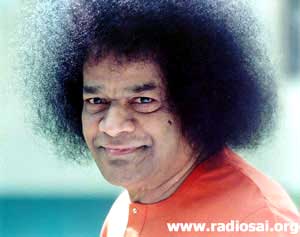 Swami Has Been There Before Us!
As one of our devotees put a small photo of Swami away in his pocket one of the inmates - a heavily tattooed gang member came up to him and said:
"Hey bro, the fella in that picture you have there is not just for you guys. Two weeks ago He came into my cell raised His hands as if He was blessing me then disappeared. I have not told any of my prison mates this as they would think I am going soft, but it's the truth!"
All of our people knew then instantly what they had felt all along – that our dear Lord was always with us, especially when acts of service without any expectation of any rewards are done, and also that He is always there helping those who are genuinely trying to change their ways and become better human beings.
We are sorry we could not capture these heart-warming scenes inside the prison on film as cameras are not permitted. If anyone would start a similar programme in your area and would like more information, please send an email to the following: [email protected]
- Heart2Heart Team
---