Raju Das - A Bright-Eyed Teenager...

Raju Das is a bright-eyed and blond teenager from West Bengal. Youngest in a family of four sons, Raju is studying in his II year B.Sc (Zoology). His father works in a plastic manufacturing factory and his mother is a house-wife.

Raju, being a hard-working boy, it looked certain he would complete his B.Sc and then M.Sc, and then earn his Ph.D, which he always dreamt of. But then something happened.
One day he developed a severe head and neck ache. After a week of excruciating pain, he developed high fever. His father, worried about Raju's ill-health, took him to a doctor. After routine blood and urine tests, Raju was diagnosed as having high blood-pressure. Some tablets were prescribed to improve his condition.
Mysterious Problem... No Light, No Hope
Very soon though, there were signs that his problem was not something which could be solved by tablets. Raju started complaining that he was having problem seeing with his left eye. His parents took him to an ophthalmologist, who gave him a clean chit. Raju's condition worsened and he turned completely blind in the left eye. The light from his left eye seemed to have ebbed away forever.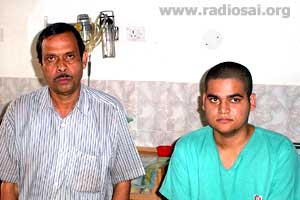 The parents were shocked, to say the least! Doctors at this stage advised a CT scan. This was followed by an MRI study wherein the cause of Raju's problem surfaced - a brain tumour. Raju Das had developed a brain tumour, which was secondarily affecting the optic nerve thus impairing his eyesight.
The doctors suggested immediate surgery, which, if not carried out could cause the other eye also to go blind. The cost which the doctors mentioned was way beyond his father's capability.
For those unaware, brain tumours are abnormal growths of the neural tissues or its supporting structures which secondarily affect the functioning of the normal brain.
Brain tumours are more often than not missed as the complaints may not be very suggestive, as in this case and especially so if the patient is a child or is having difficulty communicating his symptoms. Brain tumours may be benign, i.e. allowing the patient to enjoy a normal lifestyle after removal, or malignant, i.e. cancerous, in which the chances of recurrence are very high.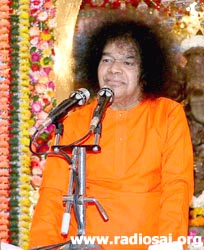 Coming back to Raju, after a brief interval, Raju started complaining about the progressive degradation of his vision through his right eye. The already shocked parents were caught completely unawares. Losing the valuable sense of sight would render Raju an invalid. Raju's parents were in complete dismay.
The Darkest Hour Before The Dawn...
It is said that the darkest hour is just before dawn. So too, it was Raju's darkest moment, when there appeared light. Opposite their house was a shop owner who had visited Swami's Whitefield Hospital for treatment of his cardiac ailment. He explained to Raju's distraught parents all about Swami's Hospitals, which are beacons of hope for the hopeless. Raju was soon brought to Bangalore in October this year (2005).
After registration and consultation with the neuro surgeon, Raju was given a date to come in early November for his surgery. As there were a few days time before they could take a train to return home, Raju requested his parents to take him to Sai Baba, whose Hospital they had come to.
They reached Parthi on 7th October 2005, when the Dasara celebrations were on in full swing. Though Raju could not see Swami, he was overjoyed to hear Swami delivering a discourse and he was thrilled listening to the bhajans and then returned home.
A New Lease Of Life...and Light

He later returned to the Whitefield Hospital was admitted to the Hospital on the 1st of Nov 2005. On 4th Nov, in a 4-hour surgery the surgeons removed the tumour situated in the cerebellum (smaller brain). He had an uneventful and good post-operative recovery from the surgery and the tumour analysis also was a reason to be happy as it was at the lowest spectrum on the cancer scale (WHO Grade I).

After the surgery, the pressure on the brain regressed and Raju found his vision improving in the left eye. The vision to the right eye is being regained gradually. Advances in the field of neurosurgery, brought about by latest technologies, available at the Hospital helped in Raju Das' cause. Such technology can help bring smiles to many more patients.
Raju's bright eyes have just become brighter. His parents, relieved to see their joyous Raju as he relates to them his plans to do his Ph.D., have a look of gratitude in their eyes, to Swami and His hospital, which has given their child a new lease of life…and light.
- Heart2Heart Team