SERVE AND INSPIRE (SAI) SEVA IN ABU DHABI, UAE.

Sri Sathya Sai Medical Awareness Camps.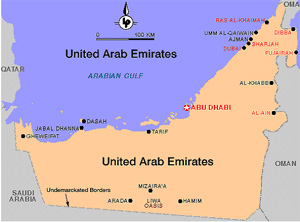 The United Arab Emirates (UAE), a constitutional federation of seven emirates, namely Abu Dhabi, Dubai, Sharjah, Ajman, Umm al-Qaiwain, Ras al-Khaimah and Fujairah, was formally established on 2nd December 1971. With an area of 83,000 sq km along the southeastern tip of the Arabian Peninsula, the country is four-fifths desert.
Yet it is a country of contrasting landscapes, from awe-inspiring dunes to rich oases, precipitous rocky mountains to fertile plains – all of which have helped to make it one of the world's fastest growing tourist destinations. Qatar lies to its west, Saudi Arabia to the south and west, and Oman to the north and east. The largest city of the federation is Abu Dhabi which is also its capital.
In this oil-rich country, one of the things that is a cause for concern is care for the elderly. The elderly persons comprise an increasingly greater percentage of the UAE population who need care and attention especially because of the on-set of age-related diseases such as diabetes mellitus and cardio-vascular diseases, psycho somatic disorders, chronic low back pains and the like.
And if they are from weaker sections of the society their problems are really compounded. It is not only the elderly but also the middle-aged from the working population who are often victims of various killer diseases and many of them are not even aware of it. It is this state of affairs which prompted the Sai devotees of Abu Dhabi to reach out to this segment of the UAE population under the banner SAI (Serve And Inspire group).
As part of the 80th birthday celebrations of Bhagavan Sri Sathya Sai Baba, the medical wing of the Abu Dhabi Sai center continued to conduct medical awareness camps, once a month, for these economically weaker section of workers in and around Mussafah, the industrial town of Abu Dhabi. For the devotees and their families, a weekly SAI clinic is also run on every Sunday in Abu Dhabi town.
H.E. The Indian Ambassador Helps in the Sai Seva
His Excellency (H.E.) C.M. Bhandari, the Ambassador of India in Abu Dhabi came forward and offered the embassy premises once a month to conduct the awareness camp for the benefit of the patients who have no access to quality health care.
| | | |
| --- | --- | --- |
| | | |
| His Excellency the Indian Ambassador speaking to the patients | | ...and distributing T-shirts |
"It is a wonderful opportunity for me to associate with the service activities of the Sai Center and I involve myself for my own spiritual upliftment," said the Indian Ambassador in his speech. "Thus Swami blessed us with legal and consular protection to perform the medical Seva, as per His assurance - Why Fear When I Am There," say the joyful Sai volunteers in Abu Dhabi.
Diabetes and hypertension are the major problems among the economically weaker working communities in and around Mussafah and Abu Dhabi. Heart2Heart is pleased to inform you that patients from Pakistan and Bangladesh were thrilled to receive such loving and valuable health care - a rare experience in today's society, where we know consumerism is the order.

"Most people are not aware of the dangers of these diseases and the way in which they manifest. The medical camps are aimed at providing on-the-spot detection through blood tests, as well as to create awareness regarding the dangers of these silent killer diseases," says a Sai Volunteer.

Health education in terms of hygiene, balanced nutrition, practical tips on controlling hypertension, diabetes and avoidance of vices like smoking and alcoholism were explained through power point presentations by devotee doctors of the Abu Dhabi SAI centre.
Going down memory lane, a senior volunteer says, "When we began the camps, we had the services of one doctor and a pharmacist. And we conducted the service in a garage. But now, by the divine grace of Swami, there are seven lady General physicians and two male doctors with the back up services of an Ophthalmologist, a Gynecologist, Pediatrician, Dentist, Neuro Surgeon and Plastic Surgeon."
The dedicated Sai volunteers carry out Sai activities reflecting Swami's message that service to humanity is service to Divinity. In fact, the volunteers eagerly wait for the fourth Friday of every month to participate in this noble Seva.
How the Camps are Organised
It is important to note how systematically they go about organising these medical camps paying attention to every detail so that the people being served are not put to any inconvenience. Their service consists of -
Arrangement of transport to pick up the patients from the labour camps located at Mussafah industrial area, approximately 30 kms away from Abu Dhabi city.
| | | |
| --- | --- | --- |
| | | |
| Sai devotees transferring patients from Mussafah | | Patients arriving for registration |
Then on the arrival of the patients at the medical camp they are received cordially by the Sai volunteers and their names and details registered.
Patients registering to consult the doctors
Blood pressure and blood sugar check ups follow, to screen them from the silent killer diseases like Diabetes, Hypertension, etc.
| | | |
| --- | --- | --- |
| | | |
| Blood Pressure check up in progress... | | A blood test being done... |
SAI doctors then carry out the examinations and prescribe the treatment plans. Future follow-ups, diet regulation, hygiene and exercise, etc. are advised. For the relevant patients some special lab tests, X-rays, physiotherapy, etc. are arranged in the city hospitals.
The pharmacist dispenses the medicines as per prescription and explains to them with love how to take these prescribed medicines. Patients requiring other consultations, like eye and dental check ups and treatments are also directed to the respective specialists.
Medicines being dispensed by pharmacists with love and care...
For some patients who need admission to referral hospitals, the Sai center provides a Health card if needed, and devotee doctors have overseen their operations carried out for Hernia, Abdominal complaints, Knee joint problems, and Gynecology problems. Patients requiring heart complaint evaluations and management are also catered to.
Devotee doctors examining patients in a sublime ambience
"I am eternally grateful to Baba. It is because of His divine kindness that we benefit from free treatment, medicines, food and transportation" commented one patient - and as a result of the exemplary care shown at the camps this sentiment was echoed by many other beneficiaries at the camps. You could see they were so happy with the attention and love being showered on them so unconditionally.
Patients Calmed by Films on Swami
While the patients waited in the waiting area, they could also see the inspiration behind the camp while watching two Sai Videos - His Works and Pure Love. Many patients and embassy staff were thrilled to know about Baba and His global mission. The loving care provided by the doctors and SAI volunteers brought joy to their faces. When acts are performed to make Swami happy, Love becomes the basis and these acts become selfless, touching the core of a person's heart. The Doctors and volunteers experienced exactly the same feeling at the camps as they lived Swami's unique message - 'Hands that help are holier than lips that pray'.
Swami's Care for the Patients
In each and every camp or clinic Swami's care was in evidence. When medicines were in need, they would be given the next day through the SAI members.
It was also routine to find some patients with high B.P. (>200/120mm), blood sugars more than 400 mg (in some patients the reading was more than the capacity of the machine i.e.> 600 mg) and chronic cough and chest problems. Surprisingly these patients with complicated diseases are turning healthy in a record period of a few days without hospitalization! Such is the effect of Sai's love and grace. It is no wonder that many patients eagerly look forward to the next medical camp the following month.

Medical Camps in UAE

Camp date

Patients Treated

28th October 2005

90

25th November 2005

122

23rd December 2005

105

20th January 2006

132

24th February 2006

119

Total

438
"We feel normal from the 1st day itself in SAI clinic" - Sathya (left) and Mathaprasad
"We have spent a lot of money in other clinics without relief. But in SAI clinic from the first day onwards we feel normal" say the above two patients. Both were suffering from a major chest disease and now with Sai's care they are absolutely healthy.
The medical care provided included the areas of cardiology, urology, dental care, eye care, homeopathy, blood pressure, diabetes, asthma, ear nose and throat, etc.
Blood Donation Seva:
Apart from medical camps, another service activity which goes on throughout the year is Blood Donation.
As part of Bhagavan's 80th Birthday, the Center planned a blood donation drive. To begin with 63 blood donations were given and some more donation events are on-going.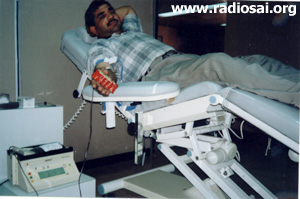 Devotees are encouraged to participate in this noble seva of 'liquid love' by spelling out the potential benefits for the donor from the spiritual as well as medical point of view. They are informed that apart from helping a fellow human being one will be actually helping oneself as it results in improvement of circulation in bone marrow, dilution of blood and less strain on the heart, etc. They are also informed how the multiple components of the blood like RBC, platelets, etc. can be used separately.
Sheikh Nahayan Hails Sai Baba
Recently the Sai devotees in Abu Dhabi also conducted a different kind of Seva – organising a Hindi language propagation conference in the auditorium of the Indian embassy. The main aim was to promote Vedic literature through proficiency in Hindi so that profound Vedic knowledge and literature is within reach of everyone. There were 200 members, with no earlier exposure to Baba, invited by the Indian ambassador. Honorable education minister H.H Sheikh Nahayan was the chief guest for the function. In his inaugural address the Ambassador recollected how Bhagavan Sri Sathya Sai Baba beautifully blessed Sheikh Nahayan Bin Mubarak Al Nahayan with a personal interview in August 2005. It came as a surprising reminder to the august assembly of the Indian community.
| | | |
| --- | --- | --- |
| | | |
| Sheikh Nahayan, Education minister and Indian Ambassador briefed about SAI activities by Dr.Kolli Chalam, Chairman, Abu Dhabi Sai Center. | | Dr. Kolli Chalam presenting a memento to the Education Minister Sheikh Nahayan in the presence of Indian Ambassador. |
In his speech, Sheikh Nahayan hailed the holiness of Baba and his great fortune to have a personal interview with Him. Later, the Indian Ambassador introduced Abu Dhabi centre's chairman Dr. Kolli Chalam, who presented Sheikh Nahayan with a memento. The Indian ambassador also gave a brief account of the monthly medical camps taking place in the embassy premises, highlighting the true spirit and the selfless nature underlying SAI activities.
It was a great occasion where Sai's love and Divine presence flowed through everyone present.
The band of dedicated SAI volunteers in Abu Dhabi
Heart2Heart wishes the Sai devotees of Abu Dhabi and UAE all success and joy in their continuous efforts to bring smiles of joy on all those they serve.
- Heart2Heart Team.
---