The United Arab Emirates – Home to Many Nationalities
| | |
| --- | --- |
| | |
| | U.A.E. in the Middle East |
The United Arab Emirates (UAE) is a federation of seven sheikhdoms located in the southeastern corner of the Arab peninsula. Bordered by the Sultanate of Oman and the Gulf of Oman to the east; Saudi Arabia to the south and west; and by the Arabian Gulf to the north, the total land area, including 20 islands, is 83,000 sq km (32,278 sq mi). The seven emirates of UAE are Abu Dhabi , Dubai , Sharjah, Ajman, Umm Al Qaiwain, Ras Al Khaimah and Fujairah . The capital and the largest city of the federation, Abu Dhabi is located in the emirate of the same name.

The U.A.E. has approximately 4.1 million people (2006 estimate) from all over the Arab world and also Asia, Europe, Africa and America . Approximately 80% of the population are non-UAE nationals in this country which has Arabic as the official language, though other languages such as English, Hindi and Farsi are also spoken.
Islam is the religion professed by the majority of the population but Christianity, Hinduism, and other religions are also practised.
The UAE, which beautifully blends traditional Arab and Islamic cultures with the modernity of a cosmopolitan living environment, has one of the world's highest standards of living and the average life expectancy is 72 years.
In recent years, there has been a huge increase in the number of tourists who visit this Middle Eastern country endowed with warm seas and cozy beaches. Visitors are attracted by award winning hotels, sports events and shopping spectaculars, apart from a mild winter climate. Each emirate has its own beauty and splendors of the desert. Aqua Park in Umm Al quain, Mall of the Emirates, and Bin Batoota Mall are some of the recent attractions in this country which makes an ultimate shopping destination.
| | | |
| --- | --- | --- |
| | | |
| Buhairah Mosque, the most famous spiritual landmark | | Burj al Arab, one of the most striking icons of their bustling economy |
SAI – Serve And Inspire

Abu Dhabi , the largest of the seven emirates and the capital of UAE, is an enchanting city, which also has a Sai Center . The Abu Dhabi Sai Center , otherwise known as Serve and Inspire (SAI) Group, focuses on Ideal Sai health care and regularly conducts free medical and health awareness camps for the continual benefit of those patients who have no access to quality health care.

The camps are organized in the Indian embassy premises for the last one year, beginning from the holy month of Ramadan 2005, thanks to H.E, the Indian Ambassador, who readily accepted the request of Sai center to host the camps within four months of his tenure in UAE. This gave a new dimension of care to the role of the embassy as is evident from what Sri Barjeet Singh and Sri Raveendran –both suffering from hypertension, detected for the first time in the SAI camps.
"We used to come to the Indian embassy for Visa and passport renewals or attestation of document papers. Some workers come here for legal support. Now Sai Baba is bringing us to the embassy every month to get free health checkups and free medicines. We are very happy."

The SAI group conducted twelve successful medical camps in the last one year for the welfare of needy laborers and the working community in and around the industrial town of Mussafah , the suburb of Abu Dhabi city. Many devotees feel it is a SAI Miracle.

SAI logo In one of His divine discourses, Bhagavan said: "The word SAI means the following - S for Service, A for Adoration and I for Illumination. In the word SAI the first and foremost importance is Service. The SAI group consider that they have taken birth only to render service to society as a sacred deed. "This is my duty, and I am born to Serve and become inspired". With this determination in heart, the Serve And Inspire devotee team of Abu Dhabi , conducted the dozen Medical camps successfully.

Addressing the Health Needs of the Poor
| | |
| --- | --- |
| | |
The industrial and hygiene workers from India spend a lot of money to come to UAE in search of future prosperity. Once they find that they cannot earn enough money as they dreamt, many become depressed or suffer physical ailments. The situation of laborers is all the more critical as many of them have borrowed cash from moneylenders on high interest. Moreover their dwelling places are congested and their calorie intake does not match their needs from hard labour in adverse weather conditions. The companies provide only meager medical support and patients with chronic diseases like diabetes and hypertension need to have a health card or medical insurance, which for them is an impossible task.
These camps go a long way in maintaining the workers' health and even saving lives as a tearful Dasarathan, who works for a construction company, says, "My brother came to Abu Dhabi six months before by paying an agent Rs 90,000. He was unable to work as he was not eating properly, vomiting whatever he eats, and he had a bad cough. He was becoming very thin and weak. I phoned the SAI camp doctor and took him there. The doctor arranged X-rays and gave a lot of medicines for his serious lung infection. SAI brothers also collected some money for his return ticket to India . Now my brother is in Nizamabad, living with his family. To me it seems like he was saved from the gallows of death. SAI RAM to your doctor and BABA whose grace gave new life to my brother."

"When we don't get enough money and salary for basic maintenance how can we afford to go to private doctors or Government hospitals," say many of the patients who visit Sai camps.
| | |
| --- | --- |
| | |
Serve and Inspire (SAI) endeavors to extend medical seva to those who need it the most.
The Medical seva is conducted every month on a Friday subject to the availability of the embassy premises. It begins around two in the afternoon and extends till the last patient is seen. As soon as patients arrive, they are received with a warm welcome by SAI volunteers and registered to the concerned doctor. General physicians carry out a thorough clinical examination, followed by screening for silent killer diseases like Diabetes and Hypertension in all high-risk patients.

Shyam Lal, one beneficiary of the camp, told H2H, "My blood pressure and sugar were very high. I used to spend a lot of money in a private clinic, borrowing from friends. Now I get free medicines through the SAI clinic every month. My sugar level and blood pressure are under control these days."

The SAI medical team dispenses the prescribed medicines and in the cases of diabetes and hypertension they give medication to last for fifteen days. The doctors also make prescriptions which are valid in their home country where the prices of medicines are cheaper.
| | |
| --- | --- |
| | |
Earlier SAI volunteers used to go to the workers' accommodation and bring the patients to the medical camps, transporting them back home after treatment. More recently, patients are making the journey themselves to save time and get there first! Many patients ring up the embassy or the volunteers on the previous day to reconfirm camp dates and also to arrange the visits of their co-workers. The date of the next camp is usually announced while the patients are leaving after their consultation and medication and they have become indispensable in the lives of the workers, as Devaraj, a patient with low back pain, tells H2H, "I was having shoulder and back pains. The SAI Doctor gave some medicines from India , which are very effective and my pain is becoming less. I am also doing exercises shown to me which is helping a lot."
Enthusiastic SAI Doctors Give Lifesaving Treatment
Swami says, "Whoever comes seeking service from you is the one you must attend at that time. It will be your duty to give that person some satisfaction through your service, and that will be the best work that you can do at that time."
Following this teaching, devotee doctors and volunteers attend to all patients without any distinction. They also carry out regular check ups and follow-ups. The patients who attend these camps are from different parts of the world with different faiths. But they all have the common belief that it is Baba who is healing and curing them.

Caring for the Eyes
It is only through the gift of our eyes that we can see and visualize the creator in human form and His creations, and experience His Divine Grace. Another mission of the Serve and Inspire (SAI) group is to provide clear and healthy vision for those affected with eye ailments. The two dedicated devotee ophthalmologists regularly attend to fifteen to twenty-five patients per camp, and during the seventh medical camp, they treated a record number of sixty six. They corrected ocular ailments and provided free reading glasses to patients with presbiopia for near vision.
"Before I was unable to read letters or newspapers, which I thought was due to my general weakness. I am happy that after checking my eyes, the SAI clinic doctor gave me glasses and now I can clearly read letters from home," said one joyful patient.
'Be A Patient Patient, Don't Be Impatient'
The message of quality medical service offered by the SAI devotee doctors and the medical team volunteers has been well received. It is touching to see patients starting to arrive at the embassy premises right from ten in the morning though the camp is scheduled at two in the afternoon. "Be a Patient, Patient - Don't be Impatient" has been a well followed maxim in all medical and awareness camps. Of different nationalities, the patients wait their turn patiently and help the more needy to be treated first. During eight medical camps, a record number of 236 patients were examined and provided treatment. Seeing the overwhelming response, His Excellency, the Indian ambassador, announced that medical camps should be carried out twice in a month, thereby fulfilling the needs of patients such as Koteswar Rao, a diabetic patient requiring frequent monitoring and treatment, who had remarked, "Is it possible for the embassy to invite the SAI doctors to organize medical camps once every 15 days for people like us?"


Care for the Soul

While in the waiting room, the patients were able to watch inspiring DVDs on Baba such as 'His Works', 'Pure Love' and videos of the Sports Day and the 80th Birthday celebrations.

His Excellency, the Indian Ambassador, addressed the patients on many occasions and advised them to keep away from bad thoughts, habits and bad company. His Excellency assured the patients of his continuous consular support and medical help through the SAI organization. He also stressed on the importance of pranayama, the art of breathing and enlightened them on the importance of vegetarian diet, meditation and Namasmarana, both in the morning and evening at a chosen time, emphasizing that SAI health care involves treatment of the body, mind and soul.
The Number of Patients Treated in all the 12 Medical Camps


| | |
| --- | --- |
| 1st Medical camp- 28th October 2005 | 90 |
| 2nd Medical camp- 25th November 2005 | 122 |
| 3rd Medical camp- 23rd December 2005 | 105 |
| 4th medical camp-20th January 2006 | 120 |
| 5th Medical camp-24th February 2006 | 129 |
| 6th medical camp- 7th April 2006 | 160 |
| 7th Medical camp-28th April 2006 | 176 |
| 8th Medical camp- 26th may 2006 | 225 |
| 9th Medical camp-23rd June 2006 | 105 |
| 10th medical camp-24th July 2006 | 143 |
| 11th Medical camp-25th August 2006 | 124 |
| 12th Medical camp- 29th September 2006 | 195 |
| TOTAL PATIENTS | 1694 |
Blood Donation Seva

In addition to the monthly medical seva and Narayana seva, the Serve And Inspire group also conducts blood donation seva throughout the year.

On the occasion of the 80th Birthday of Swami sixty three blood donations were received keeping in mind Parapakaram Idam Sareeram - the human body is gifted to render service to the needy.

Bhagavan says - blood donation is liquid love given to the needy. Love is the language that can be heard by the deaf and seen by the blind. SAI brothers and sisters feel they are donating this liquid love.

To date, thirty five 'blood donation days' have been held to mark the occasion of the 81st birthday of beloved Bhagavan. Apart from the mental satisfaction of helping a fellow human being, giving blood dilutes the donor's blood and improves blood circulation and prevents heart attacks.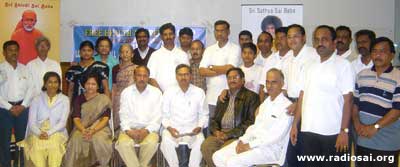 The Serve And Inspire seva team thanks Bhagavan for giving them an opportunity to serve the needy and prays for His blessings to continue this noble service every year. We, at H2H, thank the devotees in UAE for lovingly sharing these stories, which we are sure, will inspire many of our readers to undertake similar ennobling tasks.
Dear Reader, did this story inspire you? Would you like more of such stories? Do you know of any inspiring service activity going on in any part of the world? Please write to us, along with your name and country, at [email protected] Thank you for your time.