MOVING EMPATHY...
Tender Reflections of Reality ….
from Baba's Hospital in Bangalore

By Ashwin V
---
Do you have any idea of how many patients write to the hospital each day? I'm sure you'd never guess. Receiving and replying to patient letters is not something one thinks of when one mentions a hospital. Nevertheless, correspondence can keep one very busy here. Each working day the postman deposits a few handfuls at our door. Ask me to describe the experience in a few words; I would choose to put it in just one - priceless.
You must see it to believe it. Letters from the very poor all over the country; some ask for an appointment; some request an opinion; some write for details on admission and stay. Our's is a world that lives by the benefits of a faster and more efficient e-mail. But what choice do the poor and illiterate in India's villages have? The paper they write on is occasionally faded, the lettering often unsure and replete with errors. Ramappa's has no previous medical records attached. He writes saying that he can't afford a doctor. All his money goes to feed his family of five.
Every now and then you come across a letter you need some help reading. Take the case of Anita's. You struggle with the words for a bit. And then realize that words convey little beyond a certain point. Anita, suffering with a diseased heart, signs off with an ink-stained thumb. She can't write; doesn't know how to. The quiet desperation of the helpless unlettered in our villages can't be more pronounced than that.
I write this little passage, wanting to share the contents of one letter in particular. It is from Ananda who writes from Calcutta. His handwriting, on first glance, is in neat and legible English letters. That is before you notice his signature. It is definitely Bengali, small set letters penned by a hand in brilliant blue, while the rest of his letter, a different hand, is scribed in black.
Like many other patients who know little English, Ananda had a helping hand to pen down his request. "Honourable Sir," He begins. "Thank you for your letter inviting me to the hospital for surgery."
He was a patient with Coronary Artery Disease who was to be operated in the Hospital that month.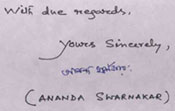 We had sent him an appointment for his Bypass. I thought I knew what he was driving at.
The poor man possibly wants his surgery postponed, I thought. Some patients struggle to even fund their journey to Bangalore and often can not keep up their appointment. I was totally unprepared for what followed.
"You will be happy to know that at present I am keeping very well," he continued. Ananda had, with some help, managed to get his surgery done back home and was doing fine. But what opened up a world of emotion was the simple request that followed. He writes -
"So, I would very humbly request you to be kind enough to cancel my date of surgery as well as please give chance to another poor patient instead of me. Yours sincerely..."
It hits you. The simple request. The empathy that only patients who suffer would know. The spontaneity and sensitivity of those whom we coin as "deprived."
Poor? Definitely not.
---
Ashwin V, a Technical Officer at SSSIHMS, WF, is a former student of Baba's Institute.
- Heart2Heart Team