"SAI BABA HAS GIVEN ME A SECOND BIRTH!"
---
This is a moving story of a plucky young boy from Rajastan, Ravi Solanki, who is now in all smiles with his heart problem forgotten like a bad dream in the mists of time, thanks to his successful surgery in Baba's Hospital in Bangalore.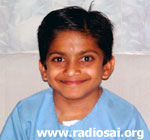 When your eyes rest on the frail form of Ravi, you begin to wonder how old he is. Not more than 6 years, you might say. But then, heart problems can create a mismatch between age and the physical frame. Ravi, though he appears 6, is actually 12 years old. And he is a heart patient.
Ravi 's father, Rana Ram Solanki is a vendor, who makes his living selling vegetables from a push-cart. He had no high ambitions except to see his four young children settle down in life. The eldest child, a son, is in 10th standard and works part-time in a two-wheeler repair shop. Next are two daughters who are studying 7th and 9th, and lastly there is Ravi , large expressive-eyed Ravi, who is undoubtedly the apple of everyone's eye.
Right from birth Ravi used to have breathing difficulties and spells of unconsciousness. Trips to the local doctors in Jodhpur, Rajasthan and specialists in Delhi all pointed to the same diagnosis: a hole in the heart. They all suggested the same solution: heart surgery. Rana Ram was appalled at the fact that the surgery would require him to be prepared with Rs. 2.5-3.0 lakhs. The doctors were able to answer his medical queries but were not able to answer his more urgent questions as to how and where he, with his limited means, could ever arrange such a large sum of money.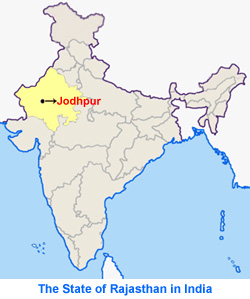 The medicines doctors prescribed for Ravi kept him going till he was around 8 years old. The spells of unconsciousness never left him though, and as a result, he could never play any games. He could not attend regular school, but to keep him occupied, his parents admitted him in a small school which was five minutes walk from home. All the while, the parents had only a nagging doubt in their minds…how long would medicines alone keep him alive? They were praying fervently to God to shower His grace on their sweet child. Little did Rana Ram and his wife realize that their prayers were about to be answered.
One day, when Ravi fell unconscious and Rana Ram was out selling vegetables, Ravi 's uncle who was at home rushed out to call Rana home. At that moment, Rana happened to be selling vegetables at the house of a medical representative. He hurriedly left his cart at the medical rep's house and dashed home. After a few anxious moments, little Ravi regained consciousness. Thanking God, Ravi's father, went back to the medical rep's house to collect his cart. When questioned, Rana narrated the sad tale of his child's condition and expressed his fears over the fate of his son. It was then that the medical rep told Rana about Sai Baba, about His 'Hospitals', which performed heart operations for 'free'. He suggested that Rana should take Ravi to Swami's Hospital at Bangalore for a checkup and treatment.
In this commercial world free treatment and that too of a super-speciality nature seems incredible and too good to be true. Rana Ram could not believe his ears. However, after persuasion, he requested one of his relatives in Bangalore to check up whether there exists such a Hospital at all. It was only after he received such a confirmation that he brought Ravi to the Sri Sathya Sai Institute of Higher Medical Sciences, Bangalore for a checkup. It was confirmed by the doctors after a checkup that Ravi had a complex hole in the heart and that it needed surgery. Medicines were prescribed and he came once again to the Hospital for a checkup. Finally, the date for surgery was fixed and Ravi was admitted in the Hospital.
For a lad of his age, he took the prospect of an operation quite bravely. When you ask Ravi, "When the doctors told that you needed surgery, didn't that scare you?" he replies, "No, I was not scared. My parents were very worried whether the surgery would go on smoothly or not. I used to console them telling not to worry, and that everything would be alright." His faith in the doctors in whose hands he has entrusted his life and in Baba is really striking. Though he has never seen Swami in person, Ravi has seen Baba performing Vibuthi Abhishekam on the Shirdi Sai statue on one of the TV channels.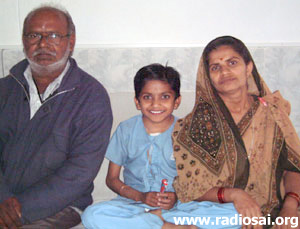 After surgery Ravi recovered very well. His uncle went to Puttaparthi, to express the family's gratitude to Swami for giving Ravi a new lease of life. Rana Ram says, "We are so very happy that his life is saved. "Pehla janm uske Ma ne diya…doosra janm Sai Baba ne diya" (His mother gave him the first birth…Sai Baba has given Ravi a second birth).
Sitting in his cosy bed in the post-operative ward with his hair neatly parted, Ravi dishes out broad smiles to all who come to talk to him. Very gentle in manners, when posed the oft-asked question as to what he would like to become when he grows up, Ravi quietly but resolutely answers, "A doctor" with the feeling of gratitude towards the doctors who saved his life welling up in his eyes. His father fills in for him: "The doctors have saved his life. It is his wish that he grows up to save others' lives."
Wishing to make a point about the helping attitude of the doctors at the Hospital, Rana takes out from his purse the visiting card of the chief cardiac surgeon, who also performed the surgery. He says that the surgeon gave it to him with instructions to call him "anytime", to discuss Ravi 's health. Rana is so pleased. "I have already told quite a few people about the Hospital. We are so grateful that such a Hospital exists."
- Heart2Heart Team
We are grateful to Satish Chandra and Praveen, former students of Baba's Institute, working as Technical Officers in SSSIHMS, WF for sharing this story with us.