EXPRESSIONS OF LOVE - I
New Year Card to Swami
---
A new addition to 'SwaMi and Me' section from this year onwards is 'Expressions of Love'. Each issue will bring you one such 'Expression of Love' - the story of an art-work or a card which was lovingly crafted by His students for presentation to Him on various occasions.
Whenever boys take these cards to Swami, He would sometimes play with it, sometimes ask amusing questions about it, sometimes point out something which had missed every student's eye, sometimes smile mischievously and then put His signature, sometimes reward the young artists profusely with gifts and blessings.
The cards commemorated special occasions and each are articulations of the sincere and innocent feelings of the young boys. They convey their prayers and spiritual ideas in an expression of feelings from the heart, transformed into beauty to their Love, their beloved Bhagavan.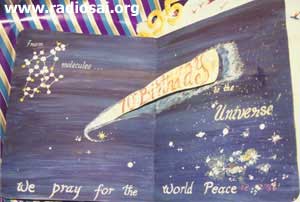 To chime in the New Year we have a New Year card which was offered to Bhagavanon the 1st of January, 1995 (70th birthday year) on the following theme: "Sai Era – Ushering In World Peace".
The idea behind the card you see on the left is this –
The Sai Era has produced an evolution of love from the level of molecule to the Universal. Bhagavan's 70th birthday is envisaged as an enormous comet streaking through the Milky Way. Without doubt this comet of love will usher on the 'evolution of love'. All 'pray to Swami for World Peace'.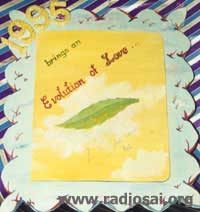 Now coming to the actual part…what transpired between the boys and Swami when they presented this card?
Well, Swami to the immense delight of the young artists, looked overjoyed on seeing the card! There was a twinkle in His eyes as He saw the stars, the Milky Way and the 'Sai comet' on the card.
The boys basked in His love as He cast a benign smile and spent quite a few moments looking at the card. And then the great moment arrived! He asked for the pen and yes, put his signature "With Love, Baba" with a sweet smile and so full of love. For the boys, that was the ultimate reward! They could not have asked for more.
Dear Reader, look forward to this section for many more such cards, accompanied by their short sweet stories that have been presented to Swami over the years.
- Heart2Heart Team
---