DEDICATED DOCTOR COUPLE - DRAWN BY THE DIVINE
---
Heart2Heart is very pleased to bring to you, dear reader, the story of a doctor couple, who received Swami's Call and have come, forsaking at a very young age a promising career, to settle down and serve at His Lotus Feet.
Dr. Prabir K. Roy and Dr. Sumona Paul are both doctors from Baikunthpur in the state of Chattisgarh. Dr. Roy had worked in a government para-military organization for many years and was serving as a Senior Medical Officer in a leading public sector undertaking. Dr. Sumona Paul was working as a Lady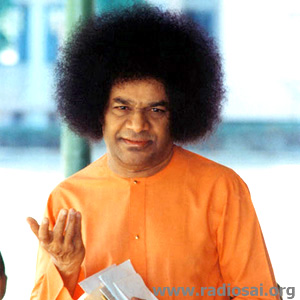 Medical Officer in the State Government. Dr. Roy had been previously exposed to Swami for over 10 years, but to Dr. Sumona Paul, Swami was a new entrant in the family, after her marriage to Dr. Roy.
They serve as an example of how Swami quietly inspires people to join His Divine Mission. Hearing their story one is reminded of the saying of Baba from His Shirdi Avatar days: "When the time comes, you will be drawn towards Me, just as a sparrow is drawn closer when the string tied to its feet is pulled."
After marriage, apart from their regular work, both of them were actively involved in various service activities and participated in the medical camps organized by the Sri Sathya Sai Seva Organisation in Chattisgarh. They used to attend the bhajans at the Baikunthpur Sai Samithi. All this while it appeared as if Swami was in the background, preparing the ground for them to come closer to Him.
It is interesting to hear Dr. Roy narrate his experiences with Swami. "I had been brought up in a devout family, but I had never taken to any of the 'miracle men', in which category I placed Baba. However as things turned out, I was one of those who 'came to scoff but stayed to pray'.
I was in my 3rd year in Medical College when I happened to come to Whitefield to have Swami's Darshan for the first time. When I saw Swami I couldn't explain why but I could not control my tears. Swami came and stood very close to me, allowing me to take padanamaskar. After walking a few paces, He turned around, looked at me and waved His hand. This was a remarkable experience for me and proved to be my initiation to Swami."
Dr. Paul recalls her experience with Swami: "I remember that we used to have Swami's picture in my family shrine. My mother had Swami's Darshan in Whitefield a long time ago and He had seen her through a complex by-pass surgery she had to undergo.
But it was only after marriage that Swami started playing an active part in my life. It seemed as if He crept into my life little by little until now when He encompasses every part of both our lives. Now, no major decision is taken without referring it to Swami."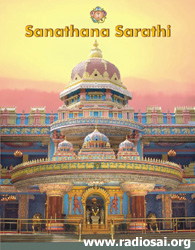 The Call to come and serve at Baba's Lotus Feet came to the couple through the Sanathana Sarathi. A regular subscriber to the Ashram monthly magazine, Dr. Roy came across one of Swami's discourses in which Swami came down heavily on doctors, stating that doctors nowadays are becoming very money-minded, forsaking true concern for patients and also for lacking in Seva Bhavana (spirit of service). This discourse moved Dr. Roy immensely and proved to be a turning point in his life. He says, "I knew they were a few 'black sheep' in the doctor's fraternity, but I wanted to stand up and tell Swami that not all the doctors are like that. I wanted to take up the challenge of showing Swami that not all doctors are cast from the same mould."
Around this time an incident happened which Dr. Roy recalls with bitterness. In connection with a court case, he had to give a testimony in the court, on which the court decision rested. The judge, not knowing Dr. Roy's commitment and attitude, attacked Dr. Roy with scathing remarks, maligning the service being rendered by doctors.
"It was the little bit of truth in his statement regarding the healthcare practices in the present-day environment that created in me a revulsion towards serving in the outside world. After the court hearing, I made my way to a tea shop outside the court building. I was in a very dejected state of mind, seeking some vent for my feelings. Imagine the pleasant shock I had when, after collecting my tea and sitting at the table I saw across the shop a beautiful picture of Swami with the slogan, 'Why fear when I am here?' This incident firmed up my faith in Swami and the desire to serve at His Lotus Feet even more."
He discussed the matter with his wife and almost overnight they both decided to resign from their present jobs and offer their services to Swami's organisation. And mind you, both of them were around 35 years in the middle of their flourishing career when they took this decision.
Was it not a tough decision? Dr. Paul agrees it was. "It was a major decision as there were our elderly parents to take care of and our little daughter to bring up. Our parents felt we were forsaking a safe and secure future and were setting out into uncharted waters. At this stage it was only our faith in Swami and His Grace that helped us take this crucial decision. After two years of taking that decision, we see now how well He had supported us in our decision to come and serve Him.
Once we made up our minds to serve Him, we wrote a letter to Swami expressing our desire to serve in any of His organizations. We then wrote to both the super-specialty Hospitals, enclosing our applications for suitable jobs. Within a month we received a reply from the SSSIHMS-Whitefield, accepting our applications and calling us for an interview," continues Dr. Roy.
From that time there has been no looking back for both the doctors. Dr. Roy is presently a DNB trainee in Anaesthesiology (a Post Graduate course in medicine) in SSSIHMS-Prasanthi Gram and Dr. Sumona Paul is working as a Medical Officer in the Neurology Department at SSSIHMS-Whitefield.
How is it working in Swami's Hospitals? Dr. Sumona Paul says, "It is really moving to see the tears of happiness and gratitude flowing down the patients' cheeks after treatment. There are difficult times, but when we see the joy on the patient's face as he goes back home hale and hearty, we know that the effort was well worth it. Their joy is the true reward of all our efforts. It gives us such a sense of achievement and contentment."
Recalling a specific incident, Dr. Roy continues, "I vividly recall the face of Ashutosh (name changed), a poor cycle mechanic, hailing from one of the shanty slums of Bilaspur (Chattisgarh), who came to the Cardiac Out Patient Department with his son who was suffering from severe pulmonary stenosis, a cyanotic condition making the baby blue and gasping for every breath. Although diagnosed at another Hospital, no remedy was in sight due to the sky-high rates quoted to them. After the diagnosis was confirmed at our Institute, the child underwent a balloon dilatation of the stenosed valve under the expert hands of our cardiologist and lo and behold, the child recovered very fast! I could not control my tears when I found the same gasping blue tiny tot running around merrily in the out-patient department six months later during a review visit." The joy and fulfillment we saw in Dr. Roy's face, when he was narrating this moved our hearts, to say the least.
Dr. Sumona Paul adds, "So many people flock to the Hospitals with a hope for cure after being refused in many places. Their faith in Swami is much more than any doctor's anywhere. There is this case of a child suffering from seizures, who was taken to reputed hospitals all over the country, only to find the seizures getting controlled after they came to our Institute. There is enough proof here to make one wonder, 'Was it just the medicines or something Divine working behind it all?'"
Having served in government and private hospitals, how do they find the staff working at the Hospital? Dr. Sumona Paul says, "Having had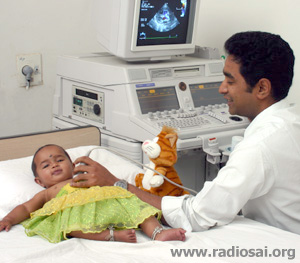 the experience of working with doctors, nurses and support staff in other hospitals, I can confidently say that the staff here are sincere, hard-working and give their whole-hearted attention to the patients and patient care." So true - going by the patients' responses to the treatment received in Swami's Hospitals, which you have been reading in the patient stories in every issue of Heart2Heart.
Dr. Roy echoes similar feelings: "In a Government setup, we had seen doctors always being late in their timings, casual in their approach to the patients' suffering; and worse, every step taken by them had some ulterior motives of indirect financial gains. Here, the doctors are so sincere and punctual (in fact, initially we had to run a lot to keep up with the levels of expected punctuality!). No investigations are ordered unless extremely necessary or are beneficial in the diagnosis of the patient's condition."
"But the most surprising fact", Dr. Roy continues, "is the extreme economic steps being taken by the Technical Officers (alumni of Swami's university, working at the Hospital), who make sure that not a pie of Swami's money is spent without proper reason and cause. All of the nurses, some of whom are Swami's students from the Anantapur Campus, are very polite and sensitive to the patients' needs and comforts. These qualities are unknown and unheard of in Government and even in corporate Hospitals."
Dr. Roy and Dr. Paul are now very happy and contented souls who feel they have found fulfillment in their lives serving in His mission.
We wish Dr. Roy and Dr. Paul a fruitful, fulfilling and life-long stay at the Institute, in the service of Swami. We also hope this story serves as an inspiration to many doctors to practise the noble profession of Medicine with the ideals Swami has been preaching and exemplifying to the world, through His Hospitals.
- Heart2Heart Team
---