EXPRESSIONS OF LOVE - III
A Valentine's Card For Swami
---
Dear Reader, in the last issue of "Expressions of Love" we had a beautiful story for you of a Shivarathri Card for Swami done by the boys. Many readers wrote to us saying it brought tears to their eyes and they would love more such stories. And so here we are with another beautiful story and this time it is really special – the story of a Valentine's Card for Swami! It is really going to give you a whole new perspective on celebrating Valentine's day.
The Brindavan boys presenting a card to Swami on Valentine's Day, 2006
It was the year 1991. Many boys who were in the Brindavan Campus of the Institute the previous year doing their under graduation were now in Prashanthi Nilayam enrolled for their post graduate course. They had had a wonderful time with Bhagawan in Brindavan and truly speaking never wanted to leave Brindavan. And when they came to Puttaparthi they were in for a really unexpected and unpleasant surprise. What was it and how did they come out of it? Let us hear this wonderful tale directly from a former student, O S K S Sastri, who was there in the hostel as a student those days -
"We had a wonderful final year in Brindavan and enjoyed the divine presence of our sweet Lord through out. But…all good things and good times do not last forever and little did we know that our M.Sc 1991-92 batch was in for a tumultuous time for the next six months!
Bhagavan had become displeased with some of the boy's behaviour and to teach us all, He practised what they call the 'mosquito philosophy' – that is, if you find one mosquito biting you then you spray flint (pesticide) to kill them all; likewise, a few boys' behaviour has displeased Swami and He had decided to teach us all a lesson.
Thus, we found ourselves cast from the heights of Swami's divine pleasure, to literally the doldrums of despair! Swami was just not talking to any of the students and seemed determined to ignore us, no matter whatever we did. We felt like outcasts. We had absolutely no recourse but to plunge into self-examination. How we examined our faults and endeavored to correct them; how we racked our hearts over our inner mistakes; how we watched our every thought carefully throughout the day so that we would not go astray even for a second; how we prayed to Him for forgiveness; how we longed for reinstatement into his divine kingdom! Could He not deign to look at us for an instant, would He not care to end our misery with His smile? Is it going to be perpetual gloom like this? We were devastated to say the least.
| | | |
| --- | --- | --- |
| | | |
Everyday we went earlier than the previous day to the mandir but could not get Swami's Darshan, as He, by divine plan, would finish His Darshan round before we could reach the mandir! And then, He would go into the interview room and long after the interview was over would still remain inside. We would be sitting there, our gaze glued to the interview room door for the slightest of movement. But alas! If at all the door opened, it was for the vice-chancellor, registrar and controller to go inside. Some days the door would open many times - but not a slightest trace of the orange robe. Swami would come out long after the bhajans had started and immediately take arathi and disappear again! There was absolutely no opportunity for us to interact. We were truly in the midst of a grand freeze-out - iceberg style. The entire student body in the hostel was lost in yearning for the Lord's eyes to fall on them, just like a little lost babe pines for its mother to return and offer it warmth, protection and love.
And this happened not for a few days or weeks, it went on for months like this; and for us, these months had turned into an eternity! We were just not able to please the 'Sulabhaprasannaya' (the most easily malleable Lord, as it is said). Somehow our heart's prayers still lacked the intensity needed to melt His butter-like heart. For, maybe the Lord wanted the utmost from us – He would not be happy with a lukewarm response – we had to pass with flying colours, or not at all, it seemed.
As we were wondering how to win back His grace, one Thursday morning in February 1992, during the moral class, Prof Kuppuswami who used to teach philosophy at the Institute, spoke on the devotion of Andaal (a great devotee) and also referred to the Gopi's devotion to their beloved Lord Krishna. It was a very inspiring talk and it really set us thinking. We kept on churning our hearts and minds to think of ways to please our Sai Krishna and win back His priceless Grace. Even as we were thinking about Swami, by divine providence my look fell on that day's newspaper which had a bold heading saying "St. Valentine's Day".
The column informed us that February 14th is celebrated as St. Valentine's day and is an occasion to express your Love to your beloved. How wonderful! We had got it!

We seized on this idea and resolved that there was no better chance to plead with our Lord than by using this day! For, He was our beloved, our life, our happiness, our everything! And this was the most opportune moment to turn all our hearts to Him.

So we all gathered together in the hostel and in a harmony of concentration and divine fervour planned our initiative. Some would engage themselves in cutting out and designing the cards and then each of the 600 students would compose his own Valentine's day card message to express his personal Love to our Swami - the dearest One of our hearts.

The cover of Valentine's Day card, 1991
The night then passed in a fervent display of artistic ability, upon which pent up feelings penned a loving testimony of each boy's unique bond with his Master. We also prepared a large card which harboured the combined feelings of devotion of more than 600 boys to our Lord. On the cover the big card displayed a wonderful garden with flowers, butterflies, beautiful birds and rabbits, who were all beckoning to our Lord to bring us back into the nectar of His Grace, His lovely glances and His sweet voice.
Valentine's day dawned and we were there in the Mandir very early. And on that day, The All Knowing One patiently waited for us all to be seated. And then as if He had planned the whole event He opened the interview door and came to us beaming with a smile! We were all rather surprised and overjoyed! We did not expect this to happen so soon, so fast! We rejoiced as He took the card with all its contents and gave it to a close servitor to keep inside. And it did not stop there. He then asked us (as if He did not know) with a gentle smile, "What is this special occasion?" There was no need for us to say anything. The tears of joy streaming down our eyes conveyed all that had to be said. The Lord just benignly looked at all of us. There was the new-found joy in His eyes too. It was only then that we realised who was actually suffering the pangs of separation more.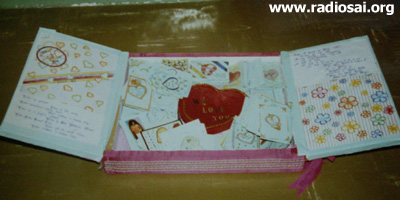 The Valentine's Day Card, 1991, when opened...
Yes, the ice was finally broken! It was celebration time. We begged pardon from our all merciful Lord and He took us into His bosom. The burden of months of separation just melted away. It is said "The Lord showers His Grace on us to show how much He loves us and withdraws it to teach us."
Truly, this test of our Lord was more painful for Him than for us, but then He is like a mother who will go to any extent to see to it that her son never goes astray. Ultimately, it was His inspiration that ended the drought that semester and what followed next was a torrential flow of love and grace for the rest of the year. We had regained our Lord. It was on that memorable occasion that we christened our group - the group that makes cards and other art work in the hostel - "Soul Inspiration" as He is the soul of all positive inspiration.
- Heart2Heart Team
---