SWAMI – MOTHER DIVINE
By Dr. T Ravi Kumar
---
This is the transcription of the talk delivered in the Divine Presence of Bhagawan Baba during Dasara celebrations on the 18th of October 2004 by Dr. T Ravi Kumar, a lecturer in the Brindavan Campus of Swami's institute.
Prayerful Pranaams at Bhagavan's Lotus Feet. Most Beloved Bhagavan, respected elders, brothers and sisters.
If one were to go into the lexicon of every language that the human tongue knows, the sweetest word that one would find would be the word "mother".It is the first word that the human child learns, or tries to articulate. It is in honour of the Mother that the Navaratri festival is celebrated in Indian culture.

Every land, every clime, every race, every religion has its own celebration of Mother's day. The ancient Indians, the great elders, who had come face to face with the Mother, realized that one day would not be enough for this grand purpose. Therefore, they set apart nine full days in the calendar that we may worship, that we may adore the Mother. It is with great significance that in Prashanti Nilayam, during the festival of the Mother, the Veda Purusha Saptaha Jnana Yagnam is celebrated. The Yagnam is a symbol of sacrifice. And what else is a Mother? "Mother" is a synonym for sacrifice. Having been with Bhagavan for the past few years, I have had an opportunity to see at close quarters what sacrifice truly means.
The Necessary Hall Ticket
I will narrate to you a couple of incidents which have touched me. It was at the time when I was a student in Brindavan. It was in the 1970s that there were a number of students who had finished their undergraduate studies at the Sri Sathya Sai College , which was then affiliated to the Bangalore University .
After having tasted the nectar of proximity to Bhagavan, the students did not feel like going back to their home towns. So they prayed to Bhagavan and Swami yielded and allowed them to do their postgraduate studies in Bangalore University while staying in Brindavan (His ashram in Bangalore ). There was one boy who was doing his Masters in the Bangalore University who used to suffer from a respiratory disorder. And as Bangalore was wet most of the year, he used to have a lot of problems because he would to be exposed to traveling about 25 kms everyday.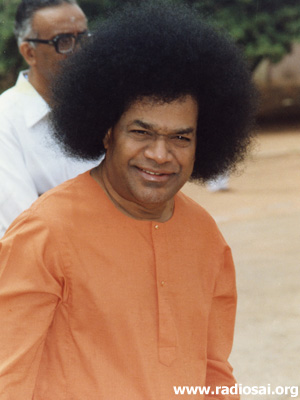 So he missed his classes during the year on a number of days. It was time for the annual examinations and all the other students who were studying with him were able to get their hall ticket. When this boy went to the office he was told, "Sorry, you will have to write your exam next year because you have a shortfall of attendance - you will not be able to write the exam."
This boy was crestfallen and returned to Brindavan. The next morning was his exam. All the others were praying to Bhagavan for Padanamaskar. He was waiting with them. And all the others had their hall tickets blessed by Bhagavan. When it was this boy's turn, he tried to tell Swami that he did not have a hall ticket, but how often we forget that we need not inform the all knowing! And Swami just brushed aside his attempt and said, "Do Namaskaar!" So he did Namaskaar but was crestfallen that he could not even explain his predicament to Swami.
That evening, as the warden was going upstairs to Swami's room, this boy went to the warden and explained his plight. "Sir please explain this to Swami." When the warden went up and mentioned this to Swami, Swami said, "I know, I know. Tell him to finish his reakfast in the morning, go to the exam hall and write the exam." No words that Swami utters are in vain.
So this boy also did exactly as he was told by Bhagavan. In the morning he had his breakfast and went to the city, following Swami's instructions.
That afternoon, as Swami was coming out for Darshan, He was searching for someone. He looked around and spotted this boy amidst the group of students standing at a distance, called him and said, "What about your exam?" The boy said, "Ah, Swami, I wrote my exam." We were all surprised - how did he write the exam when he did not have a hall ticket. We could see the glow of relief on his face.
Swami put up a very inquisitive face and asked: "You wrote the exam? Who gave you the hall ticket?"
Then the boy said, "Swami, I went to the University in the morning. I was sitting there in front of the examination hall. Swami had said 'Write the exam' so I knew somehow I would write the exam. And suddenly there was this person who called out my name and gave me the hall ticket."
Swami asked, "Who was it?" We were all impatient to know who it was. And the boy said, "Swami, it was the University peon who I don't know personally. In fact I was so excited I forgot to even pay him something and when I remembered this lapse and tried to make amends he was no longer there."
Swami said "It was not any University peon. It was Me, the Universal Lord Who came to give you the hall ticket. Everyone else had written you off. But I shall always stand by you."
We were all moved to tears.
Oh Sai Maa! For our sake, what roles you take. For our welfare, what sacrifices you make. Everyday, every moment at Swami's Feet, is a lesson in sacrifice.
The Lord's Night Time Vigil
There was another occasion when I had an experience of what it is to know the sacrifices that a Mother makes. It was in June 1986 and we were returning from Kodaikanal. On the way we were to go to Ooty and come back to Bangalore . It so happened that the bus in which we were traveling developed some mechanical trouble on the Coimbatore Road . We had started earlier and visited the Palani temple. Suddenly the bus stopped and the driver said, "We can't proceed even an inch."
We thought of Swami, and just at that moment behind us was Swami's car - even though Bhagavan had started three hours later than us. This is the quality of a mother. Mother is beside you whenever you need her.

Swami stopped the car and asked us, "What's the problem?"

"Swami there is some mechanical trouble and therefore the bus has stopped." Swami said, "Okay, get the bus repaired - (He sent an elderly devotee with us who knew the place) - come to Coimbatore and then come to Ooty."

When we went to Coimbatore it was already 7:30 p.m. and Swami had arranged dinner for us and proceeded to Ooty. But Swami is so concerned that by the time we reached Coimbatore itself, there had been three phone calls asking whether we had reached Coimbatore . From Coimbatore we traveled to Ooty. But again, on the way there was some problem in the car, and so we reached Ooty at 12:00 midnight .
We had our dinner and s lowly went to our rooms upstairs. And whom do we find waiting there? Swami had kept awake till 12:45 in the night to ask us why we came late, to make us comfortable and to make sure that we got the necessary rest! 12:45 at night.
These are just a couple of instances that I have mentioned but there are any numbers of instances which I am sure you will remember in your own life when Swami has intervened.
'Please Stay One More Day'
I will just conclude my speech with one incident which is very personal but which shows the amount of Love that Swami has for each one of us. A few years back it was my birthday and I had prayed for Bhagavan's permission to come to Prashanti Nilayam (from Brindavan) to have Swami's Blessings. The exams were on, so I came here and took Swami's Blessings on my birthday.
The next day, even though it was a Sunday, there were exams, and so I thought it would be right for me to return back to the campus and be present there. In the afternoon I sent word praying for Bhagavan's permission. Bhagavan sent word that I should sit in the front. As Bhagavan came He called me and said, "Tomorrow is Sunday, isn't it? Why don't you stay for one more day and go?"

This was Swami's Love. I was so moved. I said, "I also badly want to stay." Swami said, "Yes, yes, I know…that is why I am telling you - stay for one more day and go." This is the Love of the Mother.

In Swami we have The Divine Mother, the Supreme Mother and the Physical Mother, who nourishes and cares for each one of us.

On this Navaratri day, what else can I do but pray to this Mother that our devotion should flow in the fullness to His Lotus Feet forever. May we be worthy of the Love, Grace, and Compassion that Swami has been showering on us and the sacrifice that Swami has been making every moment of His Life for each and every one of us.
Brothers and Sisters, I am sure I am only echoing the prayer that is in each of our hearts.
Jai Sai Ram!
- Heart2Heart Team
---