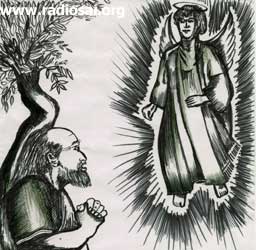 One day an angel said to him, "I have been sent to you by God. Ask for anything you wish and it will be given to you. Would you wish to have the gift of healing?" "No," said the man, "I'd rather God did the healing himself."
"Would you want to bring sinners back to the path of righteousness?" "No," he said, "it is not for me to touch human hearts. That is the work of angels." "Would you like to be such a model of virtue that peo­ple will be drawn to imitate you?" "No," said the saint, "for that would make me the centre of attention."
"What then do you wish for?" asked the angel. "The grace of God," was the man's reply. "Having that, I have all I desire." "No, you must ask for some miracle," said the angel, "or one will be forced on you." "Well, then I shall ask for this: let good be done through me without my being aware of it."