Previous Articles In This Series
---

Many of them did not even know Swami, but their cancers were cancelled and they continued to live for several years after their original diagnosis. What they knew was Swami's Vibhuti and prayers of Sai devotees; a child was still born, her father prayed fervently to Swami and to everyone's delight the little one became pink; a lady was declared infertile by doctors, but she did not give up. She took Vibhuti, trusted her faith in Baba and now is blessed with a beautiful daughter; a car ran over a devotee, the doctors gave little hope of recovery, but to everyone's amazement, today he walks normally; when Vibhuti was applied repeatedly, facial paralysis of another mysteriously disappeared; a person who had incurable AIDS now leads a normal life; 'Sairam', 'Sairam', a lady devotee shouted, when a herd of cattle appeared crossing the road in the night, and when she opened her eyes, the cows were behind her car, she does not know till today how she had gone through them without hitting any of them; an invalid had a vision in which Baba blessed him and immediately after that he started walking; driving her car, a devotee was listening to Gayatri, for some reason the car went out of control, rolled over and settled upside down, but the Gayatri was still playing, and yes, the devotee was completely unhurt… the story of every devotee in this Caribbean island is as captivating and enchanting as the island itself.
Land of the 'The Noble'
| | |
| --- | --- |
| | |
| Location of Dominican Republic | |
Not many would have heard of the Dominican Republic, much less about her white sandy beaches, unique geographical locale, vibrant culture or her five centuries old history. The indigenous inhabitants of the island of Hispaniola, on which the Dominican Republic is located, were the Taíno Amerindians. The Taínos (meaning "the good" or "noble" in the native language) were a seafaring branch of the South American Arawaks (Amerindians in Caribbean). They had a system of chiefdoms and among the cultural signs that they have left are cave paintings around the country, which have become tourist and national symbols of the Dominican Republic.

The island was subsequently explored and claimed by legendary explorer Christopher Columbus on his first voyage in 1492, and Hispaniola became a springboard for Spanish conquest of the Caribbean and the American mainland. In 1697, Spain recognized French dominion over the western third of the island, which in 1804 became Haiti. The remainder of the island, by then known as Santo Domingo, sought to gain its own independence in 1821, but was conquered and ruled by the Haitians for twenty two years; it finally attained independence as the Dominican Republic in 1844. In 1861, the Dominicans voluntarily returned as part of the Spanish Empire, but four years later they restored independence in 1865. Briefly, this is the circuitous contour of her political history.

| | | |
| --- | --- | --- |
| | | |
| The beautiful Dominican countryside | | A beach outside Las Terrenas |
Enthralling and Enchanting Caribbean Setting

While, over the years, the island's owners have changed many times with varied political affiliations, one thing has remained the same – her entrancing beauty. More than a thousand miles of sugar-coloured sand gently lapped by warm waters so clear and blue; an underwater wonderland of exotic aquatic life and centuries-old shipwrecks; one of world's favourite locations for snorkeling enthusiasts and scuba divers; home of many international events of water sports including the Kiteboarding and Windsurfing World Cup competitions; harbouring the highest and the lowest sea level points in the Caribbean with Pico Duarte at 10,128 feet above and Lake Enriguillo at 144 feet below – which means, a playground of environments from tropical rainforest to arid desert apart from comfortable zones; home to thousands of humpback whales in the warm waters of winter – Dominican Republic, is truly a tropical paradise for adventurers, ecologists and tourists alike. At the same time, ask any tourist what impressed them the most about this Caribbean island and they will say, "More than the unspoilt beaches and silvery sand, it is the kind and loving nature of the people of this land." Yes, if year by year the island is teeming with tourists, it is because of the simple and easy-going nature of the brown-skinned Dominicans who treat everyone as one family. Their beaches may be wide but their hearts are wider.
| | | |
| --- | --- | --- |
| | | |
| Waterfall near Jarabacoa | | |
Dominican Culture - 'Vibrant with a Heart'

The Dominican Republic is principally a Hispanic country (related to Spain), though heavily blended with African traditions and, to a much smaller degree, with indigenous Amerindian cultural elements. The Spanish cultural heritage is most evident in the national language and predominant religion — Catholicism. Here was built a huge church in the form of a cross which is lit up at night to form a cross in the sky. African cultural elements are most prominent in musical expressions and the carnival celebrations which are a testimony to the rich African heritage.
Church and Celebration
In this island where they say, "culture is adventure", sport is, undoubtedly, life. Though hugely popular for water and wind sports, baseball is by far the most dominant game in the country with many famous Dominicans in the Major League Baseball in United States, and in other countries. Another exciting aspect of Dominican culture is music. In fact, music and dance act as the sound track of the country and its people. Their dance music called Merengue, which is also their national dance, is extremely widespread and these islanders with pride and joy share their native movements with others. "Vibrant with a Heart" – that is what Dominican culture is all about. But when and how did Sai enter this lively nation?
| | | |
| --- | --- | --- |
| | | |
| Canoeing on Sosua Beach | | Boy playing baseball, the most popular sport |
Sai Enters, Becomes the Centre of their Lives
It was the month of May, 1988, when a few Dominicans grew inquisitive about Baba and in their eagerness to know more, invited Mrs. María Martin, from Miami, USA to visit them and share more about Baba. Maria gave a beautiful presentation, and even guided them about the operation of Sai Centers as well as the activities typical to a Sai Organisation.
Thus it was that in June, 1988, a little group got together, composed of Tirso Alcántara, Henry Alonzo and his wife Josefina, Edwin Mejía and his wife Mary, Cristina Rosario, Rafael Espejo and his wife, José Pérez, Elena Martínez and Sixto Incháustegui. This tiny group of few couples and individuals met outdoors every Sunday at the gardens of the Olympic Center.
Sai Groups the Devotees
In August 1988, the group moved to the house of one of its members. They made a small altar for Swami with flowers, incense, etc. on the gracious terrace in the garden of the devotee's house. It was here that Dominican bhajans were born. Edwin, with a beautiful voice, was the only song leader then while the rest sang in the chorus. Mary and Elena also assumed the role of song leaders. In that home, the group celebrated Baba's birthday for the first time; they began to compose their own devotional songs, and this activity, since then, has not stopped. In October 1988, the Sai Organization of Caracas, Venezuela, invited the members of this group to attend their meeting and it was here that the group received authorization to function as a Sai Group.
By 1989-90, the group moved again as the number of members started growing. This time it was to the house of Dr. Fausto Pérez and his wife Cristina. Devotees, more organised as a Sai group now, started study circles and community service projects.
| | | |
| --- | --- | --- |
| | | |
| Birthday celebrations with gaiety | | Bal Vikas for small children |
The Education in Human Values programme too started. Small children of a school located in a very poor community were first to be taught lessons on human values. Luis Brouwer and Cristina Rosario, who monitored this program, received permission to use a room in the school and from then on the programme only expanded.
With many activities, there were several new members too, and for the first time, the group celebrated Maha Shivaratri in Dominican Republic and began the operation of a small Sai library for its members.
The First Sai Centre in Dominican Republic
On May 1990, Dr. Michael Goldstein, Central Coordinator, and Mr. Leonardo Gutter, President of the Central Council, visited the island. They certified the group and announced the formation of the first Sri Sathya Sai Center in Dominican Republic. Two years ago, nobody knew who Sai Baba was on this island and now there was a cohesive group of staunch devotees. What is the mystery behind it? We can get a glimpse of the phenomena if we look into the lives of each member of the organisation. This is what one devotee narrates:
"Before becoming a devotee, I had badly burnt my face and eyes because of an unfortunate event. I was operated on and the doctors said I would lose one eye completely and might be able to see a little light with the other. That night Swami came to my bedside.
He materialized Vibhuti and put it in my eyes. He also took a bottle of pills which was on the night stand and emptied it in the waste basket. He, then, filled this container too with Vibuthi and said, 'You use this only'. In the morning the doctors were amazed at my recovery. I could see with both eyes!"
Later, when this person became a devotee, he put photos of Swami in his home and all are producing Vibuthi for several years now. The ways of the Lord are inexplicable.
With more devotees joining in, on September 14, 1991, the members of the Sai Centre of Dominican Republic, organised the first public conference. It had the title "Life and Message of Sathya Sai Baba" and through this more islanders were now aware of Swami and His love. In 1992, there was a significant increase of members.
| | | |
| --- | --- | --- |
| | | |
| Sai study circle in Puerto Plata | | |
Some organized studies on Swami in their communities, and these community groups became study and devotional groups. They started singing bhajans along with their own rituals. Service activities also increased in diversity through visits to homes for elders, food distribution to the homeless and support for old persons with no families.
Numerous medical camps too were carried out. The Organization spread throughout the national territory; centers and groups were created in the provinces of Santiago, La Vega, Moca, Montecristy, San Francisco, Puerto Plata and the little towns nearby. Recently (2006) Nagua and Bonao province also integrated into the Organization.
The Phenomenal growth of the Organisation meant two things: the need for a larger space and a foundation to aid its activities. And so it was that the Sai Centre moved to the colonial zone and a mini-foundation was initiated by three devotees: Rosa Iris Polanco, Henry Alonzo and Elena Martinez. This foundation, since then, has been serving as the basis for the Sri Sathya Sai Foundation of the Dominican Republic which handles the import and sale of Sai Literature and also supports the various service activities.
| | | |
| --- | --- | --- |
| | | |
| Public meeting in Monte Cristi | | |
Three years after the First Public Conference, in October 28, 1994, the first Human Values Conference was held with an encouraging attendance of four hundred persons. Many devotees from neighbouring countries like Puerto Rico, Ecuador and the USA too joined the discussion. From then on, the Organisation grew at a steady pace with activities like public meetings, projection of Sai documentaries, annual participation in the Book Fair of Dominican Republic, etc. going on regularly apart from service activities.
Human Values Conference and training sessions in progress
Sai Touches Each New Member
In four years, the organisation grew exponentially. Each new member had an experience of his own to narrate. "In February 1998," says one Dominican, "I was able to fulfil an intense desire to travel to India to see Sai Baba. When I returned, I just wanted to turn around and go back to India, but I discovered that my business was very bad and I had to close my office. Meanwhile, my debts were piling up, and my only option was to start operating out of my home.
This was my predicament in September 1998, when I sat in front of Swami's photo telling Him how much I wanted to go to visit Him for His Birthday in November. But for this to happen, He should pay all my debts and send me the money for the airplane ticket as well as for my stay in India. I did not feel it right to travel while I owed so much money. My prayer, truly, was more of a wish than a petition, because it all looked so impossible.
But then something unexpected happened. All of a sudden, clients started calling, money started coming in very fast and my wife found an excellent job. To share the truth, the money I made from September to November 1998, I never had so much luck in such a short time, not before or since.
My wife and I, then, understood the message clearly: Swami was responding to my desire to be with Him for the 73rd Birthday. But my desire to go was still pending because, with only fifteen days to go, we realised we were still short of two thousand dollars, which was about the price of the airfare.
In the living room of my home there is a large photo of Swami, and I let Him know that if I was to travel, there was still a matter of two thousand dollars which somehow must be sorted out. Just then the phone rang, and a client told me he needed me for some urgent work for which he could pay me two thousand dollars!
So, there I was in India for His Birthday, every single event orchestrated by His divine will.
On another occasion, Swami came in my dream and asked me, "What do you want?" I told Him I always wanted to do whatever He willed, that my actions and thoughts should be according to His will. He, then, asked me a question about some aspects of my life, and said, "What do you want? A new car, or that I should pay the loan on your house, or a trip?" He closed His eyes and waited for my response. I made a selection and told Him. Then He asked another question and gave me some options and again I selected one. Finally, He asked me something else and gave me several choices. But this time when He closed His eyes waiting for my response, I suddenly remembered that I had told Him that I wanted to do His Will - but all along I was selecting things that He was offering. So this time I did not say anything, and when Swami opened His eyes, and asked if I had decided, I told Him He should choose and I would accept whatever He decided. When this happened, the dream ended. The powerful lesson had indeed gone home."
Baba in Bella Vista
It is because of such revealing experiences and the magic of His love and message that devotees started spiralling in this island and by 1988, the need became stronger than ever for a larger venue. The Sai Centre, now, established itself in the area of Bella Vista.
With a strengthened workforce, the Sathya Sai Organization of the Dominican Republic, now focused on service activities more than ever. Regular medical camps were conducted in the outskirts of the metropolitan capital of Santo Domingo. There is now (2006) also a free eye clinic where cataract operations and other eye surgeries are carried out with absolutely no cost to the patients.
| | | |
| --- | --- | --- |
| | | |
| Free medical camp in Santo Domingo... | | ...and in Santiago, La Vega, Moca, Montecristy, San Francisco, Puerto Plata |
| | | |
| | | ...taking care of the elderly |
The Organisation also adopted the community, Lecheria, which is a slum neighborhood of the city of Santo Domingo, about twenty kilometers away from downtown. Made up of Haitian immigrants who came to Dominican Republic as workers in the sugar cane mills and to harvest the cane, this community also works in the construction industry. For four years now, the Sai Organisation has provided free daily breakfast service for the seventy children of the Community school in Lecheria.
| | | |
| --- | --- | --- |
| | | |
| Free daily breakfast to students in Lecheria | | Students in Lecheria celebrating Christmas |
Apart from providing food, volunteers also spend a lot of time with the kids to help them become better educated and more disciplined. And at every instance, the devotees feel His grace. To cite one example, "There are several instances," say the volunteers, "when the food multiplied when it looked like there would not be enough for all the children, or some other devotee showed up at the last minute with more food saying he had mistaken the day when he was supposed to come."
There is also another fascinating tale that the devotees narrate. "It was November 23, and five of us, Sai volunteers, were driving to the school with the breakfast. Just as we came over the hill and saw the school, there was a double rainbow right on top of it. We were amazed and grateful when we realised that it was all His play to remind us of the special day and make note of it.
| | | |
| --- | --- | --- |
| | | |
| Free drugstore... | | |
Sai, in His own ways, guides and inspires devotees to lead a purposeful life by instilling in them a spirit of service. "The greatest spiritual practice is to transform love into service." Swami says and the devotees in this Caribbean island are constantly engaged in offering much help to the needy. To list a few, more than two thousand medical exams in the areas of General Medicine, Cardiology, Gynaecology, Paediatrics, Orthodontia and others have been conducted; there is a nutritional program for kids with inadequate calorie intake; free mosquito nets and Clorox are distributed to control mosquito-transmitted diseases like the deadly Dengue fever; targeted help is offered to mothers, children and the elderly with health problems; during festival celebrations food is served to all families and Christmas every year is marked with the donation of toys apart from regular items; there are free dental care programmes conducted specially for Children; and small housing projects too, like constructing a house for a needy family living in a cardboard shack. In addition, there are also regular free cataract surgeries.
| | | |
| --- | --- | --- |
| | | |
| Donation packets for newborns | | Infants with their new kits |
This on-going service activity extends to many communities like the Luisa La Prieta, Palamara, La Delgada and Limon.
Dominican Youth Display Faith and Devotion
Along with service, the Education in Human Values programme through Bal Vikas classes also received a fillip during this time. To demonstrate how these inputs really help the youngsters, here is the story of Miguel.
A ten year old Bal Vikas student, Miguel, went to New York with his mother to visit an aunt. The plane arrived at midnight, and then they went to New Jersey arriving at 1 AM. No one was waiting for them, so they took a subway train but did not know if it was the correct train. Mother decided to get down and ask, but the train door closed and Miguel was left still in the train.
The train took off, and the mother was frantic. Her son was in a strange city in a dangerous situation in the middle of the night with no identification. As the train disappeared into the darkness, the mother prayed to Swami. She went to a police station, and explained the problem. The police called ahead to the next few stations and sent officers to look for the missing boy.
Meanwhile, Miguel was remembering Lord Ganesha who removes obstacles and prayed sincerely to Him. Then he remembered Lord Rama and His bravery. He repeated the Gayatri for protection and calmly got down at the next station. He went and sat on a bench and started singing bhajans to himself. Shortly afterwards a police officer came up to him and identified him as the missing boy, radioing for his mother to come on the next train.
Like Miguel many Dominican children now have devotion in the hearts and prayer on their lips. They know somebody is there to take care of them. They know life without Him is not worth living. There are lot more activities on the education front and the Organization even established the Sathya Sai Institute of Human Values a few years ago to help more youngsters lead a life of character and morality.
Since the commencement of the 21st century, the Sai Movement in this island went into a new gear with many devotees joining in after being aware of His mission and message through a string of public events conducted throughout the island. On these occasions, many aspirant souls got a chance to see Him through the video "His Work" and read about Him from the literature distributed. Also, many senior devotees started visiting the island and appeasing the appetite of the new members.
Dr. Choudary Voleti

sharing his experience...

Mr. John Behner talks in Dominican Republic
One such visit was by Dr. Choudary Voleti, a cardiac surgeon from Los Angeles, who now works at the Super Speciality Hospital in Prashanti Nilayam. One unique event that occurred during his trip was that it was the first time people from Haiti came to the Dominican Republic responding to a heartfelt invitation. There is a long history of strife and a multitude of barriers between the two countries. But on this occasion, eighteen Haitian devotees arrived for the conference and there was a simultaneous translation of Dr. Choudhury's talk into French and Spanish for the Haitians and Dominicans respectively. It was a real 'unity in divinity' experience and the Haitians were so happy that they could hardly wait to visit again. "Our cups are filled with love," they said before they left.
Sai Miracles in the Midst of Catastrophe
| | |
| --- | --- |
| | |
| | Disaster training in Bella Vista |
Every event that was organised had a divine hand in it. When hurricane Jeanne hit the island one day prior to the scheduled day for a public meeting on Sep 18, 2004, the devotees were in a dilemma whether to continue with the meeting. With winds of over hundred kilometre per hour plus torrential rains leading to even loss of lives, the situation looked very bleak, but at the same time the guest speaker, Ismael Delorenz from Mexico had arrived. The devotees decided to go ahead with the conference even if a few showed up. They chanted Sai Gayatri and prayed for His help. What happened the next day was nothing short of a Sai Miracle.
The valley of La Vega, where the meeting was planned to be held, was sunny and bright while the rest of the Island continued to be bombarded by the hurricane. That evening, the auditorium overflowed with more than two hundred people. Until the next day, the weather held nicely so that the devotees had no inconvenience. But soon after this, the storm returned with a vengeance. The devotees needed no greater evidence of His protecting grace and loving care.
Sai's grace reaches the spirited people of this island through myriad ways. There is a revealing experience of a young lady who was studying in university and her knowledge of Swami was limited to an envelope with Vibhuti given to her by her mother, which she had kept for many years.
A kidney ailment, which was bothering her for quite sometime, took her to many hospitals and finally even forced her to discontinue her studies. There was nothing the doctors could do and finally when her body became swollen, they advised her parents to get her treated in another country with more advanced medical techniques. However they did not have the money for travelling, or for the huge expenses treatments elsewhere would mean. It was then that her mother remembered the Vibuthi. She told her daughter, "We must pray to Sai Baba, He will save you," and applied the Vibuthi on her. The daughter started to sweat, so much so that it looked like she had taken a bath. In about two hours the swelling of her body went down, and her kidneys started working normally. She had received a miracle cure from Swami. The doctors, palpably, were amazed.
| | |
| --- | --- |
| | |
Now, ten years later, she is married and lives happily with two little children, even though the doctors had said she could never have children. There are no negative effects from her previous illness, nor has it returned to bother her.
But this is not all. When she went back to the university, she asked where she could register again to take the classes that she missed due to her illness. But her friends said, "What are you talking about. We saw you everyday, and we were so impressed with your strength in spite of your illness. And you did very well in all your examinations." At first she couldn't understand. She had been in the hospital and sick in bed during the entire semester. It was all a divine play and she knows for sure now that come what may, her Sai will never desert her.
Another devotee who went to India for Swami's darshan bought a calendar with several pictures of Swami. The calendar started to produce Vibuthi after he returned. When other photos of Swami were put in the same room, they too were covered with Vibhuthi. These photos have now become the altar for a Sai Center, and also have been producing Vibhuthi constantly for several years, and in quantities that permit it to be given to everyone who asks for it.
In yet another amusing incident, a Dominican had asked Swami for an inner cleansing. Swami came up to him in the darshan line and materialized Vibuthi. When he put it in his mouth, it tasted like detergent soap, he immediately remembered his prayer!
Sai touches the life of every devotee in a distinct and disparate way. It is an experience which lasts a lifetime and goads the devotee to lead a life of purity and purpose. And it is mind-boggling how Sai sitting far away physically on the other side of the globe pulls his devotees as if they were 'sparrows with strings tied on their feet' as Shirdi Baba used to say.
Everything happens according to His divine plan and He knows whom to call, when and how. The day is not too far when overflowing with Sai experiences and His love, Dominican Republic will rediscover herself as the 'Divine Republic.'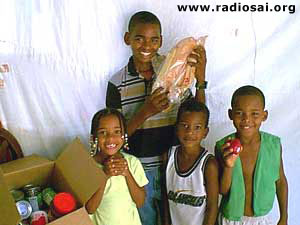 Dominican youth happy with the gifts and food.
We are grateful to Mr. John Behner and many devotees of Dominican Republic for their active cooperation and help in the making of this article.
- Heart2Heart Team
---