"gift of Life to the GIft of God"
---
Gift of life…
Durlabh khan and

Ashrafun Nahem in distress
In the Viveka chudamani by Sri Adi Shankaracharya the opening verse begins with the phrase "Jantunam narajanama durlabham…" Of all forms of life, it is most difficult to attain that of a human being….The word Durlabha generally connotes rare or difficult to attain. 'Health is wealth' is an aphorism that we are taught right from kindergarten but how many of us honestly take it seriously?
The onslaught of globalization and the opening up of economic frontiers have revved up the speed of life to levels where parents have to be taught by counselors how to bring up children and couples meet consultants to know how to be man and wife. In this age of frenzied rat racing…it does not come as a surprise that good health has been reduced to the level of a commodity and has been commercialized.
With money (read income) becoming the deciding factor, quality medical care is beyond the reach of common man. It becomes Durlabha – difficult to attain. To add insult to the injury were one to be born into the cold cruel world with a malady…life definitely becomes bitter and every dawn brings with it another day of sorrow and suffering.
Gift of God…
Monirul Haque Khan and Ashrafun Nahem was a happily married couple blessed with a daughter. Their joy increased manifold when they were blessed with a son. Since he was a gift from god they valued tremendously, they named him Durlabh Khan. Life seemed to be on track for the family of six that included the couple, their two children and the grand parents.
But pleasure is an interval between two pains. For this family, the shock came when they found that their little boy Durlabh was born with a heart problem. They learnt about the illness when the child was one year old. It did strike an ironic note that the child named 'rare gift of god' suffered from a disease while being blessed with a human birth that is 'difficult to attain'. That is why philosophers who don't question the ways of The Lord say –' Inscrutable are the ways of God.'
They Came from Bangladesh …
Hailing from the Rajbari district of Bangladesh, the family was from the lower income group. Mohammad Khan ran a small private business while his wife, Nahem was a gifted seamstress. She would beautifully embroider sarees which her husband would arrange to be sold at Dhaka, the capital city of Bangladesh.
Despite sustained domestic and international efforts to improve economic and demographic prospects, Bangladesh remains an underdeveloped and overpopulated nation. The country has made impressive progress in human development by focusing on increasing literacy, achieving gender parity in schooling, and reducing population growth.
Jute was once the economic engine of the country. But the use of polypropylene dealt a fatal blow to that industry. Although two-thirds of Bangladeshis are farmers, more than three quarters of Bangladesh's export earnings come from the garment industry which began attracting foreign investors in the 1980s due to cheap labour and low conversion cost.
The industry now employs more than three million workers, 90% of whom are women. A large part of foreign currency earnings also comes from the remittances sent by expatriates living in other countries.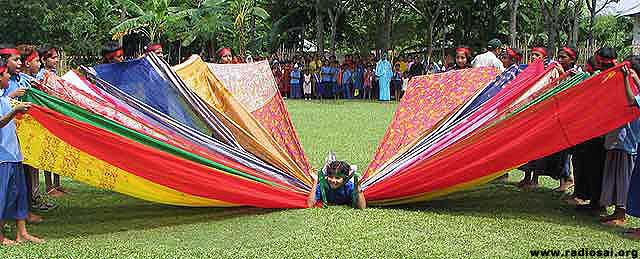 Examples of Bangladesh's garments and their jubilant children
They Struggled…
The couple had none of the advantages of the select few but could still manage a decent standard of living. But with a sick child in the family it was painful. Considering the fact that the entire district had hospitals barely equipped to handle tertiary care they were looking at a bleak future. At the onset of the symptoms they approached local doctors who directed them to higher centres in the capital city Dhaka. There too they found no solution. When the child was four years old they traveled to Calcutta in search of medical help. With the kind of economic background they came from, they found it really difficult to stretch their resources to cover expenses.
God Reached Out...
| | |
| --- | --- |
| | |
| | |
It is when we least expect, that God makes his presence felt. In Calcutta, they were informed of a hospital in South India that offered free medical care. They could hardly believe their ears but when the news was confirmed by many others, they made bold to come down to Bangalore – their resources were already at dangerously low levels when they came to the SSSIHMS at Whitefield. To their utmost surprise they found that what they had heard at Calcutta was absolutely true and indeed all the facilities at the SSSIHMS were provided to patients free of cost.
The Problem and the Solution…
Their son was admitted for cardiac surgery. The clinical tests were performed and the final diagnosis was that Durlabh was suffering from Tetralogy of Fallot - a condition where the heart has four anomalies in one. A Ventricular Septal Defect (a hole in the lower chambers of the heart), Pulmonary Stenosis (obstructed pulmonary artery that channels impure blood to the lungs), Overriding Aorta (the aorta that supplies pure blood to the rest of the body is right on top of the ventricular septal defect) and right ventricular hypertrophy (the walls of the right lower chamber of the heart begin to thicken because of increased blood pressure caused by the above three conditions. Also the patient looks blue in color at times because the blood is not properly oxygenated).
The surgical procedure followed to palliate this problem is called Intra Cardiac Repair. Durlabh underwent the surgery and emerged without any complications. Everything went smoothly and with the grace of the God to whom the parents diligently prayed. His pallor changed from the unnatural blue to a rich pink.
Gratitude Finds Words – and Action!
| | |
| --- | --- |
| | |
| | |
After surgery when he was recovering in the ward his mother who was his constant companion said, "He is a very intelligent boy, he grasps things very quickly and thanks to Baba we will see him achieve his ambitions. He is a cheerful boy and very brave. Of course he was angry at why he had to suffer while his classmates were normal. But when he came here and saw all this loving service…" the mothers eyes misted and she bowed her head in gratitude to "Baba". "He knows that he is more special than all his friends to be blessed by Baba in this hospital. I am eternally grateful to Baba for having given my son a new life."
The son was far more in command of himself. Firm of voice and eye; "I want to come back here as a sevak", said Durlabh. His voice steady with conviction. "I loved the food and the way people treated me here. I want to share it with others." He loves games and music and finds relaxation in music. And like his parents, he does not forget to thank god every moment of his existence for the gift of life. His cheerful and optimistic disposition was really encouraging. He now looks forward to whatever challenges life has to offer with a new vigor. Both mother and son asked for Swami's picture and vibhuti.
Life is a Gift of God…
This is just one example that goes to prove that love, service and devotion are not limited to the privileged few. Just as every saint has a past and ever sinner a future. The ones that suffer and emerge from the flames with a smile on their lips are the ones that are dear to God. Gold is purified only when it passes through flames. Likewise all of us in different ways are refined by our maker. But to those that come to the home of their 'Father', their 'Baba'…the lyrics of a song in praise of Sai Baba of Shirdi come to mind…
Tere Ghar pe jo bhi aaya
Oh mere sai baba
Khushyon se tune sabki
Hain jholi bhari hain!!!
Oh my Lord Sai,
You have filled everyone
who comes to Your doorstep
with ultimate happiness.